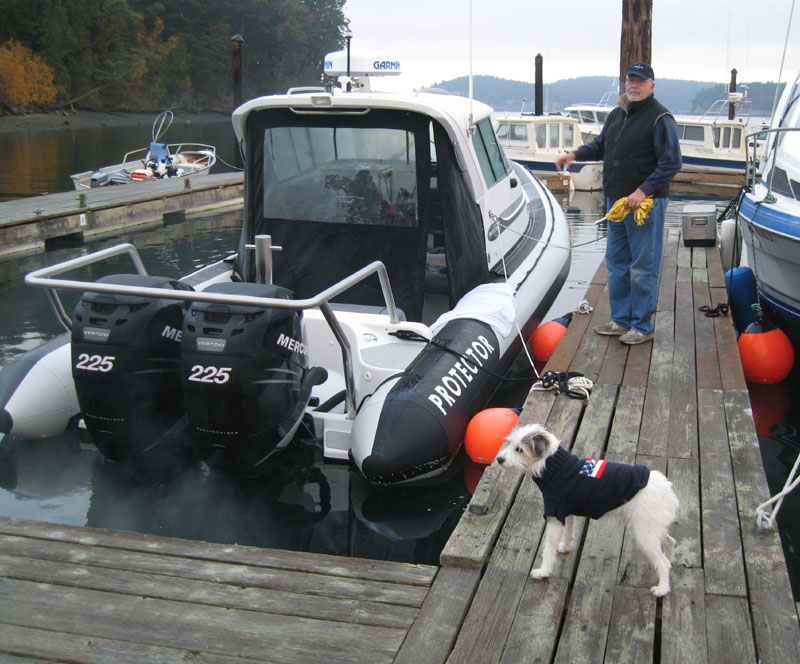 GOOD AS NEW?
Finally, we got the call that the Knotty Dog was fixed. Larry flew to San Francisco the next day and did the sea trials with Mark from Protector. Larry called me on the cell phone and said they ran the heck out of her to make sure there were no hidden agendas left for us to experience. They discovered a few gouged spots in the gel coat missed by the body shop, so again, it would have to go back to the body shop for some more final touch ups, and then, she would be "good as new". Or so we hoped. Scott our friend who was on the boat when the windshield exploded, jokingly said we should rename the boat "Popeye" (from the blown out window) but after hearing all the trouble we had getting things sorted out he thought maybe a more appropriate name would be "The Albatross". It's always good to have a sense of humor I say, no matter what you go through but we're sticking with the Knotty Dog. We are definitely thinking positive about her return but I must say, I'm feeling a little gun shy.
"ERRANDS TO DO"
Strangely, I purposely went to Seattle to do some "errands" when the boat was due back on the island. Somehow, I just didn't want to go through all the launching again. Been there, done that and it wasn't so exciting this time. In fact, it was like somebody coming back home, broke and beaten when they should be new, perfect and shinny. What do you say to them? You put on a good front and hope for the best. I just wanted to miss all that. So, when I came home from Seattle, she was back in her slip and patiently waiting for us to take her out again to prove she was ship shape. Larry and Jim, Snug Harbor's Harbor Master, had already taken her out a couple times for a few trial rides while I was gone. They said they even zipped over to Sidney for lunch one day. Now, it was my turn.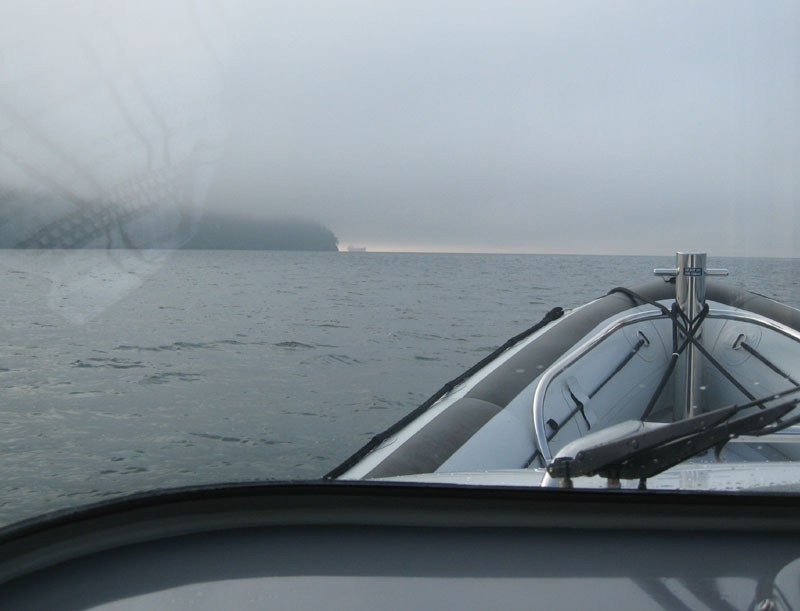 A BIT WARY
I was very wary coming down the dock that first time to see her again. She looked the same like the day when she first arrived all shinny and new. You couldn't tell that she had had an accident. I wonder how Knotty Dog felt. Was she ashamed or embarrassed about having failed? Was she as unsure about her capabilities as I was? I really was nervous about taking a ride after what happened. I wasn't the least bit interested in driving her, nope, not interested at all which is really odd for me. Larry didn't offer either, maybe he was feeling a bit the same way I don't know for sure.
FIRST RIDE
We started off by taking her down the west side of the island for the first ride. It was smooth out. Larry said he was trying to run the fuel to almost dry so he could fill her up and calculate exactly how far we could go on a full tank (getting ready for the Gulf crossing in Florida, I imagine). He's always planning something in the future and working out the logistics. We went as far as Lime Kiln Park and turned around just as we saw a pod of Dall's Porpoises. They were quiet too, not displaying their typical boisterous comical selves. Were they feeling a bit wary like me? Well, that little trip was short and sweet as we reached "almost empty" quicker than Larry thought. The fuel tank was lower than he figured so instead of filling her up in Friday Harbor on the other side of the island the following day he decided to get her filled at Roche Harbor.
So that was the plan for the second ride. And then after the fill up, we planned to just explore the area and see how she rides.
SECOND RIDE
So, then next day, we were up early. We put on layered clothes as it was a bit chilly in early November and headed to the boat. Even Ziggy had his winter sweater on. He doesn't like it much and starts to walk real stiff legged when he wears it, but I think he was thanking me later when he felt how chilly it was with the winter wind blowing on him.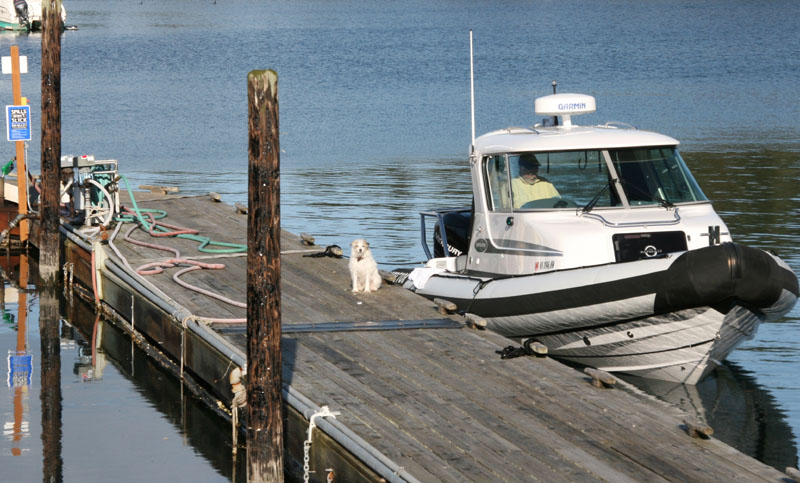 LIME KILN CAFE
We headed through Mosquito Pass and over to Roche's gas dock. We were hungry when we got to Roche so decided to have some breakfast first. Yep, that's right, the Lime Kiln Cafe is open all season which is really nice. It's one of our favorite places to go in the winter for breakfast, well except for our other place called Rocky Bay in Friday Harbor. We've been making the Lime Kiln Cafe a regular place to go on Sunday morning's. Only today we didn't come by car and had Ziggy to deal with. Ziggy hasn't adapted to the boat yet so we couldn't leave in the boat yet while we are breakfast so that meant eating outside. What, in this weather? Brrrrrr. No other choice though.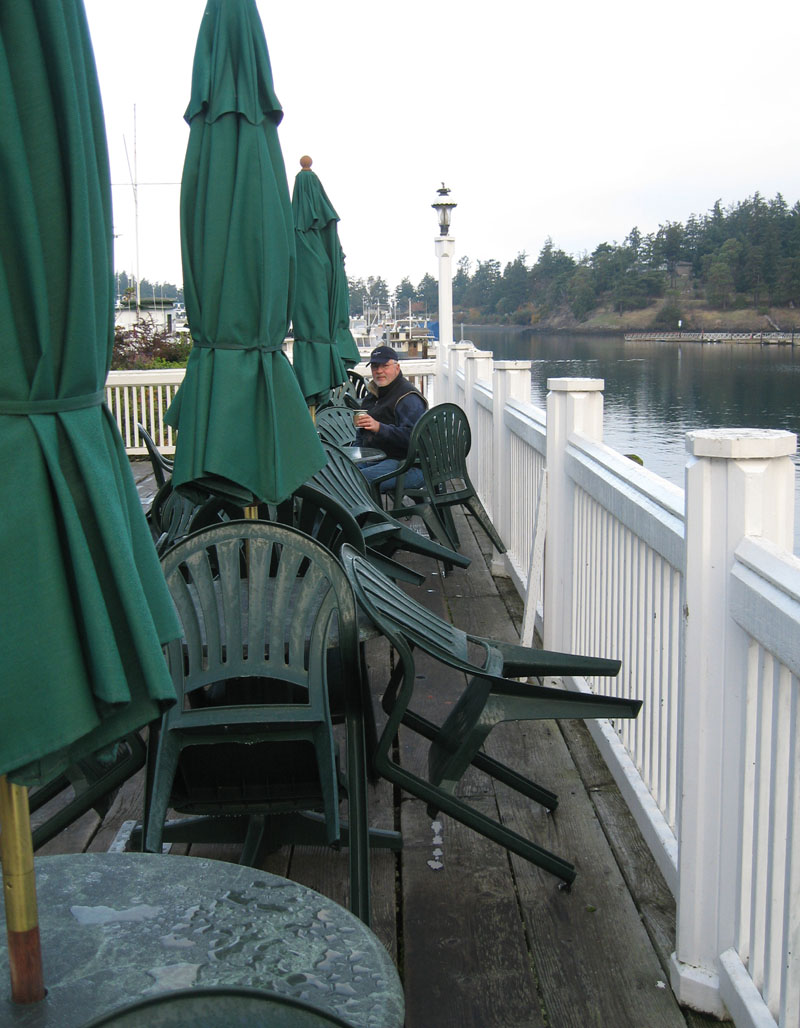 TIP JARS
So I got a rag from one of the workers inside to wipe one of the outside tables and some chairs off that were sopping wet from last night's rain. Then I went in and ordered some breakfast and dropped a few dollars in the tip jar that is right in your face as you pay for breakfast. Somehow these tips jars really annoy us because they assume you are going to tip before you even know what the service is. They are everywhere these days and no longer have anything to do with rewards for service. After wiping the table and chairs off, making several trips to and from the condiment stand inside to get napkins, knives and forks, salt an pepper, ketchup, jelly packs, and getting our own coffee and taking it to the table outside and oh yes, cleaning up and busing our tables when we were done, I was wondering what in the heck is the tip jar for???? I know the wages are low in the service business, I used to be a waitress going through college but back then you got tipped for service. Now I'm not sure what they represent.
So, there we were, huddling together outside freezing while everyone was inside it eating by the warmth of the pot bellied stove. I even put a napkin over my toast hoping it would stay warm until I had a chance to eat it. I've got Ziggy stretched across my lap as he was cold too on the wet deck. He and I actually were keeping each other warm.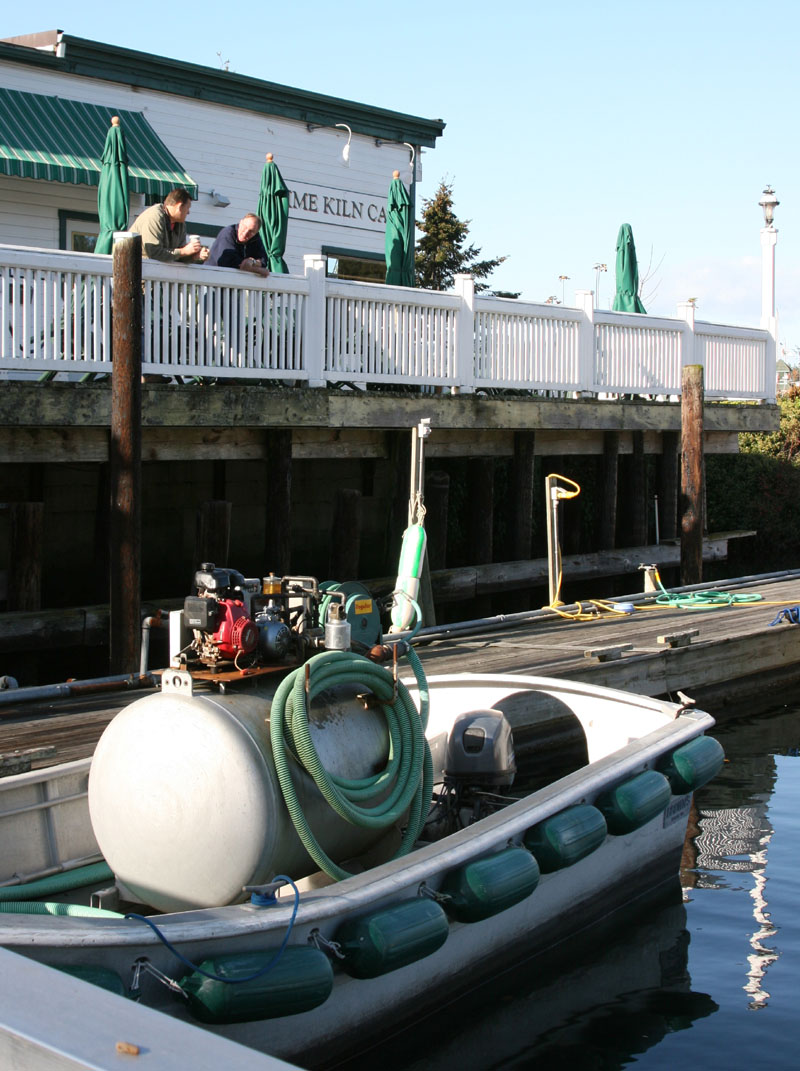 FECAL FREAK
Actually it wasn't that bad. The air was crisp and chilly but it was kind of fun in an odd sort of way until the Fecal Freak arrived. I couldn't believe it. I swear, even though I love the place and the people that work here, it seems like every time we eat outside on the deck the Fecal Freak arrives and docks right below us to unload the poop. You can hear it go glug gluggidy glug and then the worst is part is, the smell. It's God awful. Can't they empty that thing somewhere else preferably not where people eat? Their dump station is only a few yards away from the cafe deck dining. I'll never understand it. They think nothing of pumping that thing even during the season when the tables are loaded with people eating and walking by. No one seems to notice it but us.
BLACK BIRD
Besides the glugging sound and the smell, tipping for the privilege to wait on yourself and trying to gulp your food down before it got cold it wasn't so bad though we didn't feel like lingering for a few extra sips of coffee. We weren't the only ones out there in the cold as we had some company that watched us all through breakfast. It was this big loud mouthed black bird that I always notice at Roche. He squawked at us all during breakfast as he hopped from one railing to next, and sometimes peered and screeched at us from the roof overhang. He was probably wondering what in the heck are these nuts doing sitting out here in the cold. When we finished I bused all our dishes but had left one unused jelly packet on the table. I guess you could call it my little protest of having to tip while I self served and cleaned up. I actually just didn't feel like traipsing back in through the cafe doors and across the dining to room one more time just to put this little jelly pack back on the condiment table. The black bird didn't miss a trick. He watched every move we made.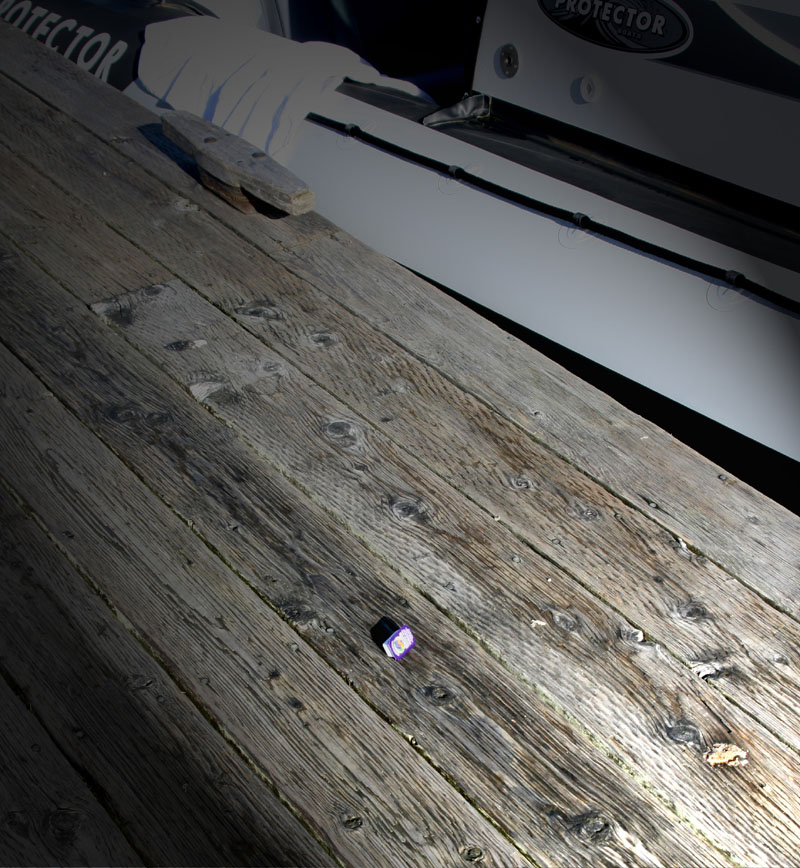 CHEAP SKATES!
As we walked back to the boat that was tied up just below the cafe at the fuel dock, he started yelling again making a huge racket. I looked up at him to see what the commotion was about and noticed that he had jumped on our table to see what we left for him.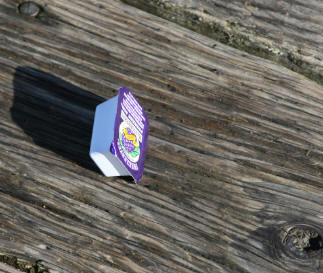 Well, sad to say, it was only that one little packet of Marion berry jelly. I guess he was pretty mad because he picked it up and flung it over to where we were. He actually threw it at us! I couldn't believe it! It was like he said "Here, take that, you cheap skates!" Now, I understood, the whole time he had been watching us, he waslooking forward to some left over breakfast snacks. It's been so cold that no one has been eating outside for weeks. That's why he was so excited and making such a racket. Poor guy, if only I'd know, I'd left him something better than a pack of jelly!
GETTING FUEL DURING THE OFF SEASON
During the off season, you fill your own tanks, but thankfully there was no tip jar that I noticed. Larry made calculations in his book on how much we took and what the manual said for the gas usage, etc. Now, he thinks he knows how far we can go before running out of fuel. That's always good thing to know I think. I'm glad Larry always thinking.
[photogallery/photo23811/real.htm]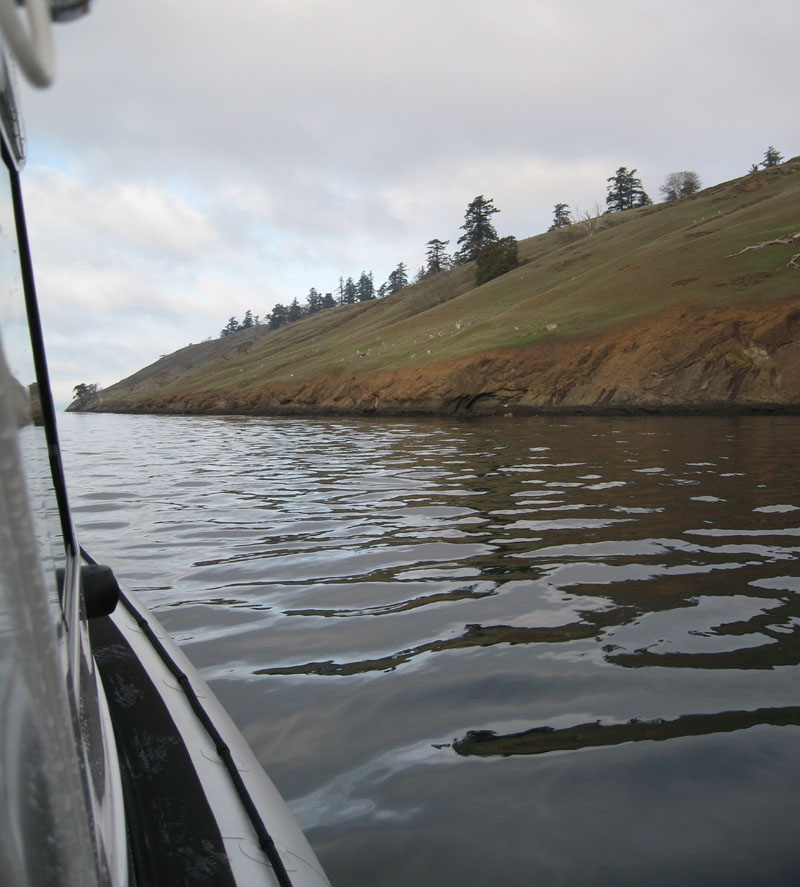 SPIEDEN ISLAND
We headed out the harbor and sped over to Spieden Island to take a look at the wild life grazing the hillside. What an amazing sight. It was like being near this strange wild place and it's so close to home. We were told that a company had bought the island from the original homesteaders and had plans to develop a game hunting resort on the island. The locals put up such a fuss that it never came to fruition. We were told there's an old Indian cemetery on the top of the hill amidst the trees. Of course the island is privately owned and there's no trespassing but its fun to cruise by and see the animals.
We cruised past Gum Drop Island and saw what we thought were a couple of stellar sea lions. Then we headed back towards Roche and glanced over at Battle Ship Island in the distance. Local legend says it got its more recent and popularly known name by Teddy Roosevelt. He was up here in the early 1900's and the island showed itself when some fog lifted and they thought at first it was a battleship. I don't know if that story is true or not but it does look like a battleship. In the early days it was named something different but since the trees have grown up in such a way they resemble towers on a battleship ship now. Battleship Island has become the more locally recognized and the more popular name.
We headed home. It was just a short trip today. Larry wanted to go to Lopez Island tomorrow as we've never been there before. So far so good with the boat but we've really not tested her in seas that can re-establish my confidence in her again yet.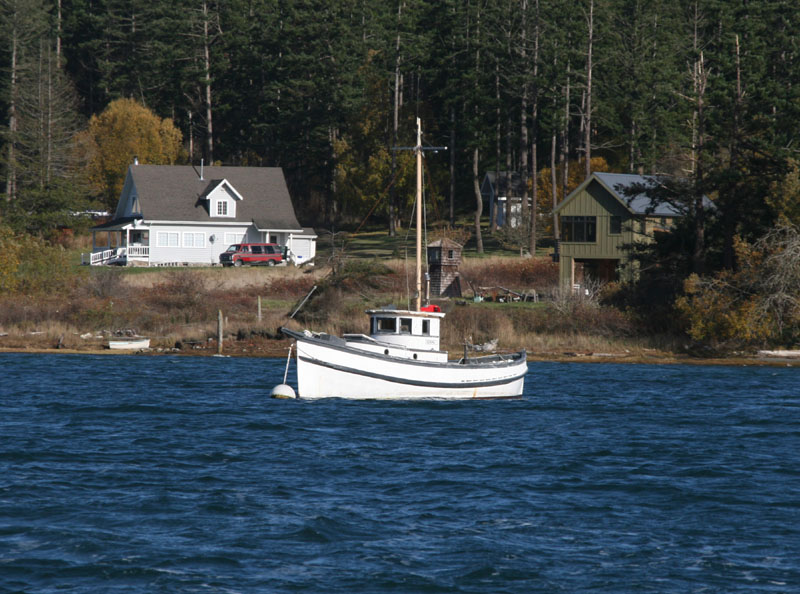 NEXT DAY TO LOPEZ ISLAND
So, next morning, we headed up around the top of San Juan Island through Spieden Channel and turned south down the eastside of the island towards Lopez. It was a great day, a bit windy, choppy and very cold but we had the heater on and were fine.
As we approached the little Fisherman's Harbor on Lopez the wind was screeching in from Haro Strait between the opening of the Lopez and San Juan Islands. We bounced our way in, or rather skipped over the choppy seas and once inside the cut of the dredged harbor entrance the water smoothed out but the wind still was fierce and chilling to the bone. This little harbor is pretty exposed. I was surprised.
A BIT OF MAINE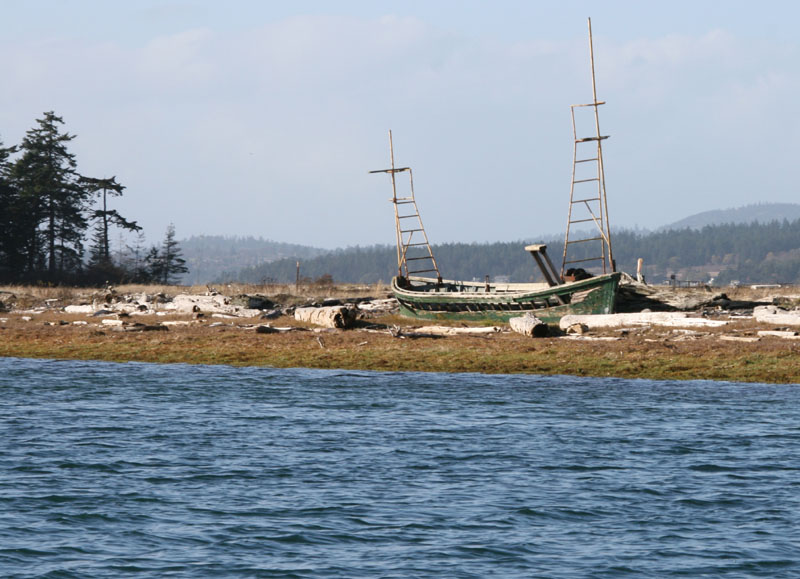 The surroundings immediately reminded of the East Coast of New England. We could've been in small seaport village of Maine. It is charming. We slowly motored past what I'd call a sand spit that was littered with what looked like the wrecks of old reef net towers. Anchored in the harbor were some classic old fishing boats and along the shore was a scattering of several quaint wooden cottages and poking up in the distance looking over the village was a churches steeple. It's truly a beautiful place. A place that looks like it is set in time which is very unusual these days. I couldn't wait to get to shore and explore.
We pulled up to a long open dock and tied up. Ours arms clasping our jackets shut and the wind blowing our hair wildly in all directions. We leaned our bodies into the wind heading up the dock to the marine store and office. It's a great store with all the sorts of boat things that Larry loves to look at and the ladies behind the counter were friendly offering Zig a dog biscuit. When we inquired about how far the town was, they said it was a short walk but if we decided to go to the village they wanted us first to move our boat to another dock space. They told us that the place where we docked was the parking spot for one of the local fishermen and he would be coming back shortly.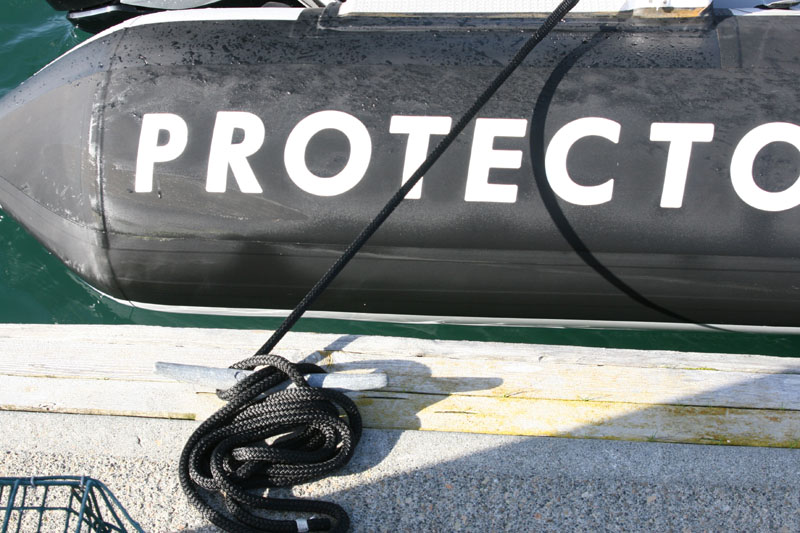 So, we hustled back down the windy dock and moved the boat. It was not an easy task as the wind was blowing like crazy and the tide was running so fast that as we idled the boat off the slip they wanted us in, analyzing how to get into it in this wind, the wind and current was moving us sideways past one slip after another like we were on a conveyor belt. This boat is a bit light and when it's windy, the wind just grabs her. Both of us gave it several tries getting into the slip (I got a turn at it because Larry got sick of listening to me telling him how I thought he should be doing it and then when I tried, of course I couldn't get her in either). After my aborted turn, I quickly handed it back over to Larry and we finally got her in. I'm finding out that the boat pole with the hook on the end of it is becoming a very handy tool for these situations. If we start sliding in one direction the wrong way, I can hook the dock to pull us back. I was hoping no one was watching us inside one of the buildings on shore because if they were they were having a good laugh.
We headed up the road to the village. It must be a good mile walk. We telling each other how out of shape we were as we puffed and huffed up the small hill past the town dump. We haven't done any exercise in months, basically since we've moved here, and today it was really showing. We were also a bit tired from riding the choppy windy seas to get here.
DUMP IS A POPULAR PLACE
It was well worth the walk as this place is cute as a bug! It's the way I would imagine the San Juan Islands to be years ago before it became a popular destination for vacationers. The library looked like a busy place as we walked by until we walked past the town dump which I think was even busier on this Saturday afternoon. The dump must have an area where people can leave things that they don't want or need any more and where others can come and salvage what they want. It's like one big free flea market. It was a popular stop as people driving to and from town couldn't quite resist going by without a quick stop see what treasure someone left that week.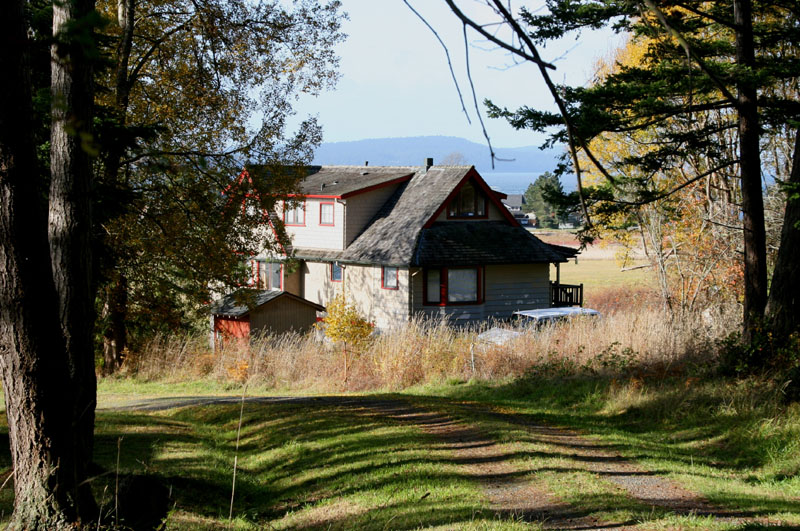 A COUNTRY FEEL, A LOVELY PLACE
First thing I noticed once we got to town, was the country feel, no curbs just grassy edges to the road and some people were riding horses right down the main street. There is a wonderful old wooden church and just down the road in the town center is an old wooden water tower where today a local fisherman has parked his old pick up truck and was selling his fresh catch out of the back. There are several little eateries and coffee shops to get a snack and drink. There's a neat whole foods grocery across the road from the main grocery. It was filled with local grown produce, meat and cheese and lots of things in bins where you help yourself. We stopped for a coffee and not having much more time, headed back down the road to the boat. This is definitely a place we'd like to come back to spend a little time and have a meal in one of their restaurants'.
As we motored out the harbor we thought we'd make the complete loop around San Juan Island as we headed home so turned and sped out to Haro Strait. We came around Cattle Point on the southern tip of San Juan Island and we realized what a beautiful island San Juan is. We passed our friend's house, the Eberhard's, which is perched low to the water with a magnificent view of the Strait and the orcas when are in town and they make their way up the west side of the island . They can almost reach out and touch them. We did a big circle in front of their house hoping they might see us, and they did, and come out on their porch and wave and they did. What a beautiful place we live in.
TESTING THE WATERS
It was a great day and the boat isn't showing any flaws so we're feeling good about her. We love how she rides and how quick she is.
I must admit though I'm not feeling too comfortable yet about taking her to the Bahamas. I just don't feel like we've had enough time to get used to her and I hate the idea of taking my first big test in bad seas by crossing the Gulf Stream with her. I don't know how Larry is feeling but he is intent on getting in as much time as we can, pending the winter weather here, to make sure we want to take her across country. I'm still not quite over the shock of the window blowing up in our faces just weeks ago. I think we need more time on her, more experience, to understand how she handles in bigger seas, so we are going to take every opportunity to get more practice in.
Larry wants to take her to Vancouver across Georgia Strait in some rough seas or across Juan de Fuca. He keeps telling me that if we do that, we'll know we'll be fine crossing of the Gulf Stream. My stomach gets a knot in it just at the thought of it.