TREASURE CAY TO HOPE TOWN
DIRTY FUEL?
The gale force winds had finally died down. All the Moorings charter boats had left the marina and we had plans to move to our next stop also. It was again the march of the cock roaches as I like to think of it, all coming out of hiding at the same time and heading in different directions. We had less than 30 gallons of fuel left from the last fill up at West Palm Beach so our first stop no matter what was to get some diesel. There was a fuel dock at Treasure Cay but we decided instead to fuel up at Marsh Harbor. The Canadian we had met in Turtle Cay made a reasonable comment. He said he would "only fill up in Marsh Harbor because that's where the Moorings boats fill up and they don't want their boats to have any problems so the fuel must be safe". Sounded good to us the more we thought about it. We didn't want to take on any dirty fuel, so off to Marsh Harbor we go.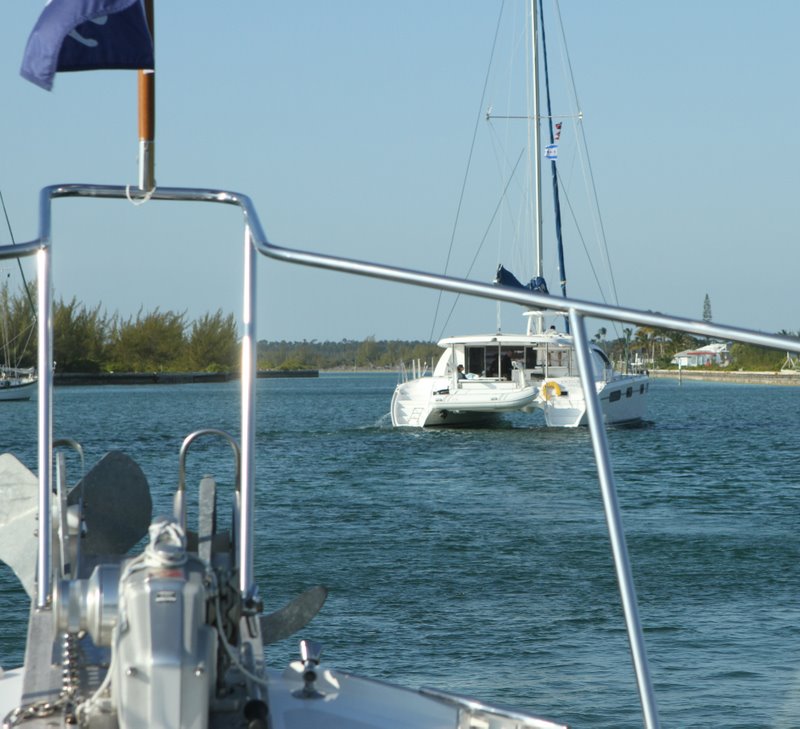 THOSE DARN MOORINGS PEOPLE
Actually, I was mistaken. One Moorings boat hadn't left yet. How did we know? He cut us off as we left the harbor. That figures. Oh well.
NICE DAY
It was a beautiful day, finally. There was still a little wind in the air and the seas were a bit choppy as they were still reeling from the brunt of the last three days of winds. We had an easy short trip to Marsh Harbor.
We took a bit of spray over the bow and on the windshields so Larry turned the wipers on. Rats. Now we are going to be salty with no place to wash up until we get back to a dock again which was several days off. We were planning to pick up a mooring ball at Hope Town and there would be no washing there. Final Approach, who had been weathering the storm in Marsh Harbor, emailed to say they would catch up with us in Hope Town today. They said they were able to get a reservation for a mooring ball. We will have to hail the harbor marina when we within range to see if we can get one too. Hope Town has been crowded we heard so we will see.
BAREFOOT MAN
It was gorgeous out. There were several sailboats out on the water with their sails full of wind. They looked beautiful healing across the choppy turquoise water. Most of the boats out on the water today were heading to Guana Cay to hear the Barefoot Man. He's a local singer that likens himself in style to Jimmy Buffet. We're keeping our fingers crossed that a mooring ball will open up as people will leave Hope Town heading out to go hear this guy. He's kind of famous throughout the Abacos we were told and it was all the buzz as everyone was talking about meeting up there to hear him. We aren't interested in going back to Guana Cay even if a singing shoeless man is there. As far as we are concerned there wasn't a thing to do there except go to Nippers, a local beach bar where Barefoot Man will play. We liked it once and glad we went but one visit was enough for us. Been there, done that, if you know what I mean.

MARSH HARBOR
Soon we had the channel markers heading into Marsh Harbor within sight. Larry slowed down to let a barge come out of the commercial channel at the entrance. Two channels split at the entrance, one for the commercial traffic and the other for the mooring/anchorage field and the inner harbor marinas.
Marsh Harbor is the central hub for the outer Abacos. We spent time there when we came in the Nordhavn a few years back. It's just a town where cruisers seem to congregate for the conveniences it provides and the comradery between boaters. Frankly it left us longing for more local culture and strolls along the beautiful Bahamian beaches. We had no desire to go back except to fuel up.
FINAL APPROACH AGAIN
To our surprise we heard Final Approach on the radio hailing what sounded like a marina, over and over again, and getting no answer back. Then we heard him hailing another place, and then another and still no answer back. What in the heck is going on? We were too busy to listen though as we were weaving our way through boats in the anchorage and trying to stay in the deeper water of the channel.
FUELING UP
I had some anticipation about coming into Marsh Harbor with vivid memories coming to life again of hooking another boater's anchor line with the bulbous bow of the Nordhavn in a very crowded harbor last trip. Today though, the harbor wasn't crowded and we had an easy clear approach. We headed straight for the fuel dock and low and behold there was Final Approach hovering like a stingray. He was trying to get a spot at the dock to get fuel. I guess that's who he had been trying to hail all this time.
The fuel dock was busy with two boats already fueling. There was no more room on the main fuel dock. The fuel guy told Final Approach (FA) to come around on the inside and take a slip next to the fuel dock saying he could reach him with the fuel hose there. FA didn't think he could fit into the space (he's a big wide power cat) and declined so then the fuel guy told Larry to come in to the same spot. Larry didn't hesitate and was able to turn our little boat around and back her in to the slip. (There are advantages to having a smaller boat for times like these.) I yelled a "hello" to FA. They waved back saying they were going to skip getting fuel as it was too busy and so would meet up with us when we got to Hope Town. They also said they will try to get a mooring reserved for us.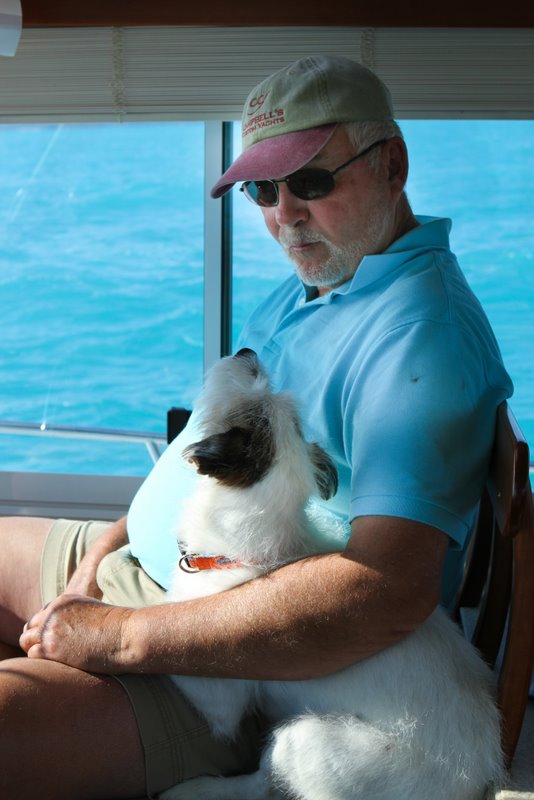 GOOD VIBES IN THE AIR
Though the fuel dock was busy the black fuel dock guy was able to help everybody with their lines, fuel three boats and check out one Moorings charter boat customer all at the same time. Again, I was impressed. Everyone was super friendly and chatty at the docks. It was I'm sure because of the break in the weather. Two handsome gay guys got out of their big blue hulled yacht with hired captain just to come over to see Ziggy. They said they had a 6 month old Jack Russell at home and really missed him. A couple on a catamaran fueling up across the dock from us talked us as if we'd known each other all our lives. It was like we were suddenly best friends. The fuel dock guy was friendly too. In fact, he and I who had absolutely nothing in common, being worlds apart, now we're talking about anything and everything. The whole chatty thing going on was fun but weird. The good weather today broke all barriers. Everyone was happy. I think we all had been hunkered down for so many weeks with rotten weather that it was like our first day out of jail. It was hard to believe that we actually had a positive weather forecast for a change, an amazing 3 days of previously unthinkable, "perfect weather".
And that was it in a nut shell, our brief stop at Marsh Harbor.
GOOD GRIEF!
We headed back out the channel. A freighter in the distance was heading in to the commercial channel. Another Moorings charter boat was ahead of us.
"Oh my gosh, is he going to cross right in front of the freighter?" I asked.
We wondered. We pulled back to idle speed to wait for the freighter to go by. I guess the Moorings boat figured it out and soon slowed down to wait for the freighter. Thank goodness as the freighter went on by without slowing for any indecision on their part.
Poo?
Again, it was another short run, another short hop over to Hope Town. Larry planned our trip to arrive at the shallow entrance to Hope Town at high tide. The approach to the harbor can be tricky with shallow shoals on all sides and it's good to have some experience reading the waters as I remember our chart plotter took us right over land so couldn't trust it again here, must rely on the visual. I remember an old captain friend once giving us some pointers when cruising these Bahamian waters, saying "If the water looks like baby poo, go the other way!" I guess I would have described it differently but I can say I never forgot it. It was much scarier coming in with the deeper draft of the Nordhavn. On this boat we have the luxury of two extra feet in depth so we had more lee way.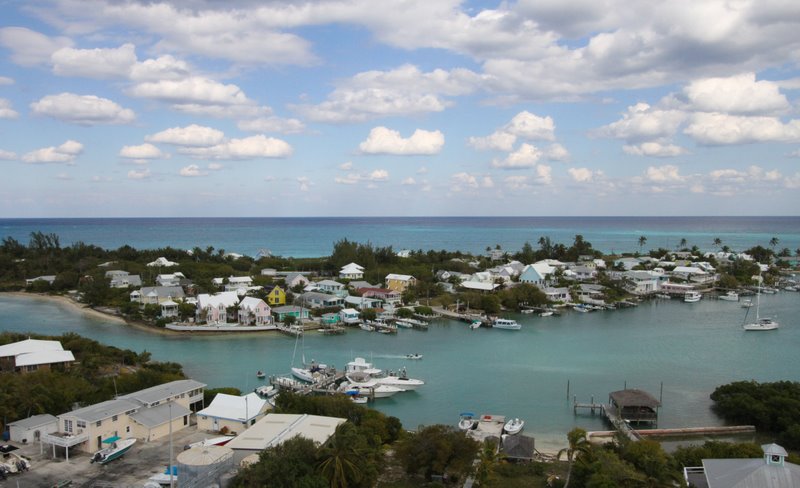 HEADING IN
We were heading into the harbor entrance now. We followed the green and red (floating balls) heading in, and then spied the small little concrete road on the hill dead ahead where there are some homemade range markers to help keep you on track. (They better trim some bushes up there as the markers are about to be obscured by overgrowth.) Once you reach the last green ball you are supposed to make a turn immediately to starboard and then you very quickly see the small little harbor filled to the brim with boats in the mooring field. Of course you can't help but notice the picturesque and very famous landmark

of Hope Town now. That would be the red and white striped lighthouse.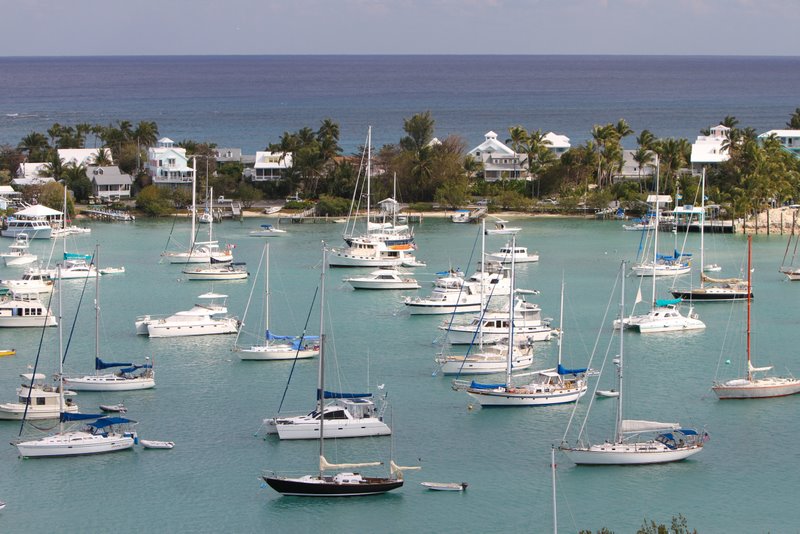 Once inside you will find yourself in one of the most beautiful little harbors you will ever come across when cruising. I don't care where else you cruise this is charming. This is top of the list.
It can be a bit unnerving heading in towards the harbor and mooring field as its very tiny and very crowded. It feels like there may be no room to turn around or even to make your way through the mooring field but somehow everyone manages. FA had called us as we got near the entrance to let us know the marina was saving a mooring spot for us. That was a big relief. Once inside we saw FA immediately and they waved us over pointing to our mooring. I took over at the helm and nudged her slowly up to the mooring ball while Larry walked up to the bow and hooked the line with our boat pole. He hoisted the mooring line up and hooked one line to the starboard cleat and the other to the portside bow cleat. We were secure.
GETTING SETTLED IN
Here we were at a good stop for three days of bliss and with good weather. We had a salty crust all over the windows and railing so immediately got a bucket of water and mixed in a good batch of vinegar. We then began to clean the salt off the windows the best we could and whatever was left we used to wipe down the railings and the cockpit area where we hoped to spend a lot of time sitting out. It actually cleaned up pretty well so we felt comfortable and could see out the windows without a sticky salty mess.
They sure pack them in this little harbor. We were right next to FA and wondered how we would all swing without bumping in to each other. FA is big and wide so we will be watching it.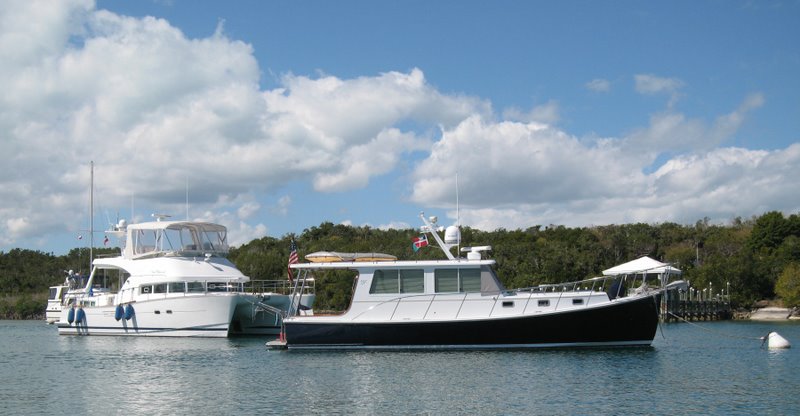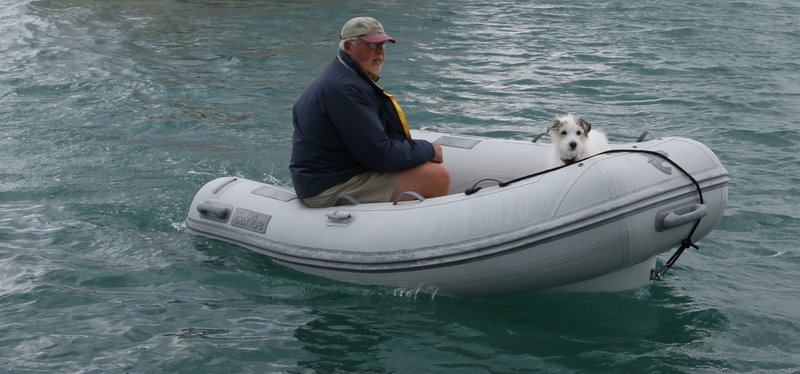 BLASTED OUTBOARD
Then Larry began to get the dinghy down to take Zig to shore. That was easier said than done. That blasted out board motor just wouldn't start again. The dinghy and its retched motor came with the boat when we bought it and it's been nothing but trouble. I hate the whole thing. It's hard to get the dinghy down and it hangs weird on the boat. It's hard to get in it from the swim step because the davits are always in the way and then the motor has a total mind of its own. If you were depending on this rig in an emergency you might as well forget it. Half the time it's next to impossible starting the out board too. It you are lucky to get it running and are out and about it sometimes decides to start smoking like an old jalopy. Actually it smokes way worse than an old jalopy. We can't wait to get rid of it as soon as we can. It's the pits.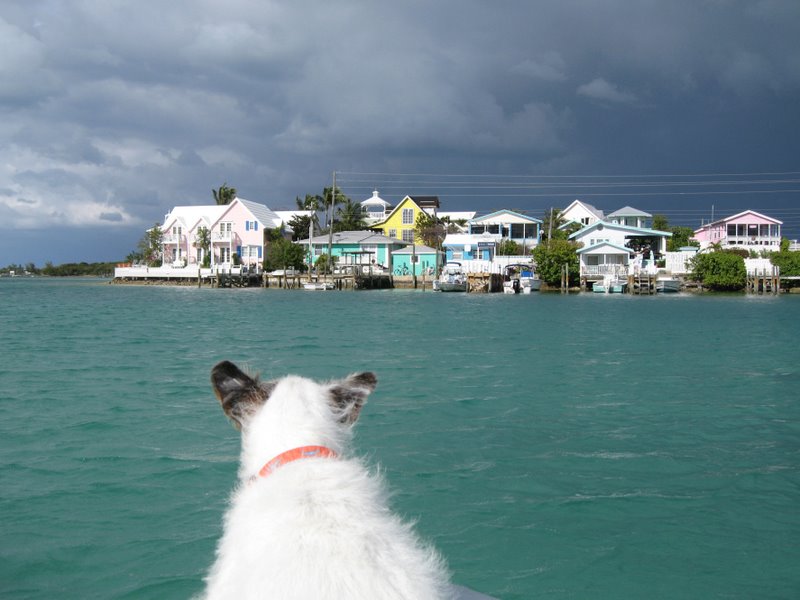 So I watch as poor Larry was working up a sweat, pulling the cord over and over again and adjusting the choke for at least a half an hour. The dam thing is really stubborn today. That's great. How in the heck will we be able to get to shore now that we are on a mooring? In between pulls he'd fiddle with this and that, and eventually took the top off and checked the wires and God only knows what. Finally it decided to start. We have no idea why but Larry kept revving it up to keep it going all the while we were attracting attention as the smoke was puffing out of it.
Zig and I piled in and off we went "in a cloud of whale poop" as my dad would say when we were kids. I never understood that phase but somehow it was appropriate today.
SUCH A CHARMING PLACE
Hope Town was just as we remembered it, charming and friendly. Nothing really has changed since we were here last, well, except that there is a lot of work going on at the waterfront. It looks like they are building two new marinas. In fact the last time here we had a spot at the dock at the marina on the lighthouse side as we were too big for a mooring. This time that place is a mess as its being dredged and widened and there are piles of sandy dirt everywhere. Good thing we didn't go there. I guess next time this place will look very different.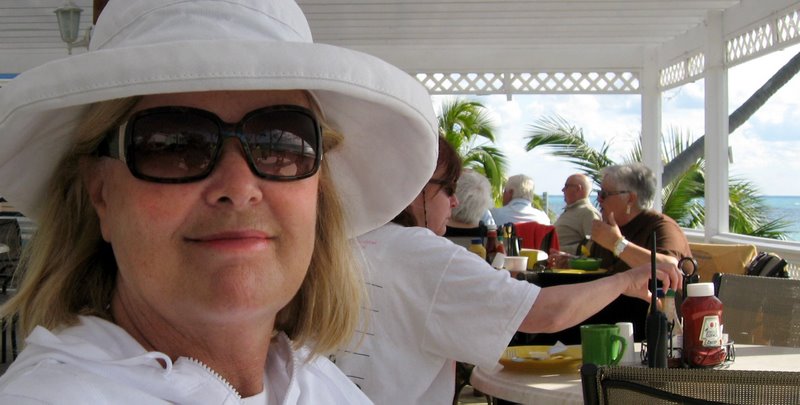 HOPE TOWN HARBOR INN
It was lunch time so we headed straight up the hill to Hope Town Harbor Inn. We're hoping it's still there and still serving lunch out on their pool patio that overlooks another one of those beautiful Bahamian beaches. Yep, it still was there, still serving and still dog friendly, as several other dog lovers seemed to have discovered it too. All sorts of different breeds of pooches were happily and quietly sitting under their master's tables. Aah, to be back in Hope Town again. The food was delicious. I had the special which turned out to be a huge mound of seafood salad filled with giant chunks of fresh lobster and shrimp. I was so busy enjoying mine that I'm not even sure what Larry had as he cleaned his plate before I had a chance to look. Yum.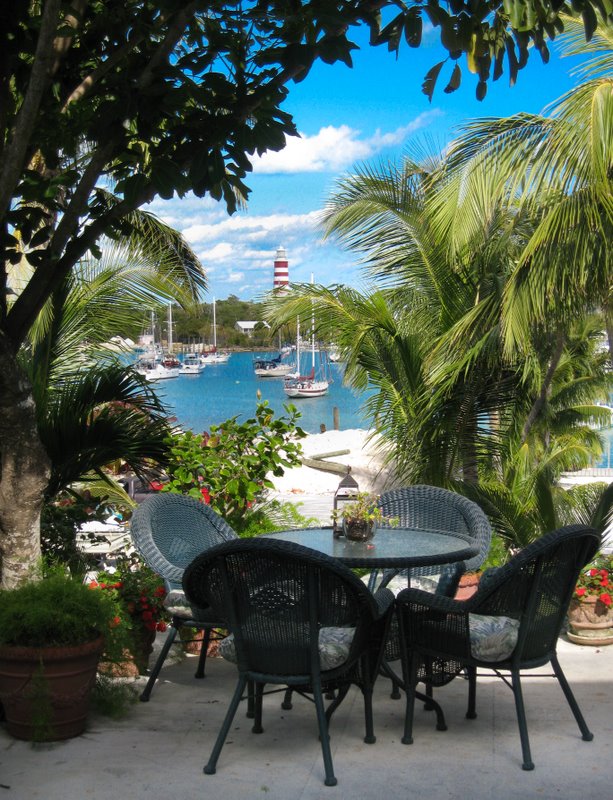 COLONIAL TOWN
We enjoyed the rest of the afternoon walking Hope Town's little colonial streets and once more taking in all the beauty of the place. I love the quaint little historical cottages each painted in beautiful pastel colors with a clever name on a plaque mounted over a door or gate. I love too all the detail and work that went into their gingerbread trim. Even the little police station was painted bright turquoise. Everyone is easy going, friendly and says" hello".
The little colonial streets are just barely wide enough for two golf carts to pass each other. They still maintain the same size as it was in the colonial days, just use a different mode of travel. It doesn't take long to walk the little village.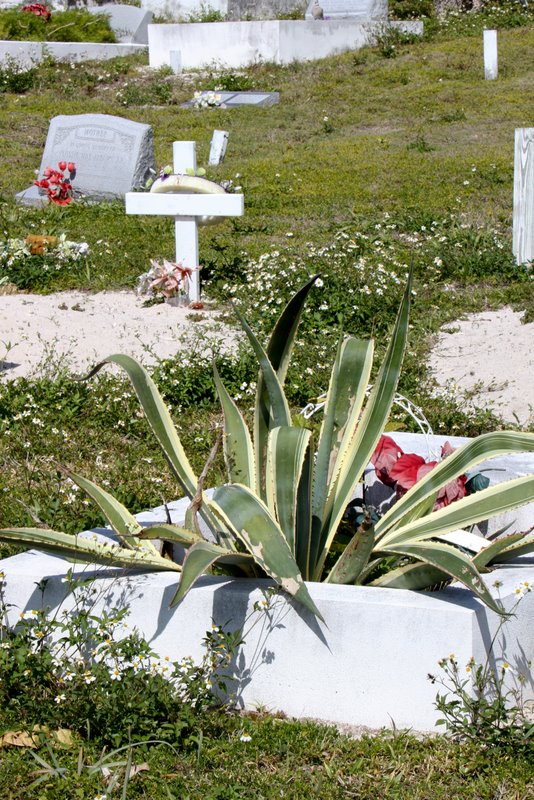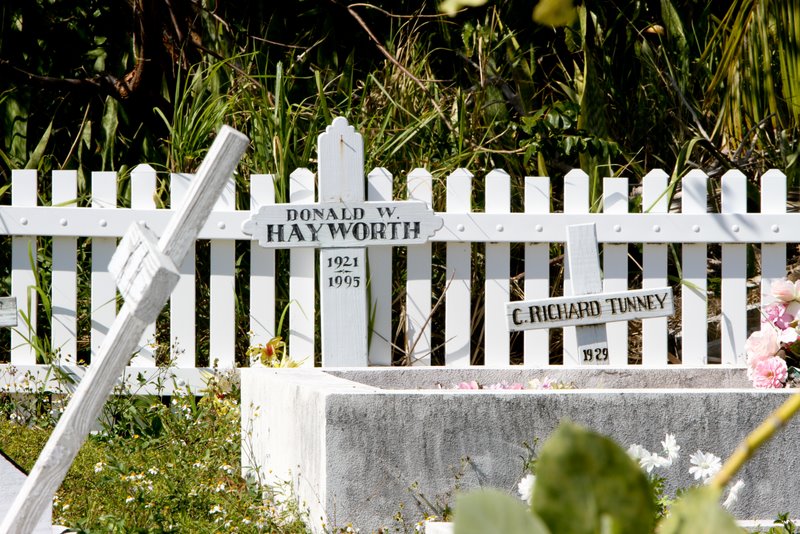 CEMETERY
The town cemetery is right in the middle of everything and an integral part of the village. Old stone markers sprinkle the sandy cemetery where trees and flowering plants compete for space. The cemetery plot of land is defined by a falling down picket fence that runs most of the perimeter and the walls and windows of the surrounding cottages fill in the missing gaps as they are built right next to the cemetery.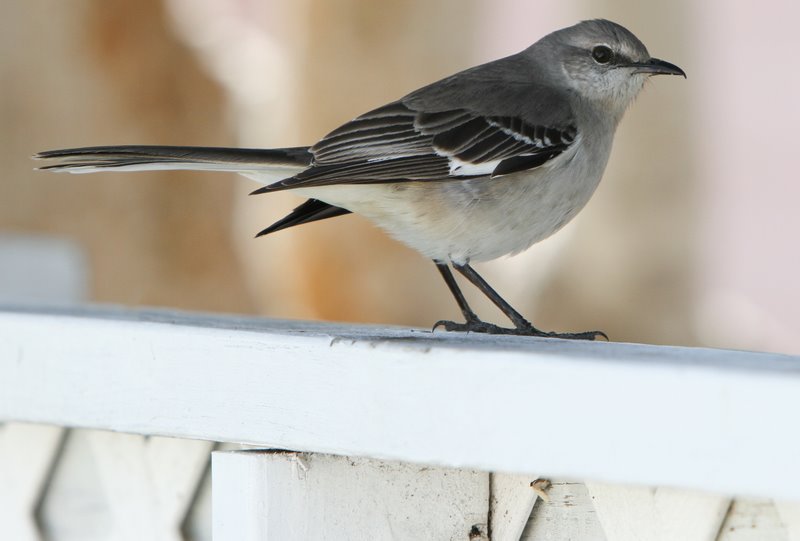 Some of the coffin shaped stone slabs are shaded under palm trees while other wild plants and invasive starts of banyan trees have rooted and established themselves among the ruins. Some are clinging and entangling themselves around the grave markers like snakes, uprooting and tilting them in a precarious manner. A couple of squawking Bahamian mockingbirds perch atop a head stone like watchmen nagging us to leave.
Some graves are recent as evidenced by a fresh mound of damp sand that is piled nearby and an as of yet an unmarked grave. The grave digger looks to have absentmindedly or maybe in a hurry, to have gone fishing as he has left his shovel surprisingly leaning against a nearby headstone. Some markers date back one and even two centuries. Many are even older as the loyalists are said to have come here in the 1700's. The oldest markers are so weathered that their names have completely warn away and are now just a piece of stone which is all that is left marking a person's life and place whose name is now forgotten.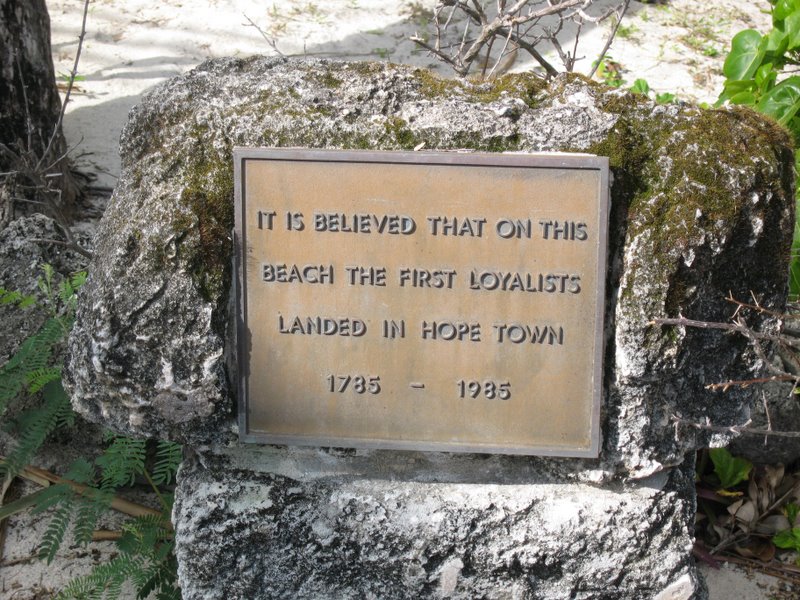 Some occupants are not as lucky to have a stone sarcophagus or even a fragment of a head stone. Some of the more unfortunate are remembered only by the display two pieces of weathered flat wood simply nailed together to form a cross and then impermanently stuck in the ground. Many of these temporary markers are already falling over as perhaps no family member has bothered to visit recently, to tilt it back upright again. All that is left of their life is just what has been hand scrawled on these sticks with no more information than a Christian name, date of birth and death. It seems so odd that these few words become the only epitaph of someone's life.
MULTI-PURPOSE GROCERY STORE
We stopped at the Vern's Grocery store. It's a very unlikely building for a grocery store. Somehow it seems to work even though it's nothing more than what was once a living room in a small cottage. It is now filled with rows of homemade shelves and two walls are lined with refrigerators with all the goods and supplies that any cruiser would need for provisioning.
Vern's is most famous for their homemade key lime pies. It's the best key lime pie you'll ever eat.

The little store is a meeting place for everyone on the island and there are always people lined up waiting to check out at the cash register. Nobody is in a hurry around here so you don't care how long it takes to get checked out. People time their shopping so they can pick up fresh Bahamian bread that comes out of the kitchen around 11:00. The owner, Vern, also seems to function in many capacities, not only the local grocer and baker but maybe the local preacher. I happened to overhear the couple in front of me making arrangements to have Vern marry them in a couple days. He was taking notes, jotting down their names, nationalities, and planned wedding date along with other pertinent information needed for getting married. Funny thing was all this information went into this old wornout note pad right next to other miscellaneous notes of his, like orders for pies, bread and meat. It didn't matter either that several of us were in line listening to this amazing transaction.
And if that wasn't interesting enough, if you weren't entertained enough to just eavesdrops you could also keep busy reading the many hand written notes that are pushed pinned into edges of shelves all over the store, practically everywhere you looked. These notes, all hand written on scraps of paper, spouted rhetoric of note that the owner thought was amusing. I recognized some notes that had still been there since our last visit in 2004.
That night we ate at the little water front café and had Bahamian lobster and again Ziggy slept quietly under the table. Life was perfect.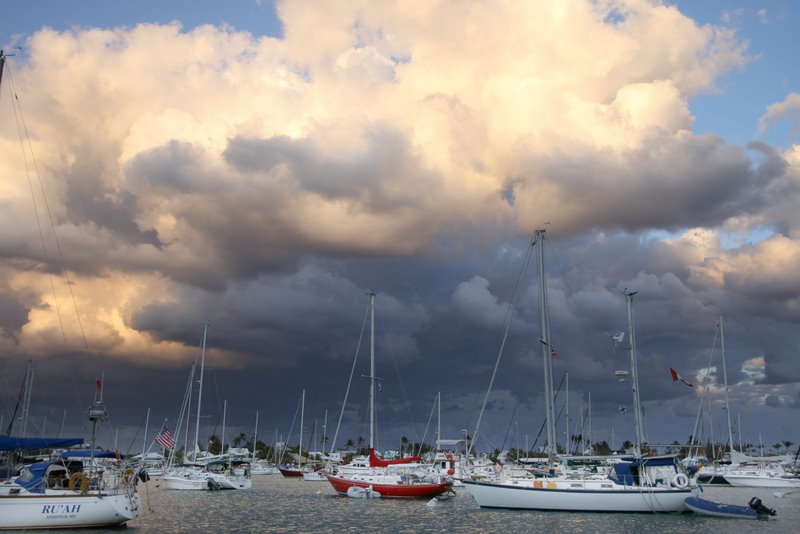 OH NO, NOT ANOTHER FRONT COMING!
We spent the next day just enjoying the simplicity and charm of Hope Town. We revisited all the old haunts and places we knew from before, the beaches, cafes, the lighthouse, the shops, and everything was reassuringly the same. It's rare in this day and age to be reassured of something staying the same but here for now it was. I'm not sure what it will be like when the new marinas go in but we probably won't be coming back again to see it.
The people are genuinely friendly here too. Flowers were blooming and local boats in the harbor are quaint. We had beautiful sunrises on one side of the harbor and equally stunning sunsets behind the lighthouse at dusk. We also walked by the other old cemetery just outside of the village both of which makes you very pensive.
Hope Town will always be a favorite place of ours but you could feel something in the air. It was the coming of another Front. The winds were switching direction. The boats were choreographing their swings in unison pointing us all in different directions, a sure sign of the barometer dropping and winds clocking around getting ready to give us another blows. The skies were filled with dramatic clouds and some felt so low that you almost could reach into the sky and touch them. It was evident; another storm was on the way.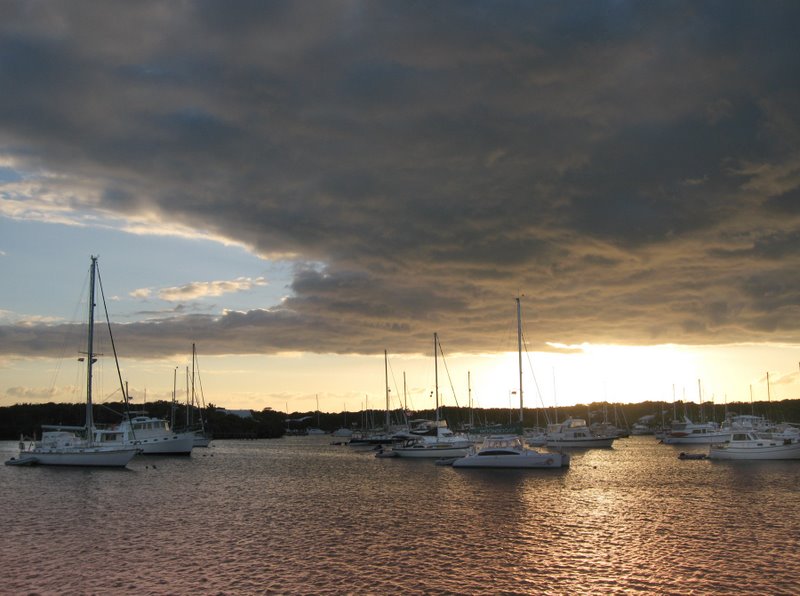 FA had now swung around now directly behind us as the winds switched to the north. They were only a few feet away looking right up our crotch whether they wanted to or not. And… another sure sign of impending weather was seeing TAKITEZ come into the harbor looking for protection. You remember them; they are the Canadian folks that ran their putrid smelling generator at the dock in Treasure Cay. Oh no, are we going to smell them again? Fortunately they found a place downwind of us and until the winds change again we were safe for the time being.
It was definitely time for the cockroach march again, the calm place before the storm when everybody starts moving to the next place. We had to make a decision. We could go south about 20 miles to Small Harbor but will definitely get stuck there at a windy anchorage for a couple days waiting out the storm or we could go to Guana Cay, but it's not too protected there and we've been there done that routine. We didn't really want to go back to Treasure Cay again as having already spent many days in gale force winds there… and only to do it again? Eh…No thanks.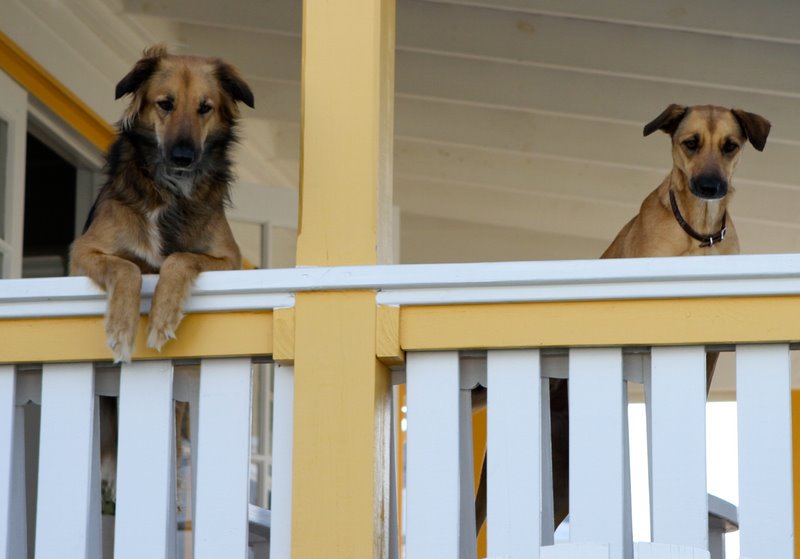 Larry and I both looked at each other and said in unison, "Let's head back!" And let's be clear, we meant back to Florida. Let's end this trip on a happy note at Hope Town. We've just had it up to our eyeballs with these storms, winds and cold weather.
No more.
So just that quickly, we let FA know we were leaving. It was sad to say goodbye but so be it. They still had lots to discover and see in the Abacos and because of it had more of a will to put up with the crappy weather.
So, now we had to get moving as we had a brief window, just a matter of hours, to get back around Whale Cut to Green Turtle before the storm hit. We'll sit the next storm out in Green Turtle until the next weather break and then take that break to make our way back to the West End and so on, to get finally get across the Gulf to West Palm Beach.
LET'S GO
So dinghy up, engines started, mooring line dropped, I took the helm and headed us out of the harbor. I drove most of the way until we passed Guana Cay and then Larry took over. The winds to me seemed to be picking up. I asked Larry if he thought it was too late to get through the cut…….He seemed confident but I had my doubts. Little did we know….
HEADING BACK THROUGH WHALE CUT
(HOPE TOWN TO GREEN TURTLE)
ENOUGH IS ENOUGH
Another front was headed this way. So what else is new? We were sick of it. This time it was described as a "set of serious storms." All we've done since we've been on this boat this winter is endure one storm after another. We both agreed. Enough is enough. It was time to get off this boat.
LOOKIN' GOOD
We left Hope Town in such a rush. We had listened to the boater's net on the radio that morning. It sounded like we had an opening to get back thru Whale Cut. They said it was "looking good for a crossing" at 8:00 in the morning. "No roller's out there" was also encouraging. We were going for it.
BEWARE!
The only thing that bothered and confused me was at the very beginning of the weather forecast, they said "beware of unusually severe swells on the East Atlantic side of the Abacos." That's all she said. Everything else sounded very benign and looked good for the next half of the day. I questioned Larry about what it meant, ("Beware of unusually severe swells") when the rest of the report was "flat and calm". It didn't make any sense. He didn't have an explanation either. It was strange.
We left Hope Town Harbor a couple hours before high tide, about 12:30. We still had 1.6 feet at the below us, the shallowest, on the way out.
IT'S FINE?!
As we neared Whale Cut, the winds were noticeably picking up and the seas were a bit choppy. As we neared Baker Cay (which is right next to Whale's Cut), I could see white breakers on the horizon and a few elephants. Not a good sign I thought. I mentioned it to Larry but he said it was fine. The closer we got, the worse it looked. I was getting nervous but Larry kept saying it was fine.
JUST GET IT BEHIND US
Once the decision was made to go back to Florida we both wanted to get the Whale Cut behind us. If we could do it now we had a better chance of getting back to Florida during the next weather window between the set of storms heading this way, otherwise we might get stuck for two weeks. The best scenario we thought was to go to Green Turtle today, sit out the storm for two days, then make a quick B-line to the West End for a night or two and then during the following window, head across the Gulf finally to Florida. Larry said it was a possible scenario after looking at the 5 day forecast. It was the only way back and everyone had the same obstacles to get around. It was like a game of hop scotch figuring out which stops we could skip to get home the quickest and safest.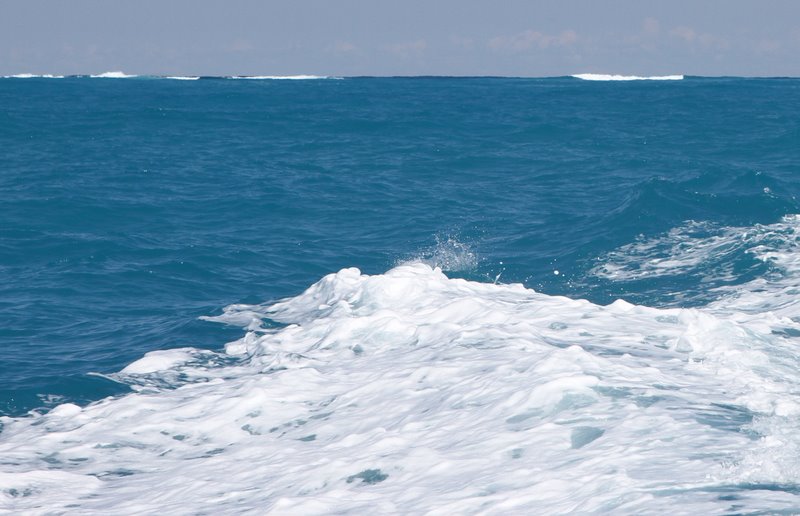 First things first, let's get around this dang Whale Cut behind us. There was a long white roll across the water line where the wind and waves were crashing on the outer reef. I could see what I thought was the mast of a sailboat going around the cut. That was encouraging. At least someone else was out there except I noticed their mast was swinging wildly left and right. Larry managed to hail them on the radio to ask how the cut was. The guy said "It was pretty bad but doable".
MACHO MAN-IA
I got out the binoculars and could see them more clearly now. Their mast was swinging wildly left and right. I tell Larry that he's really rocking back and forth and the seas look bad. It's too late now to turn back as we were already heading out through the markers. We were committed now.
The seas were getting wild. Larry said to look for the first green marker. As far as I could see, the markers (which were only ruins of posts) were all brown, wood brown. Who the hell would be out here painting these things anyway? Then I remembered what the Canadian said in Green Turtle. He had just come through the cut and had warned us that one of the marker poles had broken off and was dangerously hidden just below the water's surface. Great!
Larry decided to rely on the chart plotter to decide which post was green and which was red because there was no other way to decipher them at least not in these conditions. That isn't the best way to do it but it worked for now.
I'm petrified now as I see what was ahead of us. On the horizon were these big rollers and waves with white crests. Geez! Why would that idiot sailboat guy tell us this was "do-able." It's that macho crap again.
LIFE JACKETS
I managed to make my way to the cockpit, bracing myself each step of the way as the seas were now pretty rough. Once there I grabbed the life jackets. If there was ever a time when we might have a use for them, this might be the day. Most of the time their purpose seems only to decorate the back wall of the cockpit, but not today. Larry thinks it's silly but he knows better than to argue.
I slip one on him and then one on Ziggy and finally me. Ziggy will have to fend for himself for this leg of the journey as I need to brace myself at my helm seat to watch what's going on. There's no sitting down for this upcoming wild ride. I spread my feet wide apart and grasped the chart table hard for stability. Larry is doing the same but is holding on to helm as he steers us through this mess. Oh my gosh, this is really scary!
SOME FORECAST
We made it safely out through the channel marked with only the ruins of those stupid brown posts to guide us. Once out of that I looked ahead only to see that we were headed towards these huge swells, growing in size by the second. They were gigantic steep tall masses. The wind was ripping spray wildly off the tops. (So much for the calm benign forecast.) My eyes were now wide open and following the movement of these huge waves as they finally terminated their journey in what looked like huge explosions on the rocky shore of Whale Cay only a few hundred yards away. Cripes!
COMING ON OUR BEAM
To get through this mess we had to first head straight for these monsters and then make a quick turn 45 degree turn which put us on a parallel course to the shore of Whale Cay. That means of course it also puts these huge monsters on our beam. It was terrifying to watch them come towards us. It was a mass of sea rising above the height of the boat and then it would lift us up sideways as we rode up and finally over it. Each time I thought the swell was on the verge of breaking. Instead I just concentrated on what was just straight ahead. It was just too terrifying to watch them build into these monstrous masses as they came at us. Larry and I didn't say a word. It was too tense.
It seemed like forever to make our way the short length of the Cay as this scenario repeated itself over and over as these swells came at us. Larry later said he went further off shore than he normally would knowing these swells would be pushing us closer to shore each time they went by.
ALMOST OVER…
Finally it seemed there was a light at the end of the tunnel. I could see the end of Whale Cay and that would mean we could soon turn to port. Instead of having these monsters on our beam and feeling on the verge of rolling over we would then have them coming from behind. They would be following seas. That seemed better than rolling sideways. Even Larry said we were almost through the worst of it but not so fast….
CRAP SHOOT
We could now see it wasn't going to be that easy as the huge swells ahead were coming in sets that were actually breaking on the top. Some of the sets were just swells, but some sets were rolling and breaking. We were going to have to make the turn and hope we get a set that aren't breaking! What are our chances of getting the right set? This is coming down to a crap shoot, a dangerous one.
As we got closer to making our turn, a breaking set went through and then it was our turn. We made the turn. Up we went as one of the swells caught us from behind. We rode it for a moment and then glided down the back side. Then came another, up, up, up we went and then down the backside. The back of the boat was fish tailing a bit as we'd lose some control as the wave picked us up but Larry steered her back and kept steering us back each time onto course.
I turned to look back behind us and soon realized I shouldn't do that either. All I saw was again another huge wall of sea, higher than the boat, obliterating any view of the sky, heading right for us. Geez. It picked us up like a helpless baby and soon up we went and then down the backside like we were on a big roller coaster. It was like we were riding in a toy boat or that we were a small piece of flotsam being tossed about at the will of this violent sea only controlled somewhat by the direction that Larry pointed us. Larry kept his calm and confidence the whole way but he was tense with concentration. He kept us safe and controlled the boat.
I looked to the side and watched as we rode wave after wave in. The top of each wave was breaking and curling beside us but not enough to put us in harm's way. The good part of this was that with each wave we knew we were making progress, getting to the end of this nightmare and closer to the protection of calmer waters. I looked ahead now at the calmer waters knowing we soon would be in them. It was reassuring. We were fish tailing a bit as the waves played with us but Larry kept her on course.
And like all tales of events in bad seas, eventually it ends with calm waters. There we were after 20 minutes of pure terror, back in the calm water as if nothing ever happened. Who would think as we came into Green Turtle harbor that just minutes ago I feared the worst? Now we were happily motoring along in flat waters as if nothing unusual had happened. Now it was suddenly like a dream, almost forgotten.
CAPTURING THE GHOST WATERS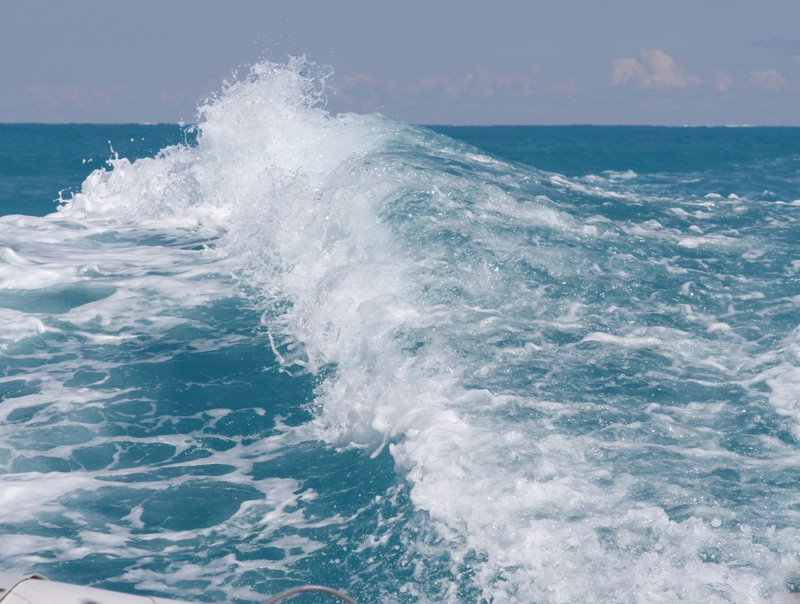 I never took one picture, it was too dam scary to think about pictures. I wish that I had but it wasn't possible to move in the unstable conditions. Trying to take pictures of stormy waters anyway is always like taking a picture of a ghost, the camera can never capture it no matter how many times you try. So the experience will live only in my vivid imagination.
RAGE SEA
I read later in the cruising guide that all passages between the Sea of Abaco and the Atlantic Ocean are at times impassable due to breaking seas. The condition is known as a "rage sea". It said that it's not always caused by high winds but may be also caused by ocean swells generated by far-away Atlantic storms. Now I understand. That was it, the warning we heard this morning on the boater's net, the part about unusually large swells from the Atlantic. Why couldn't they have been more explicit about the meaning?
Surf on our Stb side after exiting Whale Cut and in safe waters
Locals say it is almost always better to make the cut on a rising tide with the current flowing from the Atlantic Ocean to the Sea of Abaco. We did that but still the conditions were dangerous.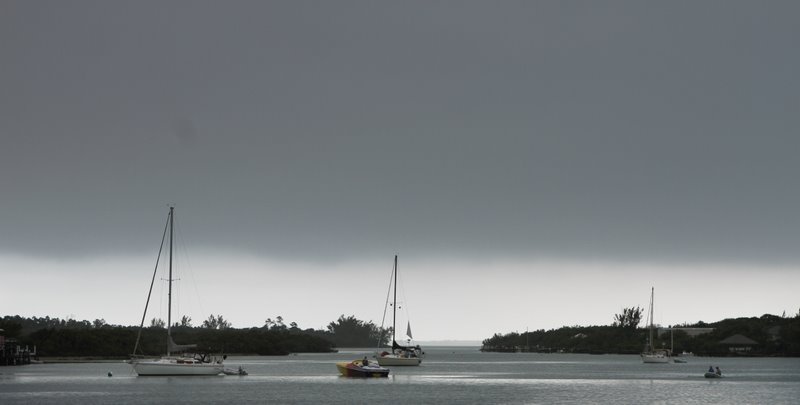 Now I know why people fear that crossing. It such a short little journey and on a good day, it's nothing to even talk about….but today we got a taste of it, and it was bitter. I can't tell you how wonderful it was to come back to Green Turtle after that horrifying experience.
GREEN TURTLE
There was barely a soul at the docks, but by late afternoon the boats started coming in. They were leaving their anchorages and heading in to a safe harbor or dock. They all knew about the impending storm. It's the same routine that we have seen so much this trip. It's too damn predictable.
WHAT NEXT?
Our next plan was to pick the next window to get to the next stop west in this strange game of hop scotch. We were one box closer to home. Larry checked the weather report again and, rats, within just a few hours the window that was there for our next leg just, "poof," disappeared. It didn't look like we had another break for a week!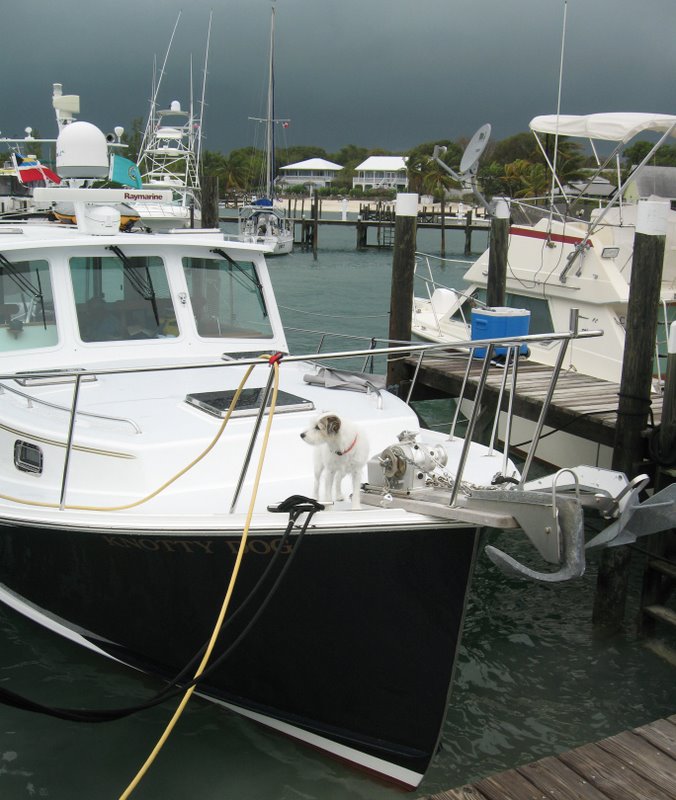 THE-DOCK-WALK-AND-TALK
The Canadians that we met before were still here. They too were looking for a window to get back. So as the boats came in and the docks and moorings filled, what I call the dock-walk-and-talk began. The men began their predictable pacing, up and down the dock, prophesying with each other about the weather options.
Looks like we'll be here for awhile…