AFTERNOON TRIP TO SUCIA ISLAND
A handful of islanders left San Juan Island yesterday (May 16,2009) heading out for the 20 mile trip to Sucia Island on the North Eastern edge of the San Juan's. Sucia hugs the south west edge of Georgia Strait and is just a wink from the Canadian border. It's a collection of small islands. The main island is shaped much like a horseshoe with several finger islands extending from it. There are more than a couple good anchorages there. Today we were headed for Echo Bay where the sailing club was congregating. Of course in the Protector we aren't planning to do an over night like the rest of the group but its speed allows us to join them for an afternoon hike and early evening campfire and BBQ on the beach.
TIME TRAVEL
It was probably a 45 minute trip for us today. At hearing this Don, off sail boat Polaris, laughed at the days before they paid attention to the tides. He said one time it took him and his wife Suzie five hours to get there because they were fighting the tides the entire way. This time though he said he never leaves without consulting the tide charts leaving just at the right time to get an extra push with the current. His secret he says is taking a short cut that he contends is through John's Passage which is a cut through Stuart Island.
A few of the cruisers left a day early so they could spend the peaceful night in Echo Bay before the rest of the group arrived on Saturday. But many like us left today and some this morning and most being sail boaters will probably straggle in by late afternoon enjoying the slow journey and light breezes. I have to say the weather has been warming up and seas seem very content and friendly as they have been sitting calmly on their laurels after whipping up plenty of havoc this winter. It looks like it will be a nice smooth ride for us in this little fast boat today.
PROTECTED FOR ALL TO ENJOY
Sucia Island is now a preserved park for everyone to enjoy and thank goodness because it provides some beautiful, better yet, amazing scenery with impressive walks through some semi-old growth forest that is serenely carpeted with thick moss, lush ferns and new spring wild flowers. Along its shore and crescent shaped beaches are these fascinating eroded sand stone shapes created millions of years ago. What a surprise this place was to us.
FOUL WATERS?
These protected crescent shaped coves provide calm protected waters and the flat shores, are naturally perfect launching ramps for dinghies and I imagine in the past, many canoes as these islands were frequented by the Lummi Indians doing their annual seal hunts. Later recorded history purports the islands to have been "discovered" by the Spanish in 1791 who took it upon themselves to name the islands "Sucia" which translates to "foul" in nautical terms. I guess they considered them foul with reefs and dangerous rocks and accurately named. Of course now a days with our advanced mapping technologies those hazards are clearly marked and not as much of a concern.
A SAFE HAVEN FOR WHOM?
More recent history shows these idyllic islands to have been hideouts for rum runners during Prohibition and then even later and more recent for drug running. But today you can only find harmless pleasure boaters like us enjoying the beauty of the place. Today these little islands are dotted with great hiking paths, convenient fire pits and picnic tables and the bays are filled with swinging boats on hook or mooring buoys all swinging in unison, nature's dance choreographed across the water. I suppose if the islands were discovered today they surely would be called something more beautiful...but these names on charts provide interesting insight into history, nautical landmarks and sometimes amusing tid bits and they all are reminders of how much things have changed in time.
PERFECT CONDITIONS
The seas today were placid unlike the rough seas we've become accustomed to the last few months off the coast of Florida. It was nice to just glide nice and smooth over the water for a change with out even getting a drop of salt spray on the windshield. Ziggy was even calm, well, until we saw several Dall's porpoises along the way and it produced several loud yips of excitement from him. It is such a beautiful day with nary a storm cloud in the sky. Spring is still being a bit shy this season and has yet to warm up completely so there is a sober chill in the air which still requires packing a few extra pieces of clothing just in case.
PATOS LIGHTHOUSE NEARBY
Our course today brought us up around the northern side of San Juan island and then we had a pretty straight shot between Waldron Island and the east side of Orcas Island. Once between the two you see can Sucia a low stretch of land just ahead. Off to the left and a few miles north west is Patos Island. The island has a newly restored lighthouse which if you're interested you can check out their website. It very interesting and gives you a glimpse into the life of a family that lived there several years long ago.
http://www.lighthousefriends.com/light.asp?ID=103
If that peaks your interest, you might like to read The Light on the Island by Helene Glidden, who was one of thirteen children that grew up on the island. It's a good read if you are at all interested in local island history. After reading it you surely will be able to vividly imagine what it was like for them when Teddy Roosevelt and the United States Naval fleet cruised past their light house and tooted a "hello" to them.
ECHO BAY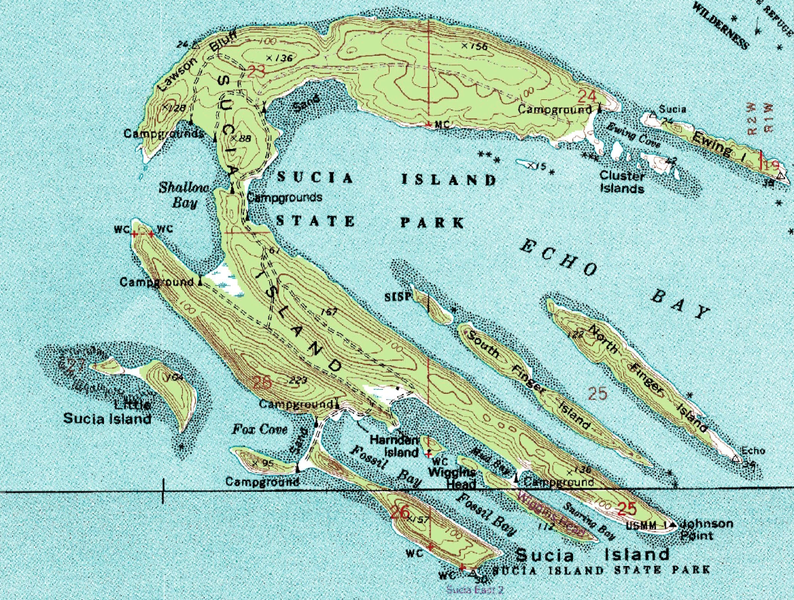 Anyway, we slowed as we entered between the two finger islands heading up to Echo Bay. There were lots of boats anchored and on mooring buoys, many more than we imagined would be here this early in the season. We spotted several boats we knew but they were empty as everyone seemed to be ashore in their dinghies. We lucked out and found one empty mooring buoy and quickly looped a bowline through the eye of the top hook and sat tight waiting for someone we knew.
DINGHY-LESS
Yep, we couldn't go any where as we were dinghy-less today. We will have to wait for one of the group to come back so we can hitch a ride to shore. (Guess you'll have to hold it for awhile Ziggy!) Usually we have at least one kayak on board so we can get ashore but we left our trusty inflatable kayaks on the Knotty Dog IV in Florida. Well, maybe I should say one of our kayaks as the other one popped in the heat of the sun somewhere in the Florida Keys. Guess that hot Florida sun expanded it to its popping point. So now we're in the market for a new kayak for the Protector. Guess getting stuck here on the mooring buoy gives us incentive to get one sooner than later.
ISLANDS ARE BEING GPS'D
Zig and I took advantage of being stuck and took a little nap in the nice warm sun while we waited but not for long as Norris and Karen from the Fragile Habitat soon came back. Karen and others we know on the islands have recently been hard at work taking Census information. They have been going around the islands GPS'ing houses for the Census Bureau. We can't quite figure out why the government needs that kind of specific information and to tell you the truth it's a bit worrisome to us but the jobs are providing some extra spending money for some of the locals and some pretty interesting adventures.
If you are lucky enough, like Karen, to get assigned some of these remote islands it provides for some interesting places to see. It gives her the opportunity to see some areas that without an invitation you would never be able to see as they are private and some I guess you might say are really private if you know what I mean. But, Karen I'm sure warms up their stiff unfriendly exterior immediately with her bright smile and friendly personality. Today Norris provided the transportation in the red dinghy to a couple of the finger islands where there happened to be one or two cottages and even one where it was a tent that got GPS'd.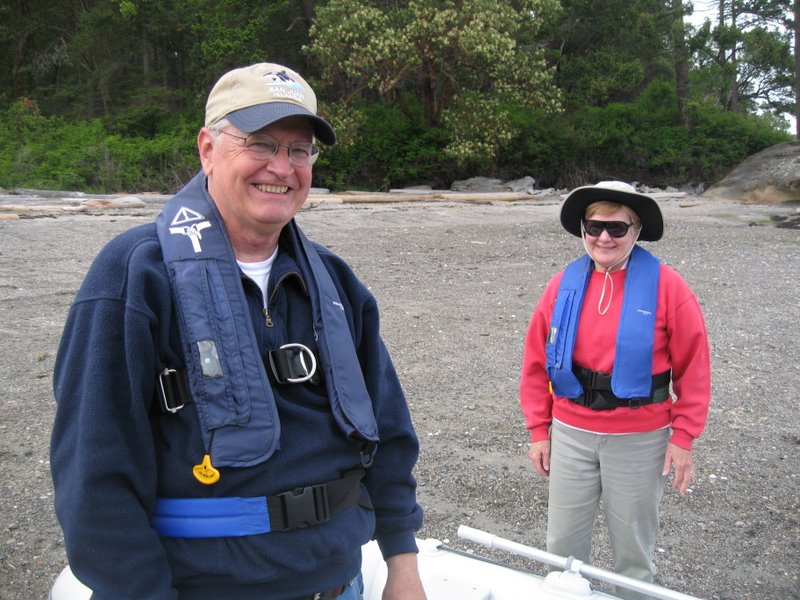 ISLAND STORIES
In fact there are lots of stories about these islands. Susie, off Polaris, was reminded of the time her walking group got permission to walk on Waldron Island which involved hiring a barge to take about 50 women over. Funny thing was no one stopped to think about where fifty women would go to the bathroom once they got there. "No problem," Susie said, "as they were all welcome to use one of the farmer's out-houses. It was not much more than a shelter with a seat over a hole in the ground but it worked just fine for the fifty women."
In fact, Susie probably has lots of stories to tell as she has been coming to the islands for thirty years or more with her family. She remembers the days when her mom and dad, then living in Seattle area, would come to Orcas Island for a vacation. They'd rent a rustic cabin on Orcas and a little skiff which her dad brought a motor that he attached it to and they all hopped in and motored over the Sucia Islands for the day. That's quite a stretch of water in a small skiff with four kids and in seas that can be pretty iffy at times...but she remembered it with only good memories and lots of fun.
SO BACK TO NORRIS AND KAREN...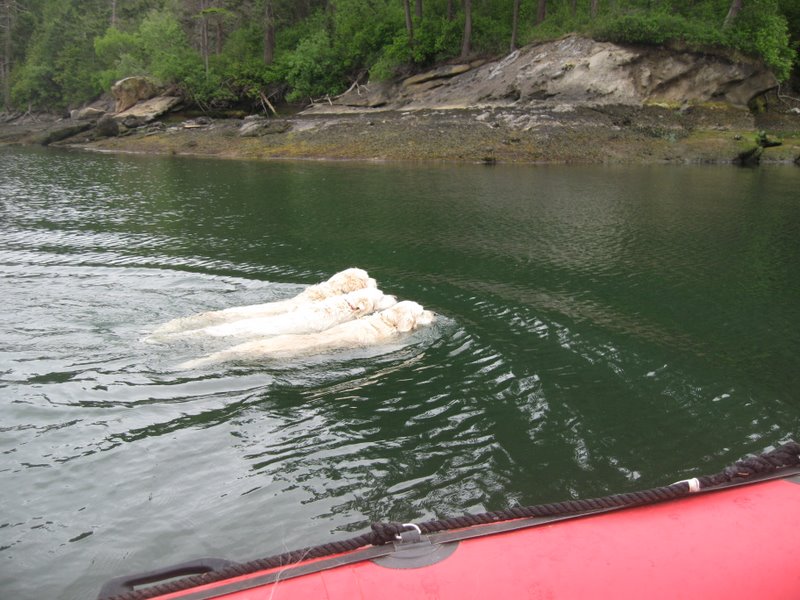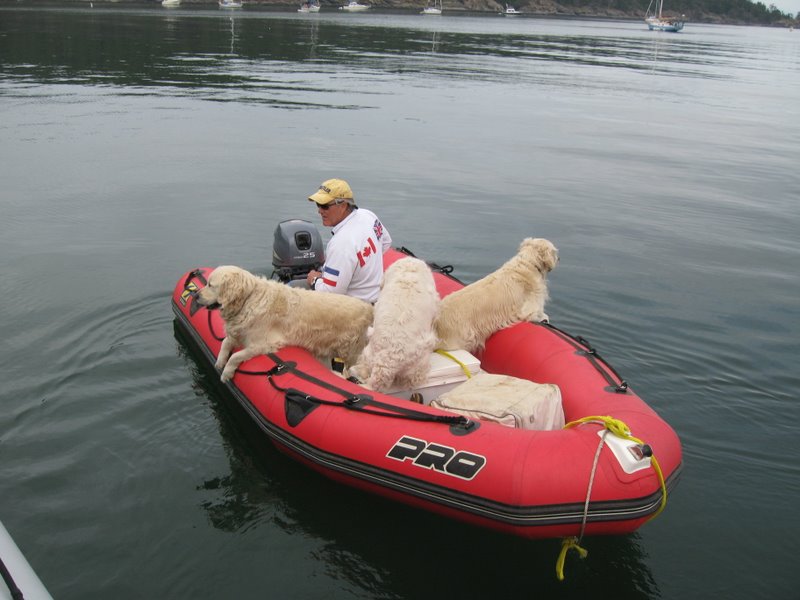 We hopped in their bright red dinghy along with Mocha, Latte and Blanca, their golden retrievers. We were shuttled to shore but not too fast as the goldens prefer to jump off to finish the last stretch to shore in a swimming competition. Ziggy thought that was pretty interesting but decided to go to shore with the humans.
Once ashore it was total fascination for all of us with this place. The dogs went sniffing and snooping and the humans went hiking and looking. Wow, what a place! There are neat views from all directions and lots of paths. You could spend endless hours here just hiking the trails. We crossed over the isthmus to Shallow Bay and there were several boats rafted together at anchor. I bet this place gets really packed in high season. Good thing we came early. Susie says she and Don like to come early in the season and then again once more just after. "It's a tradition!" she says.
We hiked a big loop with John and Pamela from Alishoni, and of course the goldens and Norris which brought us back conveniently to Echo Bay.
ONE ESSENTIAL INGREDIENT MISSING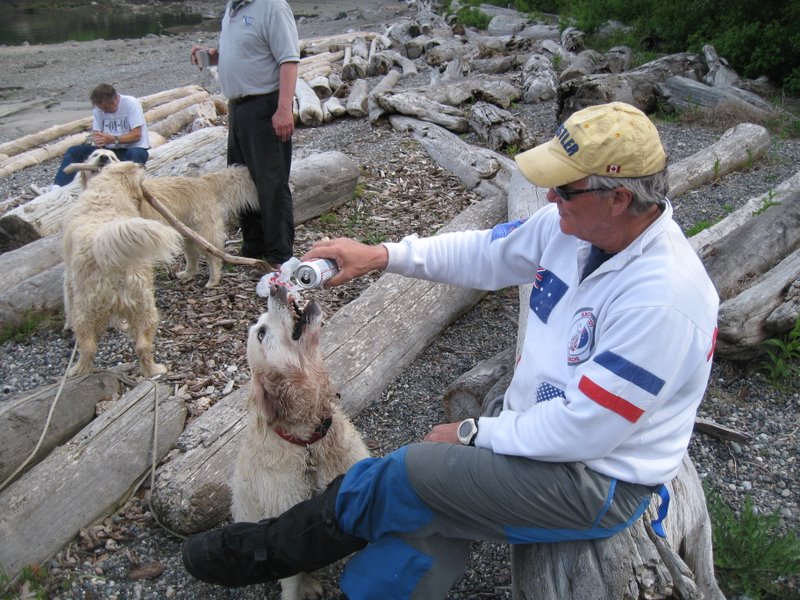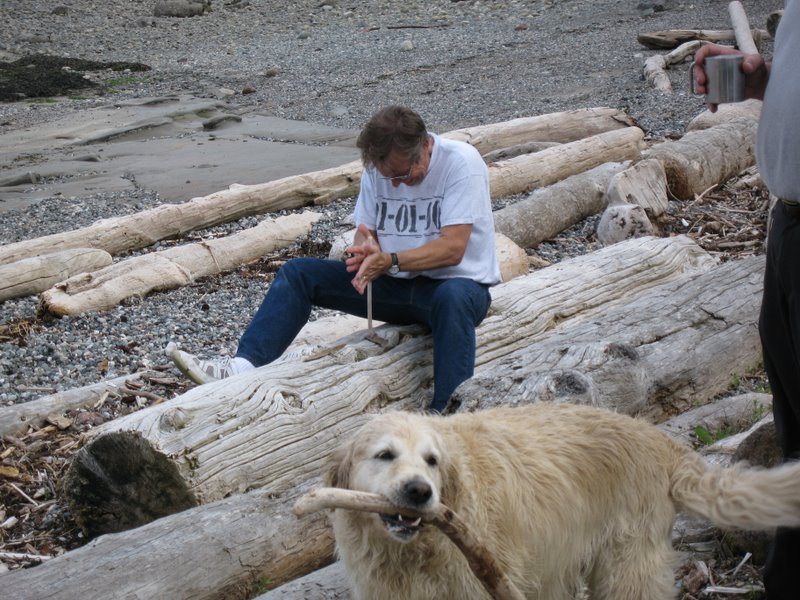 By now others began to arrive onshore in their dinghy's with fixing's for the BBQ. Fire wood was gathered, beer and wine was coming out of coolers and all was good until we discovered no one had a match to get the fire going. No body brought a match? Howard tried to be resourceful by searching for his ancient roots by diligently rubbing two sticks together and Norris watched as he shared his beer with Latte who has a likening for a good Budweiser.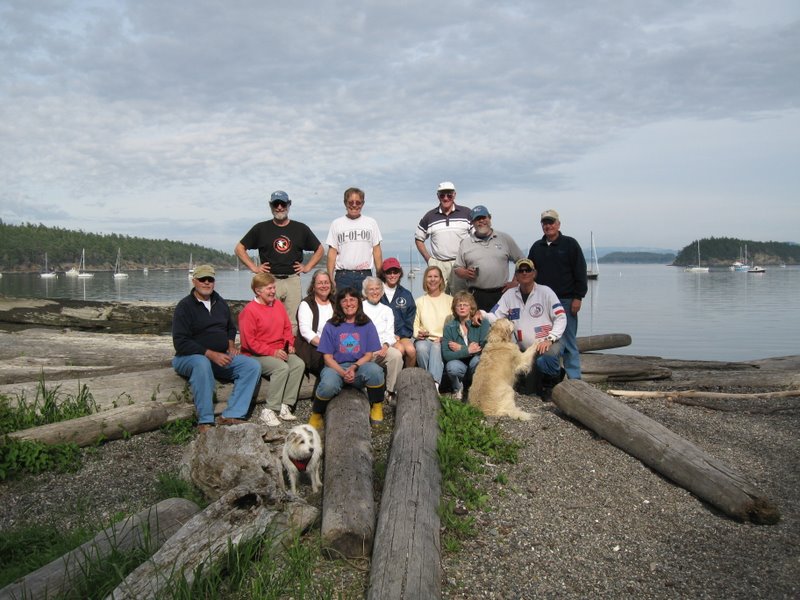 Soon Ed and Shireene from Cest la vie arrived but brought no matches. Not a problem as they said they have been in a pouch under the picnic table all the time. Geez! So the fire was started and appetizers consumed and soon hamburgers, steaks and chicken were sizzling on the fire. Other clever dishes were cooking in foil and pie tins resting down in the coals.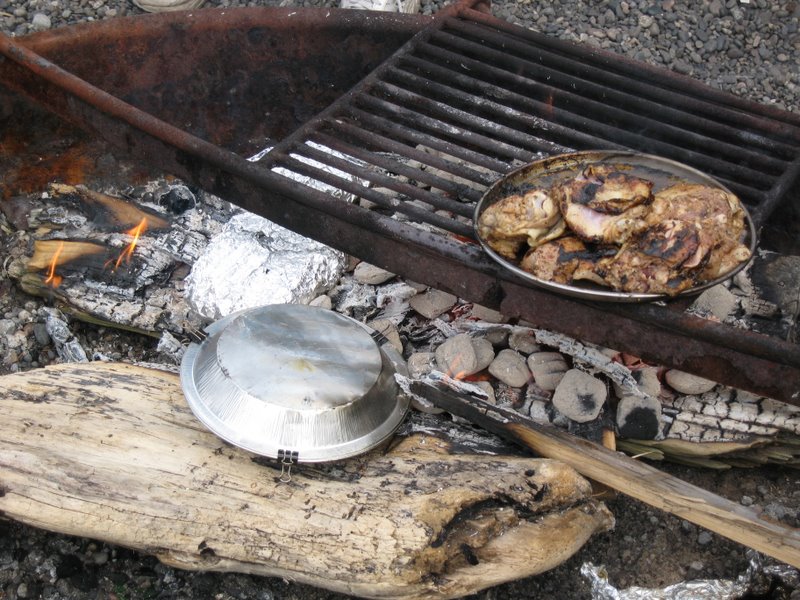 CLEVER RECIPES
I never knew you could cook Hunter's stew in tin foil nor roasted potatoes sandwiched between two pie tins clipped together with paper clips! Rebecca said the pie tin idea was taken from her serious Girl Scout days. There's lots of ingenuity in this group that's for sure. Anyway, it was a great time and the food was delicious and besides Latte's serious taste for beer, we soon discovered she also had a hankering for roasted potatoes a little on the burnt side. He managed to open the leftovers with his snout as they roasted on the coals and consumed most of them before Rebecca rescued them. Rebecca didn't mind too much and offered the rest to Latte once she was discovered they were covered in dog slobber.
TOO SOON, TOO SHORT, TIME TO GO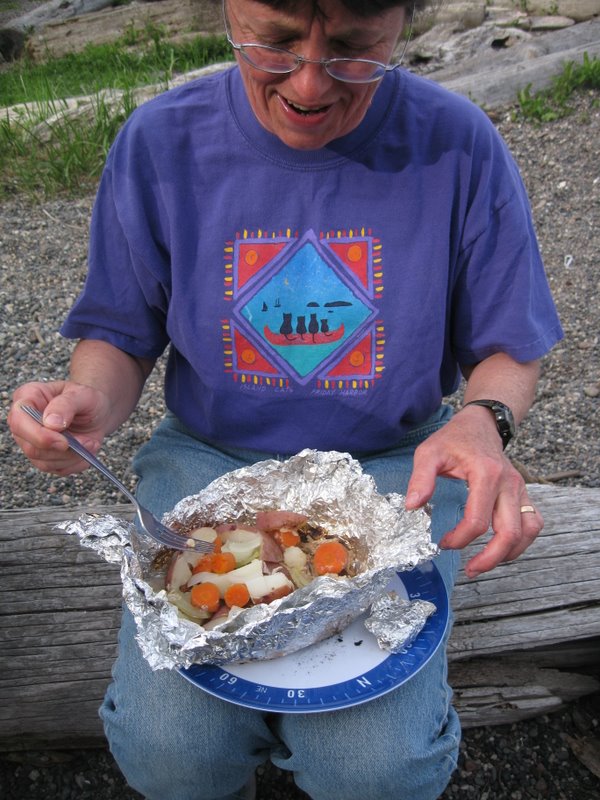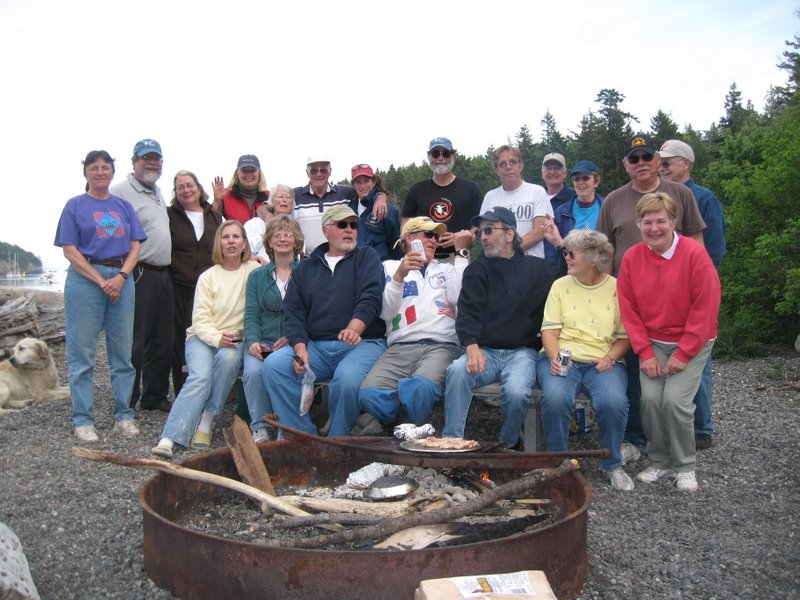 Norris was nice enough to provide us shuttle service back to the Protector as we had to call it an evening. The sun was getting low and we had a 20 mile ride to go. We were sad to leave because we think the fun was just beginning because Norris was going to retrieve his guitar and head back for some camp fire song singing.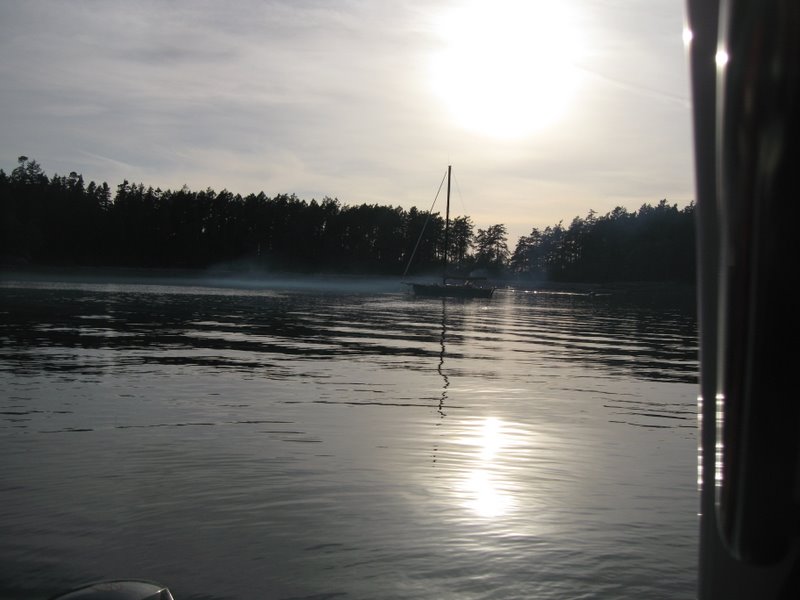 We scooted out of the harbor and as we looked back you could see a thin line of camp fire smoke waft through the anchorage along with the pleasant cacophony of laughter and conversation. It was a good day and a good time.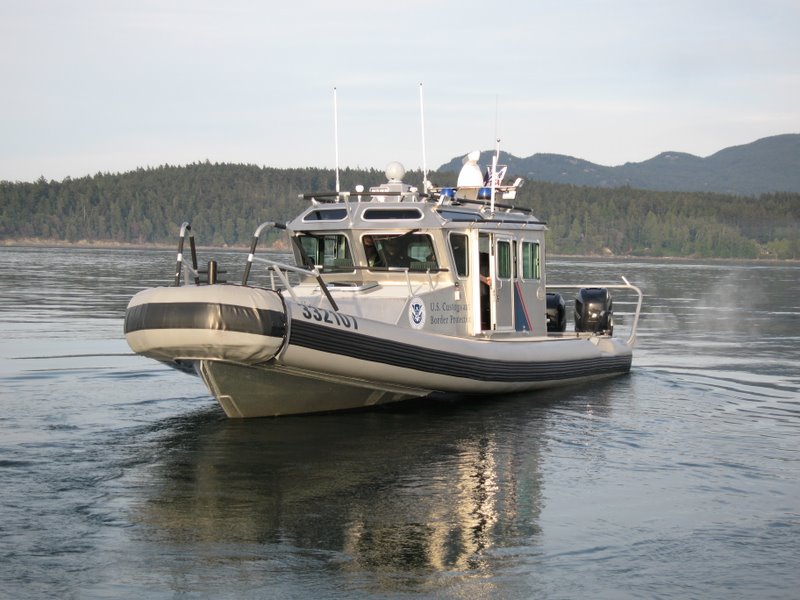 BEE LINE FOR HOME UNTIL....
Once out of the harbor we put the peddle to the metal and glided across the glassy smooth water. What a great evening and not another soul out. The sun was providing a beautiful palette of orange and purple tones to the islands and every once in awhile we'd get a glimpse of the silhouette of a Dall's porpoise traveling quietly and elegantly dipping and diving without a splash through the still waters. Suddenly the serenity was broken as I heard a funny noise and turned around to see Homeland Security racing right beside us only five feet away. We both were going about 35 knots so it was quite a surprise and thrill.
We slowed down immediately and were greeted by six big strong guys dressed in black with guns in holster. Right away they reassured us that they were only stopping us because they liked our boat and wanted to know more about it. We exchanged a few specs on the type of engines and speed it's capable of and then it was time for them to go. I asked if I could take a picture and they said not of them but of the boat we could. Guess they don't want to take a chance on having their identities exposed.
We thanked them for being there and for the good work they were doing. I was glad we did because you could see them beam with pride when we did.
And just that quick they zoomed off towards the Canadian border and we towards San Juan Island. A moment passed and I looked back to see them and "poof" it seemed they disappeared. If I didn't have a picture I would have thought maybe it was a dream.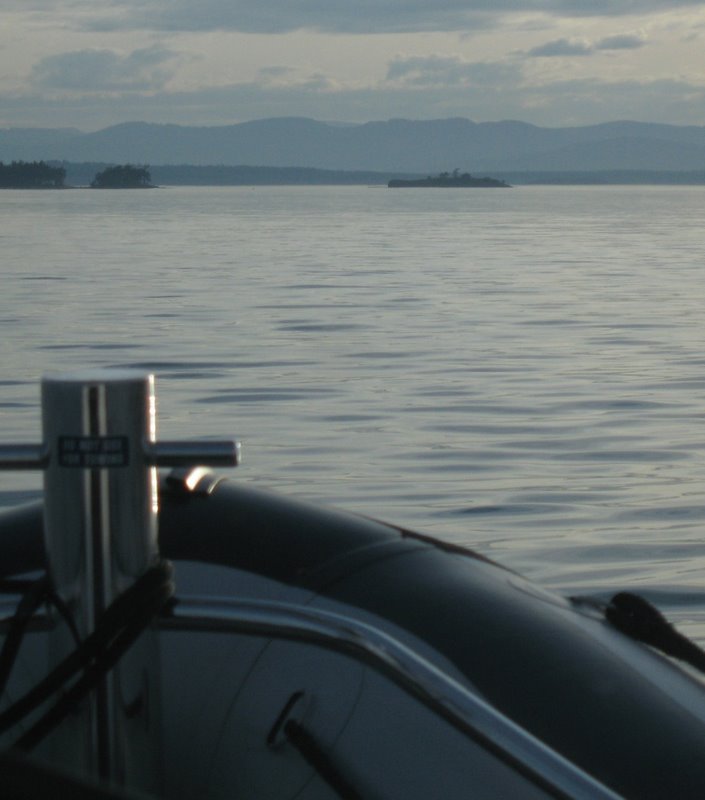 We glided back into the sunset and just as we approached the cut to Mosquito pass by Roche harbor we could see very clearly Battleship Island and wow did it look like a naval ship probably just like when Teddy Roosevelt saw it almost a 100 years ago emerging from the fog and that's how it got its name.