BEAUFORT, NC TO SURF CITY
CAN'T WAIT TO SAY GOODBYE IN BEAUFORT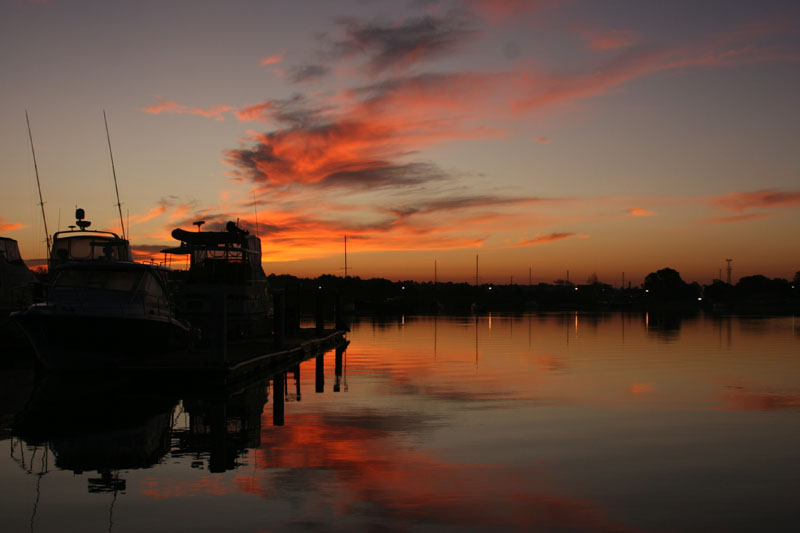 We tolerated the bugs through the night. We were thinking positive as we kept telling ourselves that we'll say "goodbye" to them in morning as we head out today away from the dock. They were sure hard to take. We had bugs in our coffee, bugs on our plates, and bugs in the cupboards, on the toilet paper, and in the bed. I vacuumed again just trying to keep a head start on them after the major massacre yesterday. There was no stopping them though as they'd come right in through the tiny holes in the screens, getting on your arms and legs and stuck in your hair. That darn NE wind was still blowing and bringing a continue stream of them our way. Some bit your eye lids, others preferred to swim in your dark coffee only to be discovered strained in your teeth. It was pretty horrible but there was an end in sight I could feel it.
The captain next door said he's never seen them so bad. I hope so because who could tolerate something like this?
We waited anxiously for the 8:00 bridge opening. Like a horse in the starter gate. We couldn't wait to leave the dock and finally get some relief from these little pests. Once we left, the two captains we befriended came out of their boats to wave goodbye. I'm sad to leave them, they were nice people.
THEY LOVE TO FISH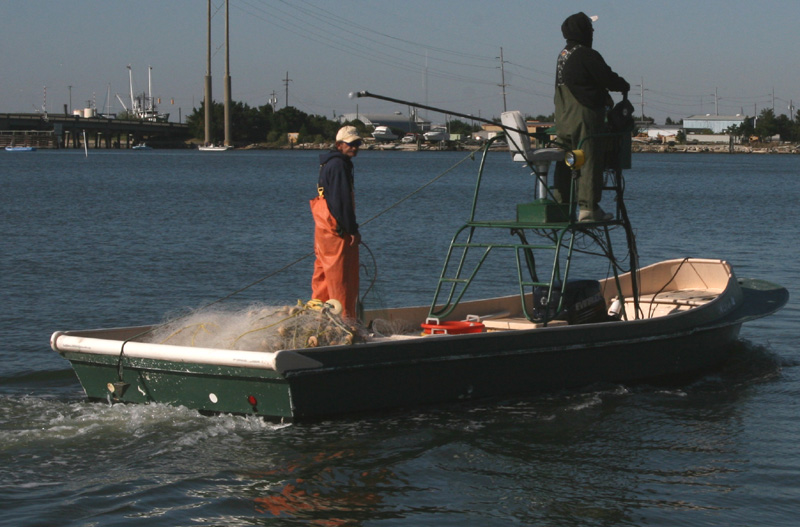 We quickly maneuvered across the harbor and idled in front of the bridge next to some fishermen in a little skiff trying to catch some morning breakfast. Boy, do they like fish on the East Coast. Have I not mentioned that yet? We've never seen so many fishermen, every place we go. There are fish to catch too, lots of them. The water is teaming with fish, jumping out of the water and making ripples on the surface of the water as they swim underneath and come to the surface to catch a mouthful of bugs, what else? It's not like where we live where it's becoming a familiar story, a sad story that we are hearing each season. There is a serious decline in the food chain and namely that is salmon, rockfish, and others. It get's more depressing each year as it affects the food source for many animals that depend on the salmon, like the orcas, eagles and bears. They've still got fish here though and lots of wildlife too. We've seen egrets, herons, other exotic looking birds, and thousands of migrating birds and of course the bugs of all varieties.
We maintained position in the channel by using the bow thruster occasionally. A small current was running and keeping us busy trying to stay in the deeper water. I guess the poor fishermen decided to get out of our way tiring of listening to the loud grinding sound of the thruster on this quiet placid morning out the water. It seemed so incongruous to the surroundings.
GOOD CRUISING FOR ZIGGY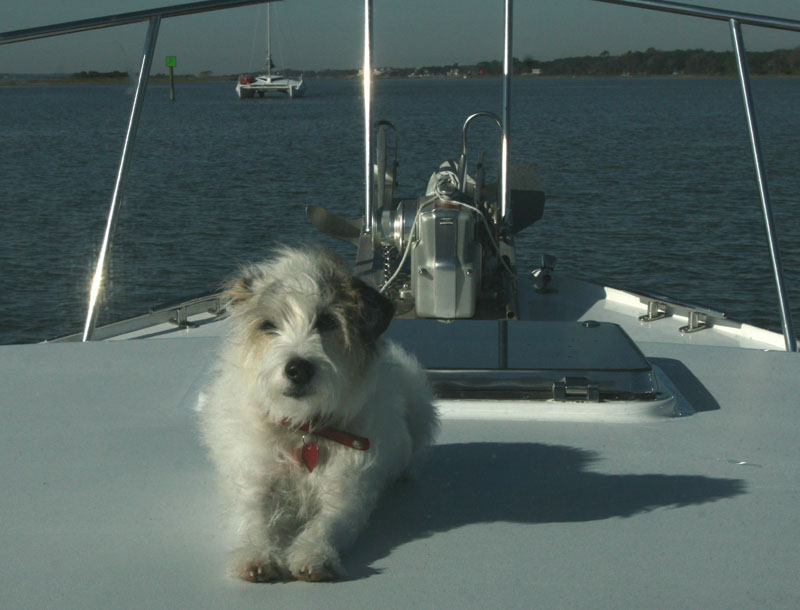 Finally the bridge horn went off and the gears went into motion as the creaky steel bridge began to slowly draw up. Larry moved her forward. Zig was riding out front on the bow sprit like a furry hood ornament always glancing behind at us through the wind shield to check on us. This is the kind of cruising he likes, flat and smooth where he can ride on the front drinking in the sun and salt air, to feel the wind from the motion of the boat combing his hair comically one direction, and raising his nose frequently greeting the sky, nostrils opening and closing drinking in all the different smells as we pass the little towns or landscapes.
Under the bridge we went and Larry called back the bridge tender back thanking him for the opening. "Have a nice day Captain and safe travels" was the response. We slowly cruised past the historical town of Beaufort to our portside.
I love Beaufort and was surprised we didn't really spend any more time enjoying the waterfront shops and ambience as we normally would. I guess the bad seas, engine trouble, the bugs and Larry's eye problem have put a damper on our travels.
ON A SCHEDULE NOW
We just wanted to get south to our destination now. Larry had to make another doctor's appointment and this time rather than getting another referral for some unfamiliar doctor further south, he decided we were close enough to the end of this journey that his next appointment would be with someone near our home in Washington State. He had emailed our friends the Eberhard's on San Juan Island to get a referral of a good doctor near home and followed up already scheduling an appointment two weeks from now. So now we were on a schedule, sad but true.
ELEPHANTS N THE HORIZON
We encountered some surprisingly rough water again as we passed across the ocean inlet and made our turn right to continue on the Intracostal Waterway. A large yacht had just come in from the ocean from an all night journey towing a huge dinghy many yards to his stern. He didn't attempt pulling in the dinghy before entering the busy congested inlet I guess because the seas looked to us like elephants on the horizon. It must have been a rough ride we said to each other. We wobbled through the waves and swells of the inlet and then entered the calm waters starting our familiar association with the red and green markers. Ah, no more shoals, bad seas, and gill netters to worry about. And no more ALARMS!
EVERYBODY WAS DOING IT
The direction we were heading this morning was not the popular direction though it's the southerly migration direction for the cruisers. No, the popular direction was the opposite as it seemed everyone and their mother was headed toward the outlet to go fishing out in the ocean even though it looked a little rocky out their to me. They love fishing here as I said and were racing each other to get there first it seemed. No one it seems is excluded in this sport as we see mothers, fathers, grandparents, daughters, sons, and grandkids too.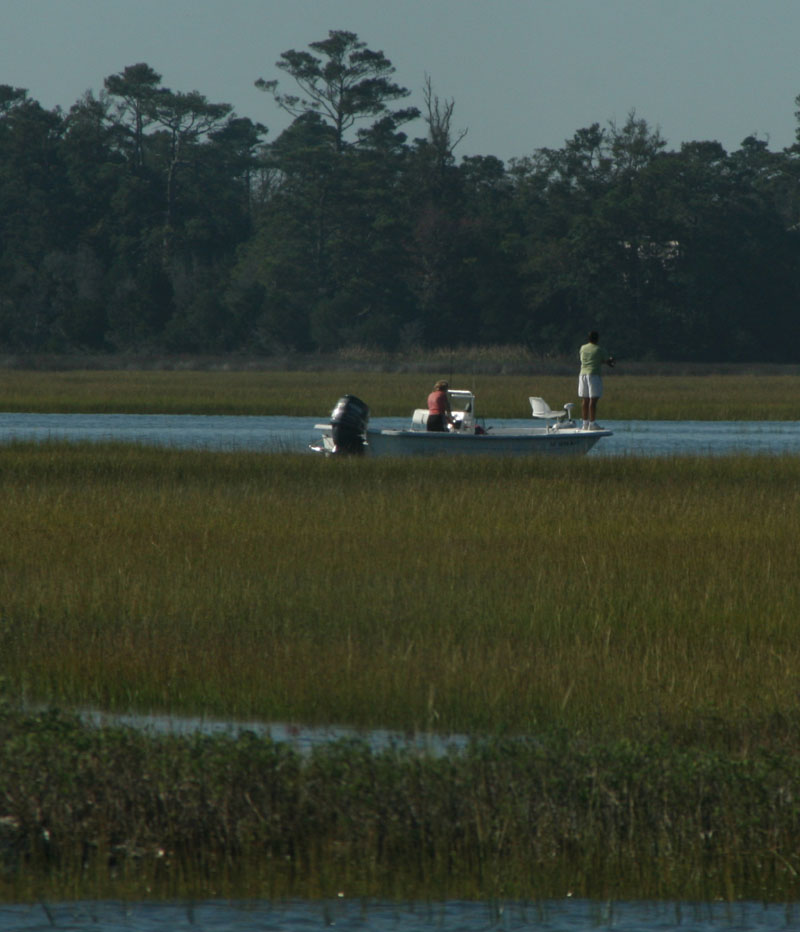 Just about everyone including the family dog are in some of the overcrowded fishing skiffs. Some like the solidarity of it and are by themselves but it definitely is the hobby of choice around here. We saw them all day long, some right in the center of the Intracostal who begrudging move over for you as you were interrupting their strategy and others that had found sweet spots deep in the marsh lands with only the upper half visible and those without boats just plop a folding chair and cooler down right on the shore of the waterway and make the day of it. It's so comical and I loved seeing them and felt good that there must be so much fish to catch.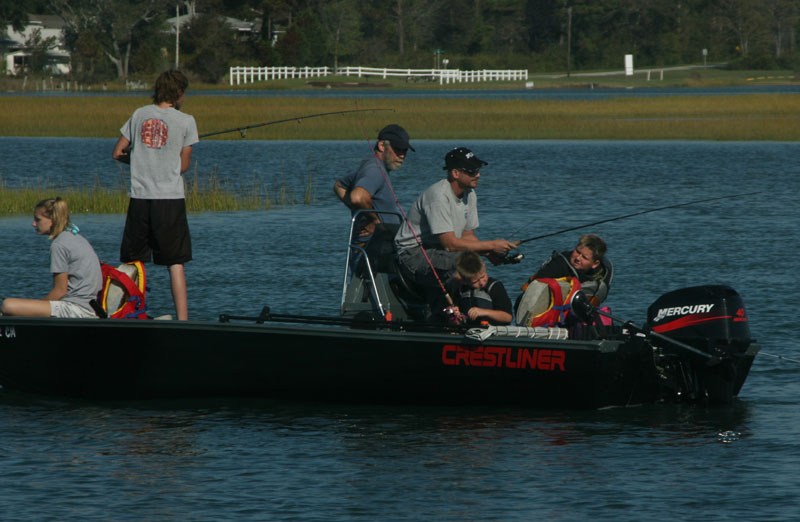 EASY DAY
It's a pretty easy straight shot down the waterway today, not too many turns and most of the few bridges that we have get past are tall enough for us to go under so we're not worrying about timing their openings. We have enough water under us with the tide so we're not too worried about getting stuck or rubbing bottom. I guess you could say this was just too darn easy after what we have been going through the last few weeks. I'm driving most of the day to give Larry's eyes a break. We continue the eye drop routine every other hour on the hour underway.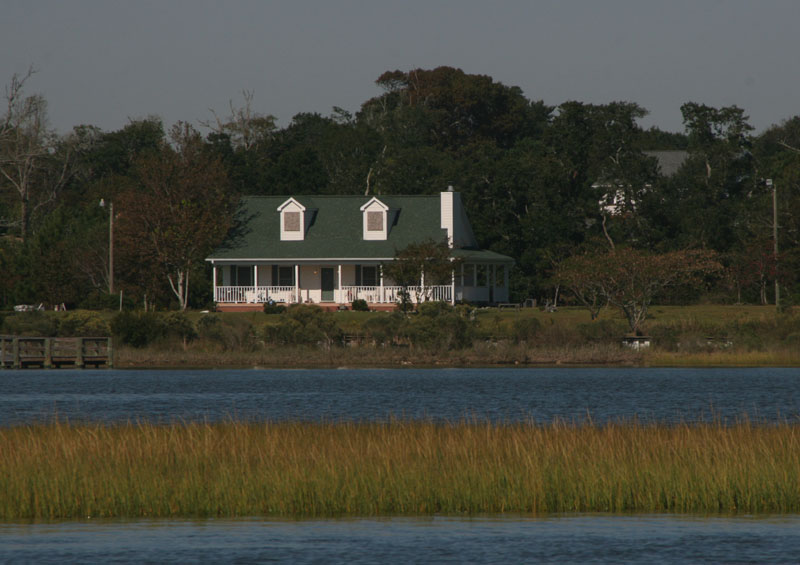 I have to say that this is a beautiful stretch of the Intracostal Waterway. We are passing gorgeous homes along the waterway, one after another but sadly out on the ocean side, the thin strip of land, we still see the grey silhouette of over building, the Monopoly Game syndrome that we have noticed since the Outer Banks. It was one boxlike structure after another squeezed together like a city block. We missed this section on our first trip heading north as we took the easy way on the outside in the ocean and I must say we sure missed a lot. This is beautiful.
BEAUTIFUL SCENERY
After a couple hours we leave views of populated shores and trade it in for salivating landscape scenes, pure and beautiful as the best painting. It is pristine tide water landscapes and it is spectacular. I can't tell you how many elegant white egrets we saw. There they stood, one after another, mile after mile, standing stoically still on their tall thin stick like legs. They are white as pure snow contrasting sharply against the brown, green and gold marsh grasses but incognito as a still statue, patiently waiting for a bug or small fish to make the wrong move. It's an amazingly patient hunt for food, nonaggressive in manner, as they slowly lift one leg at a time, high to the underside of their body, hesitating only a moment to make sure no one notices and then again moving forward taking that next quiet gentle step, dipping their foot back down to solid footing not making a sound or ripple in the water to notice.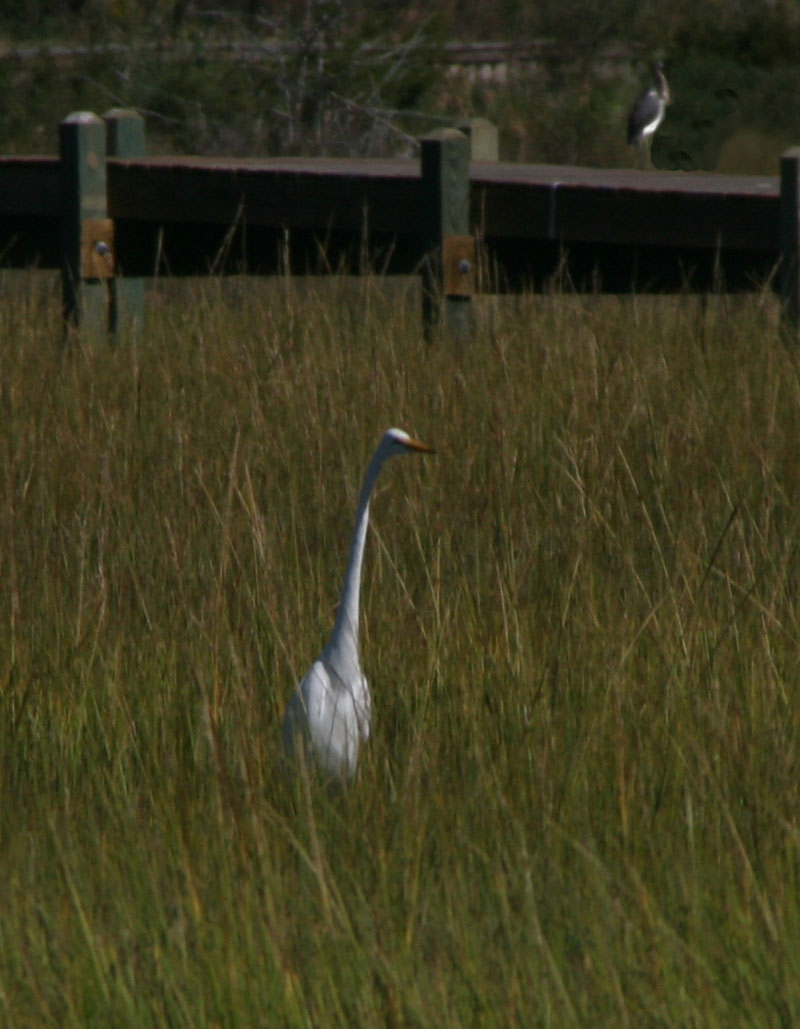 We saw grey herons, ospreys, hawks, and many other birds, birds we couldn't identify with our limited knowledge. There were so many of them mile after mile. You never get bored looking at the varied gold and green colors of the marsh grasses as they bend together in the wind reflecting the light of the day in a changing symphonic display of colors. The outer edges of the landscape on the mainland side are back dropped by lush mature trees obviously rooted in more solid ground and to the ocean side the marsh grasses disappear into a grey white mist created by the ocean spray. We'd pass the occasional twisted carcasses of wind and storm weather deposited trees now only a dry leafless monument on the landscape providing twisted branches reaching to the sky like pulpits for the large birds perching on top preening themselves.
The edge of the waterway on the left, the ocean side, is sandy but held firmly together by the marsh grasses. It covers the bank that separates us from the Atlantic and it sketched by meandering shallow off shoots of mini waterways, too shallow for anything other than a flat bottom skiff or kayak to traverse. Amusingly we'd catch glimpses of people fishing on the surface of what look like a vast field of marsh grass, but in reality they had carefully and patiently weaved their skiff in through the maze of water paths to find their secret spot for their hopeful fresh catch of the day.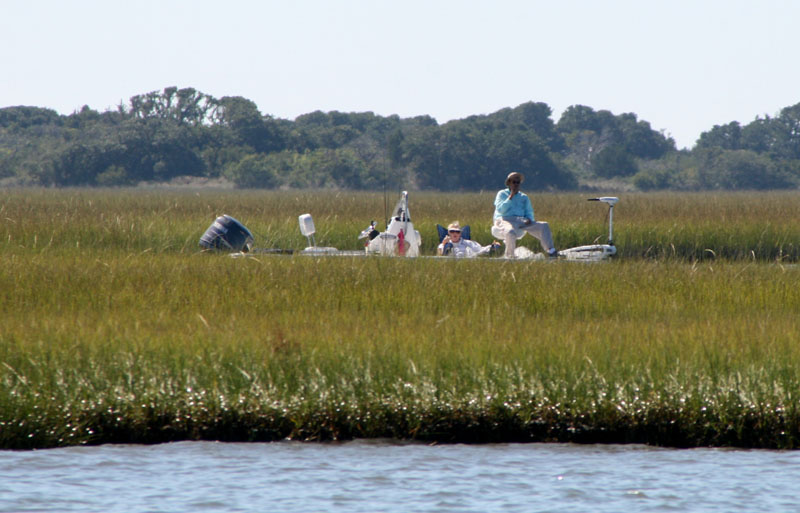 The photos below shows the sequence of events for a bird fishing.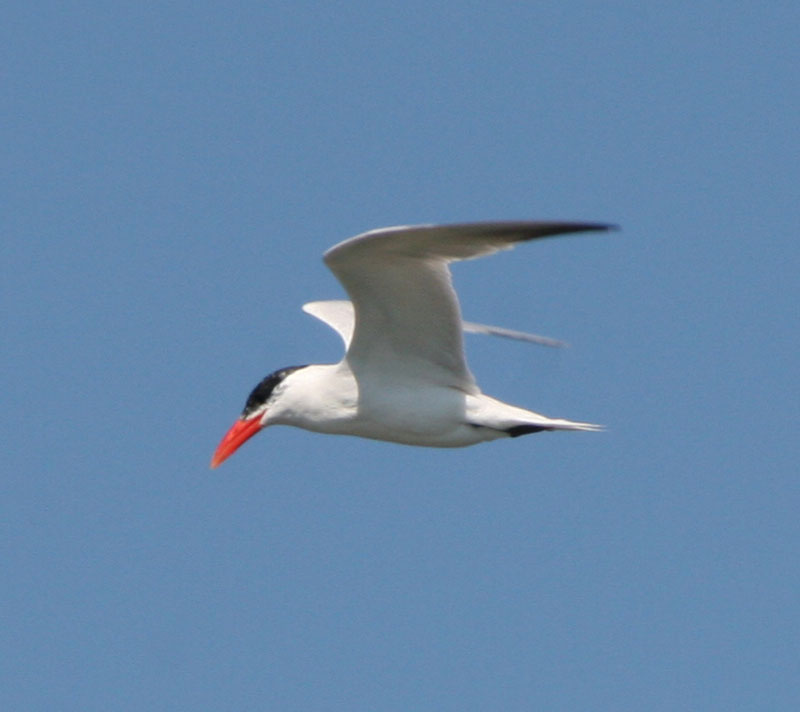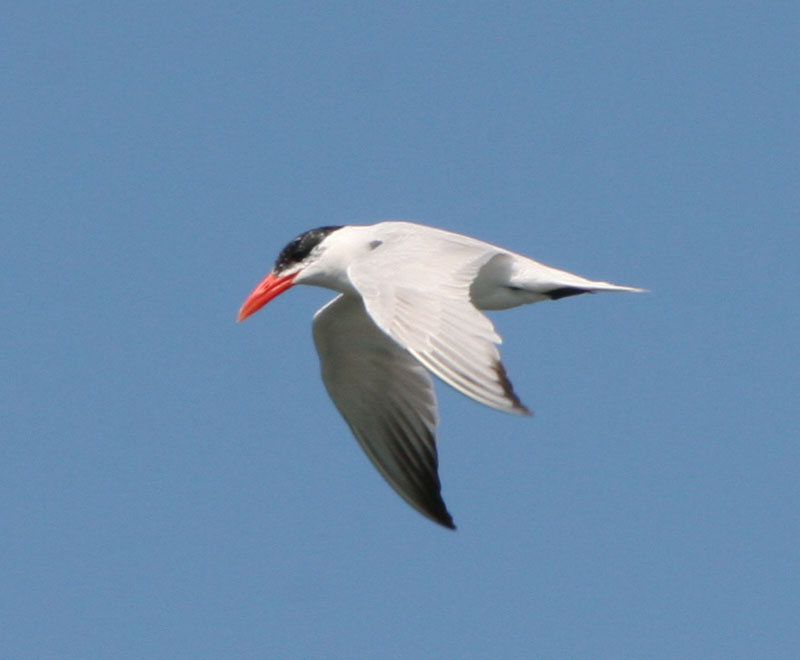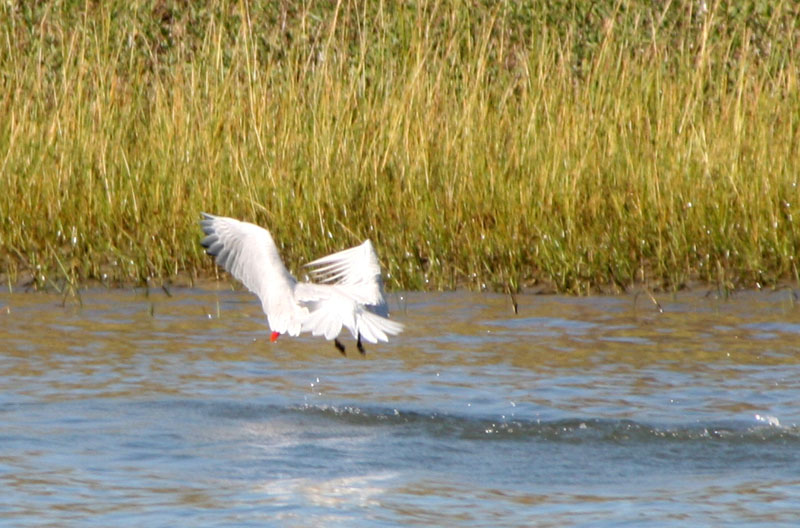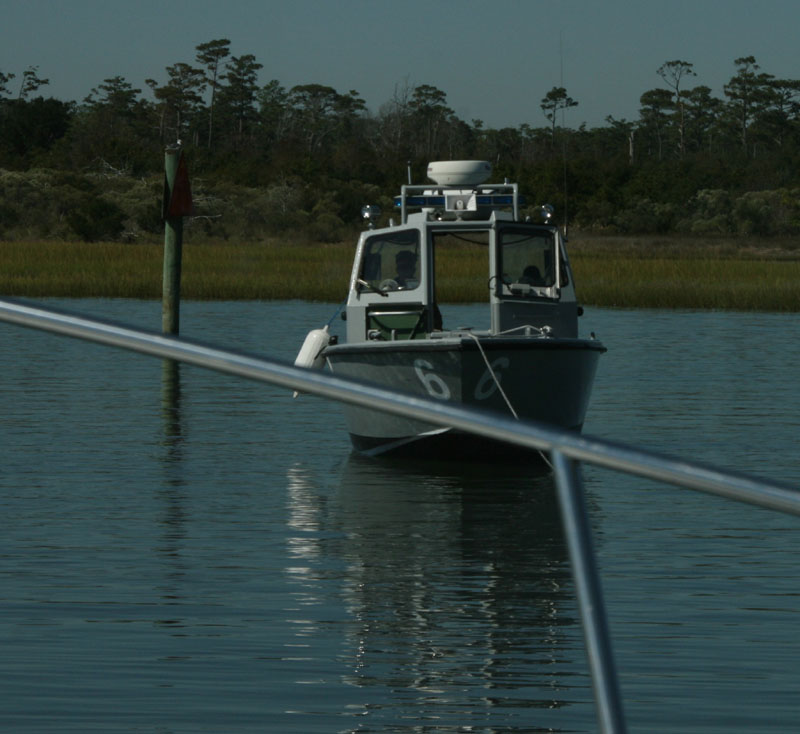 ENTERING THE FIRING RANGE
We were now following a classic old boat, beautifully restored called Wishing Star. We could hear him on the radio occasionally calling a boat ahead politely asking to pass on their port side so he wouldn't wake them. We also began to hear calls from the upcoming Le Juene Marine Base hailing a particular boater heading south to either move on through their firing range area "quickly as possible" or if they were too late for the scheduled firing practice, to please wait until they complete their exercise. One boat asked how long they would have to wait and the marine answered back, about 45 minutes. 45 minutes is a long time to wait on the Intracostal Waterway, trying to stay in place in a non stop current but if you decide to come this way instead of going out in the Atlantic like we did last time this is what you might expect.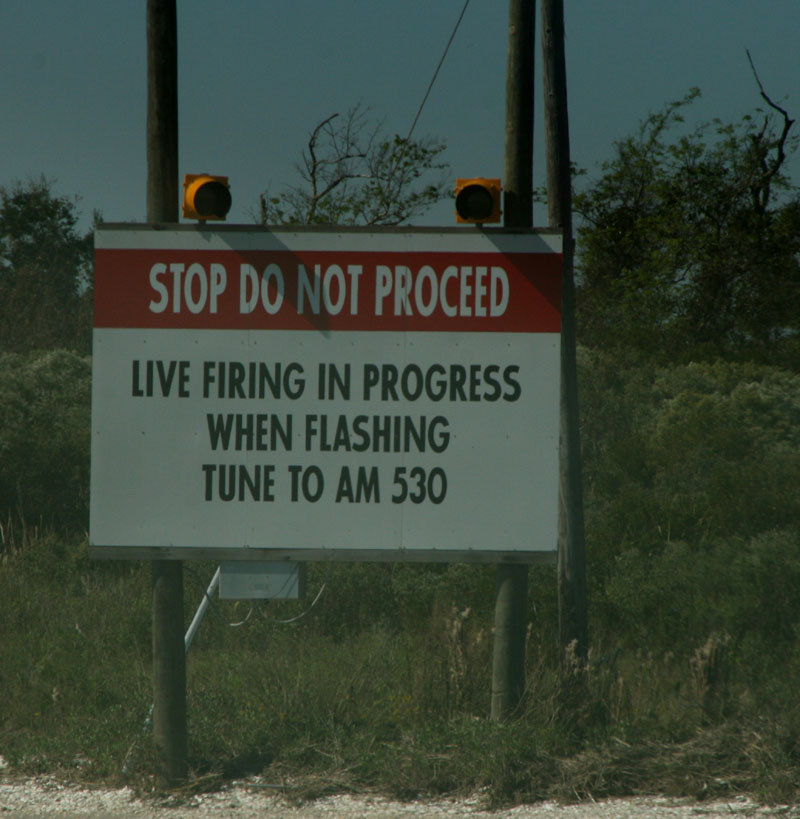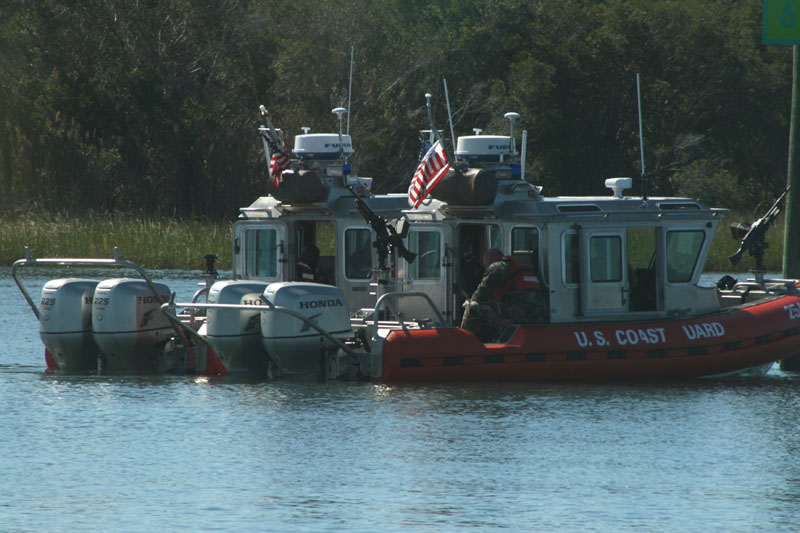 Soon it was our turn too. We could see the grey navy guard boat up ahead by the red and white watch tower. They waved us on. We lucked out as were able to continue on without waiting. We had slowed up quite a bit earlier knowing they were doing their firing practice hoping to time it right. I must say those marines looked a bit ominous in their patrol boats guarding this section of the Intracoastal Waterway. As we made our way through their firing range we passed a few marines taking a break, fishing on the sandy shore of the Intracoastal and we waved our support to them as we passed by.
Once out of Camp Le Juene firing range, we passed two red pontoon US Coast Guard boats at the opposite end. We were back on our own in the Intracoastal and out of government controlled water. We soon passed what looked like a quaint town from the water, a place called Swan's Point.
SURF CITY, NC
It wasn't but a short while later that we were arriving at Surf City our destination for the night. It was still early in the day and we could have continued on but we needed to take it easy and not over strain Larry's eyes. Larry had read that the Surf City Marina was boasting some nice new concrete floating docks, with power and water and stores and restaurants nearby. Hey that sounded pretty good to me so what's the hurry we thought? Let's stop.
WHERE ARE YOU?
The marina is just before Surf City Swing Bridge. We hailed the marina several times but got no answer. Getting antsy we headed into the channel towards the marina always weary of shallow waters in areas we don't know and decided we'd take the first empty slip. Finally somebody answered back and directed us in. It was an easy docking into their floating docks, the type of docks that we know and love so well. It was a small marina with only a few slips. The place I think was mostly geared to the storage of small fishing skiffs as seen in the nearby tall metal building where they were stacking five high which I guess was the reason we didn't get an answer back right away from the marina manager. He was busy launching a fishing skiff for somebody that he just plucked out of the stack. We barely had a couple lines tied to the dock when he rushed off down the dock and left us to finish up and plug in by ourselves. In fact there was no one around to check us in or get information from for a couple hours.
WASH THE BUGS OFF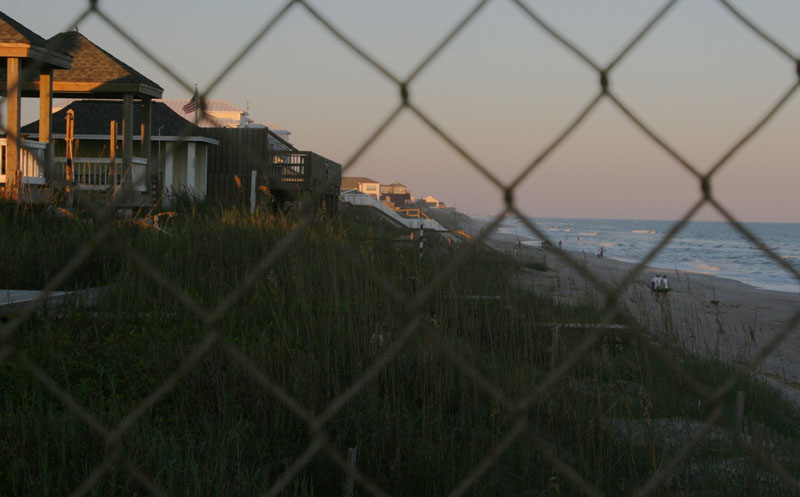 I decided to wash the boat again because, (and guess what?) the bugs were still with us. It was embarrassing to have bugs covering your boat. While I was trying to wash off the hitchhikers Larry walked down the street and brought back some hamburgers for lunch. Boy, we were hungry. We gulped those burgers down like we hadn't eaten for days.
SMARTER BATCH
As we ate inside the bugs were multiplying like they had hatched even though we had everything closed up. They were mutating into a smarter generation as they'd retreat behind moldings now when I gave them the evil eye and then just as quickly as I turned my head they'd march right out again looking for trouble. In and out they went under the moldings their new housing track. We thought maybe they liked the boat and were nesting. Oh God. We had thoughts again of having to fumigate the boat somewhere and how would we have it done.
I went on another vacuuming rampage along with wiping them up with a wet cloth. I pulled out all the upholstered seats, cleaning and vacuuming into every crotch of the boat. There was no getting rid of them as once you cleaned an area and preceded to the next, they again invaded the just cleaned area. I was ready to pull my hair out and getting very stressed. This isn't what boating should be all about. This was supposed to be fun. I was exhausted too and finally had to give up.
LOOKING AROUND
The bugs were winning as we decided to get off the boat for awhile and take a break from them. We decided to take a walk and see the area, see their famous beach. We passed a little seafood joint, more like a roadside stand. I checked the menu out and loved the descriptions of all the different fried fish and crab they had to offer, along with fried pickles and green tomatoes. I've never seen that on a menu! We were looking for a place to have dinner tonight and we decided we needed something more than a roadside stand after the war with bugs. We needed a where I could get a martini at least to deaden my nerves.
WALK THE PIER FOR A FEE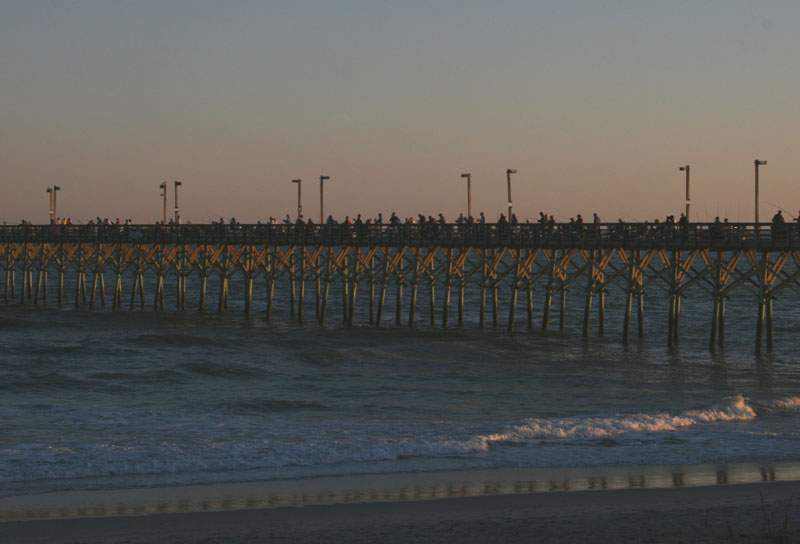 We walked down to the beach and pier but I was shocked that you couldn't even walk out on the pier without paying a fee! Growing up and living in California where the beach and pier was open to the public this seemed outrageous. To boot the pier was all protected with chain link fence to keep those that didn't want or couldn't pay out with locked gates. How ridiculous. I've never seen anything like it.
FUMIGATED
We were disgusted with the idea and started to head back when I noticed this guy driving by us with this strange machine in the back of the open bed of his pick up truck. I wondered what this strange machine was for. As he drove slowly by us, the old guy said to me through his open window very politely, "Don't worry mam, we're spraying for mosquitoes and it won't hurt you." And just as quickly as the words came out of his mouth we were fogged by the machine. We couldn't believe it! They were spraying everybody and no one thought a thing of it. What kind of place is this? We finally gained a sense of humor about it and laughed saying as long as they are spraying for the mosquitoes we hoped we fumigated for the bugs that have been driving us nuts too. Sad but true.
WINTERIZE THEM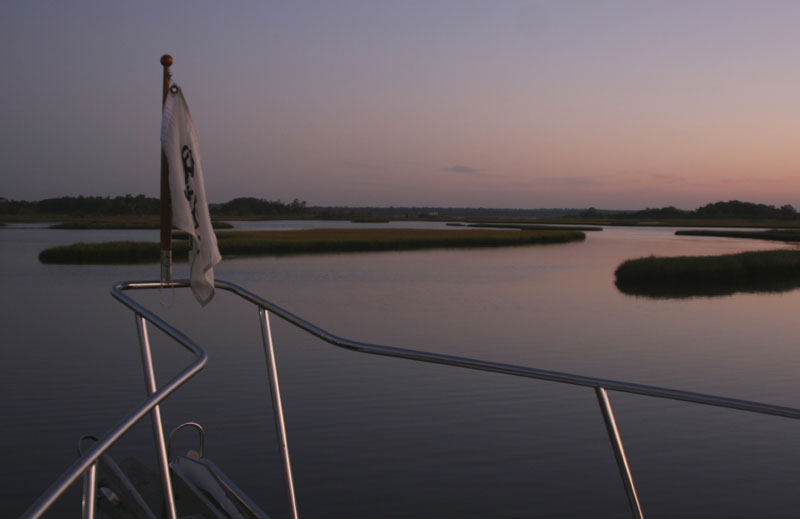 We had a pretty nice dinner at a restaurant near the marina including that much needed martini. Afterwards we headed back to the boat and joined the bugs but decided to close everything up and turn the A/C on hoping to trick them into thinking winter and an early seasonal death.
It was a beautiful spot here at the marina though looking out of the pink and lavender shades cast across the marshes at sunset...something to enjoyed with the bugs. Next stop Southport.