LEAVING SOUTHPORT, NC HEADING SOUTH
fall 2008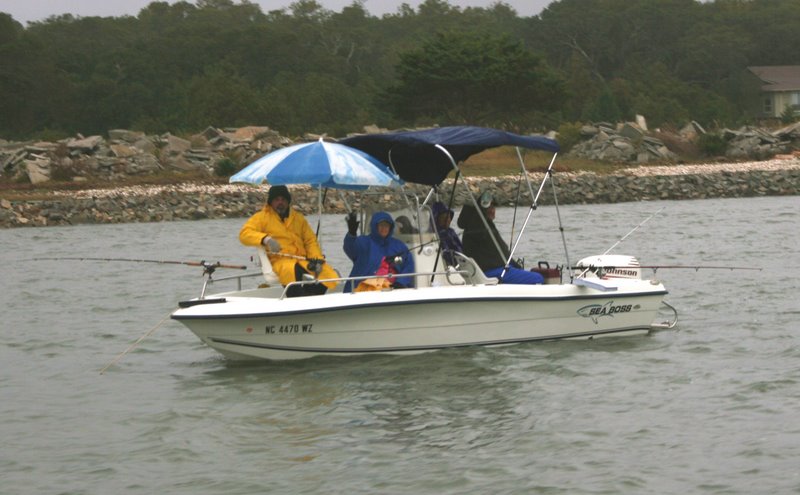 GOING TO MAKE A LONG DAY OF IT
It was wet and muggy as we left the dock this morning. We decided at the last minute to make it a long day all the way to Beaufort, SC. We just wanted to get further south and out of this nonstop bad weather. I wanted to get somewhere, anywhere, where it was warm. Several cruisers were going to sit the weather out at the dock as their drafts were too deep for the next stretch of the ICW and the seas for the alternate route, out in the Atlantic, was too rough. We think weíll be protected enough in the ICW to keeping going so weíre heading out. It will be a miserable day though.
Well, we enjoyed this nice stay in Southport and the great marina. The new docks were really appreciated for a change. Iím sure we will be docking at a slew of rustic docks again as we head further south.
NOT THE ONLY ONES OUT IN IT
We werenít the only ones out in the crap today as we passed lots of people fishing in the pouring rain in their slickers and others making the best of the bad weather by working on their seiners, catching up on maintenance, and darning their nets.
We passed several inlets and at each opening you could get a glimpse of the rollers out there. It was good to be safe and sound on the inside. Even the sea birds were huddled together on stretches of sandy shores by the inlets, shivering in mass and waiting out the weather.
We left just after sunrise. It rained all night and still was, never a break in sight. The Eastbay with the three guys, that looked like they were doing a delivery, left in the morning dark with running lights on. Slow Burn headed out a short while later. It stopped raining long enough to get out of the marina and thankfully lone enough for me to get the lines and fenders pulled in without getting a good soaking.
SLOW BURN
It wasnít long before we caught up with Slow Burn. They were all over the map in the channel. We had to slow down and just follow them but they were driving the boat erratically moving from one side of the channel to the other. We couldnít figure out what they were doing. Were they finding shallow waters and trying to get to deeper depths?
We followed them part way through a tricky inlet that was shoaling in with the bad weather as evidenced by the several green and red nuns that were in completely different locations from what was shown on the charts. Slow Burn went completely out of the channel away from the markers and it seemed at one moment to be headed over to some fishermen in a little skiff. Maybe they were going to ask them the way, but then they quickly turned and got back in the channel and continued on ahead. We have to get by these guys, they are dangerous.
OLE BUTT BURNER
We started calling Slow Burn, Butt Burner for fun because he was smoking so much. Once past the inlet and into a wide clearing we passed them but first Larry hailed them asking if they would slow down and move over a little bit so we wouldnít wake them. I think they were relieved to move or and let us by so theyíd have someone else to follow. They moved over so far they went completely out of the channel again! They seem like nice guys but canít figure what in the world they are doing. Iím convinced they donít know how to run a boat and now it makes sense when they came into the dock last night without even putting a fender out as they rubbed on the hard of the dock.
SPREADING GOOD WILL?
Of course right in the midst of our passing Butt Burner a local sports fisher sped by us going a good 20 knots, and waked the hell out of all of us. Ironically his boat was named Good Will. He sure wasnít spreading any good will with all of us. Bastard!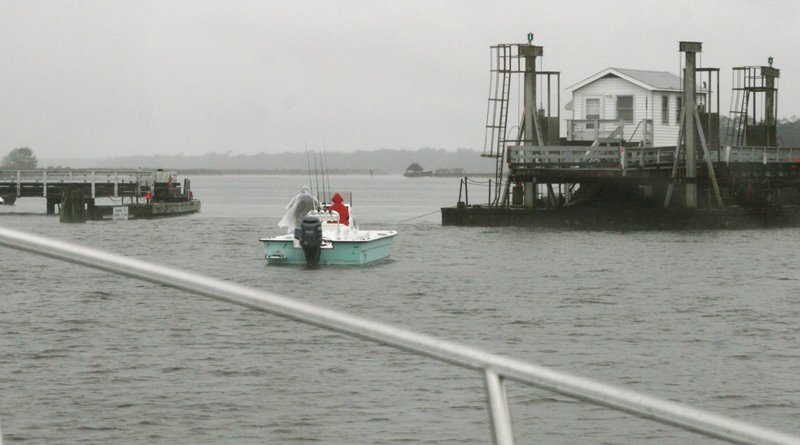 It was a long day, grey and rainy, dark clouds, and nothing but rollers out on the ocean. We came to an old swing bring and were 30 minutes early so had to juggle around a small area with a catamaran waiting for the opening. It was like riding a merry-go-round. Around and around the two of us went. I took the wheel for awhile to give Larry a break and luckily found a deep spot and stuck there. Pretty soon Slow Burn or rather, Butt Burner caught up with us again. They went right past the catamaran and then right by us and up to the bridge, getting too close. What nuts! They canít stop in the face of the which when it opens will swing open right into them. The bridge tender had to tell them to get out of the way so he could open the bridge. Geez.
LITTLE RIVER AREA, LOOKS THE SAME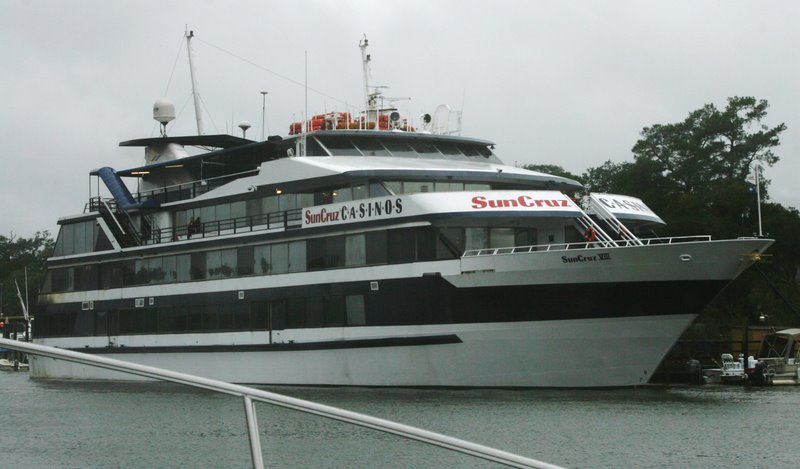 We got to Little River area and passed the same smoky looking decrepit casino boats that we saw three years ago coming through here in the Nordhavn.

Soon we crossed the state line into South Carolina. There was no sign marking the area. Now we have to switch to channel 9 to monitor the bridges. We heard some boats ahead. We couldnít see them but they are within radio range, asking one another if they knew what time the bridge opened. They said the bridge tender wasnít answering their hail. I guess they donít know to change to channel 9 now.
The bridge tenders have such strong accents along this stretch. Itís a real syrupy southern accent, so strong that it is hard to understand them. Several bridges had women tenders.
WILL IT EVER WARM UP?
Its cold, we put heater on again. I look to the back of the boat and steam was blowing off the back of the boat as itís that cold out there.
Sadly South Carolina along the banks is so over built. They have really ruined this beautiful stretch of unique land forever by building miles and miles of cookie cutter condos. Itís really one of the ugliest stretches weíve seen of the Eastern Coast. All through the Carolinaís itís been mile after mile of monopoly style houses. Itís really incredibly sad.
DECIDED TO STOP IN GEORGETOWN
I guess we decided our original itinerary today was a long haul. We thought that maybe we should to in Georgetown instead of continuing on to Beaufort. Itís sure a beautiful stop and itíd be a shame to pass it up being in such a hurry. The weather seemed to be clearing up too. The rain had stopped. Larry gets the cruising guide book out and calls the marina we stayed in before with the Nordhavn. They said they can squeeze us in with real southern hospitality.
OLD WOODEN BOAT FESTIVAL
Toward mid afternoon we are within an hour of Georgetown and a trawler hails us. Heíd seen us somewhere along the line and said ďhelloĒ. He asked where we were headed today and we said Georgetown. He was a bit surprised as he said they tried to get a slip there but nothing was available because they are having their old wooden boat festival. He said we should feel really lucky to have gotten a slip as they are next to impossible to get during the festival.
Wow, this is our lucky day I guess. We had no idea. Soon, we were heading in the channel to Georgetown. It was busy crowded. Larry hailed the dock master and he helped us get tied into a slip right in the center of all the festivalís activity. Boy, are we lucky? This is really going to be a fun experience!!!
We couldnít wait to get off the boat and walk around.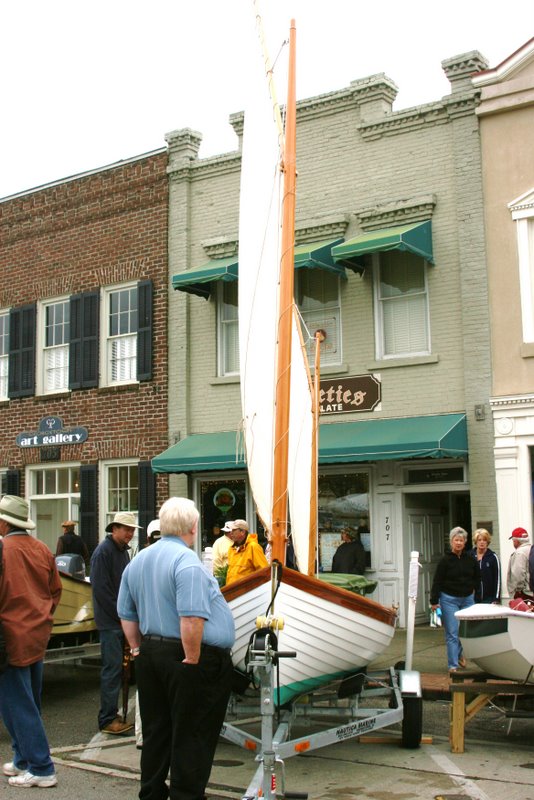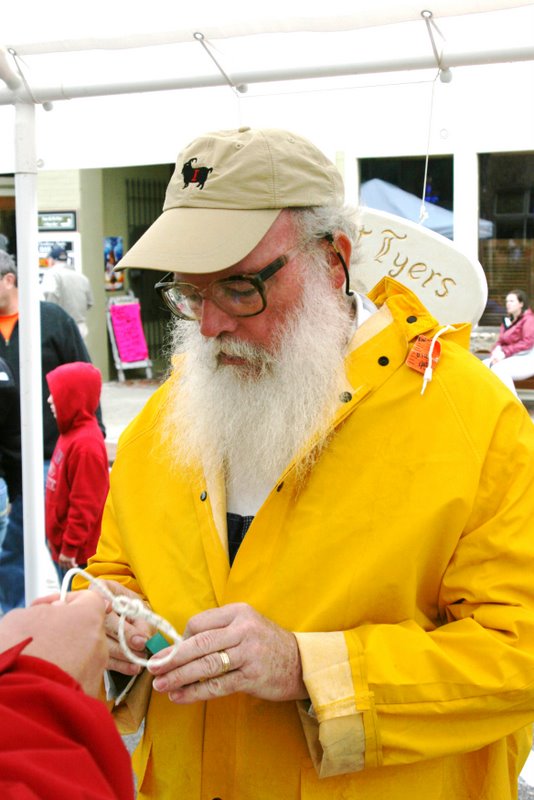 WOODEN BOAT SHOW
We didnít waste a minute getting off the boat to go see the Old Wooden Boat Show. The dock master in his thick southern drawl reminded us that nothing in town is open on Sunday tomorrow and the show would be over today.
It was a fantastic event to see. We were so lucky. The streets were blocked off to traffic as they were filled with tents and all sorts of interesting displays and activities. The big event of the afternoon was the boat races out in the harbor. Iím not sure what the rules were but I think it is similar to what we have in Ganges, BC where you only have so much material, tools and time and then the races begin to see who made the fastest and most sea worthy vessel to cross the harbor and back. The crowds began to gather on the waterfront. It was amazing and so much fun. Even the local news was there broadcasting the event. The harbor was packed full of interesting boats as is the usual case for events like this.
We had such a fun day and that evening were able to secure a reservation at the popular Rice Paddy Restaurant for a fabulous dinner that night.
Since nothing was open tomorrow we decided to only stay the night and move on to Beaufort in the morning.