STUART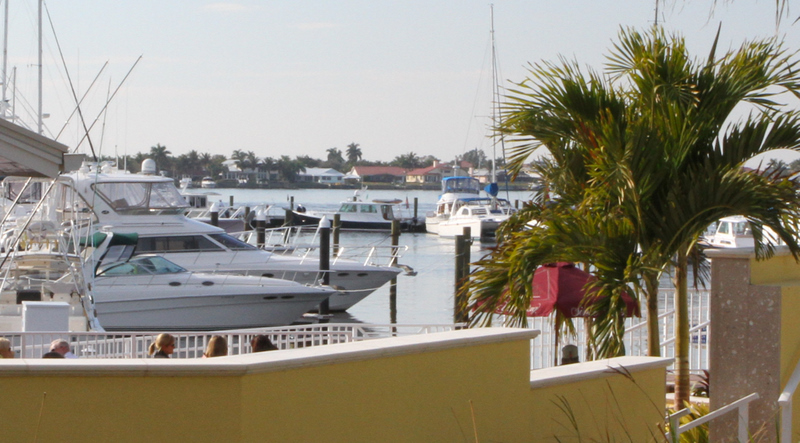 TIGHT SQUEEZE
We were snug in at the dock in Stuart. We had thought it would be an easy docking because the cruising guide said "new floating docks" and yep, they did have them but not for transients. So we were directed to the outer bulk head with fixed concrete and not only that but in a tight squeeze on the inner corner. Geez, I would have voted to continue on to Palm Beach if I had known but with Larry got her in the tight squeeze. Now I can't help but spend my time analyzing how the heck we are going to get out of it in the morning.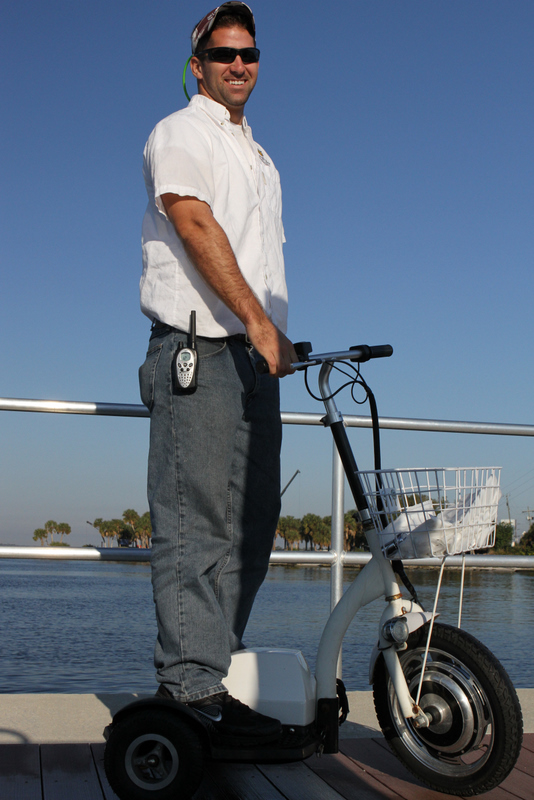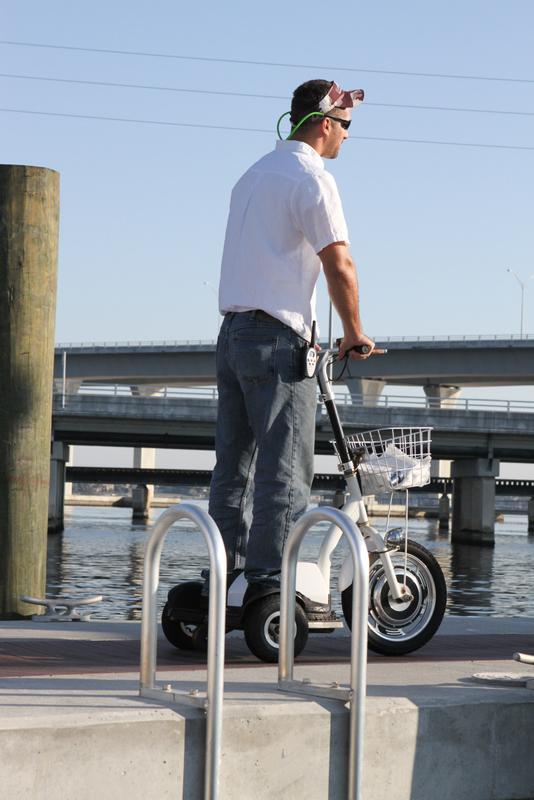 HIGH TECH ON THE DOCKS
The dock master gets around the long docks on a funny new modern contraption. I don't know what they are called but it's a pretty good idea. It's one of those things that you stand on a little platform between two wheels and you have tall handle bars where you control speed and turning. It's pretty nifty if you ask me.
We were only planning to stay the night because of the weather coming. We want to get to West Palm Beach tomorrow and settled in. Then we'll have time to relax and explore with the car again.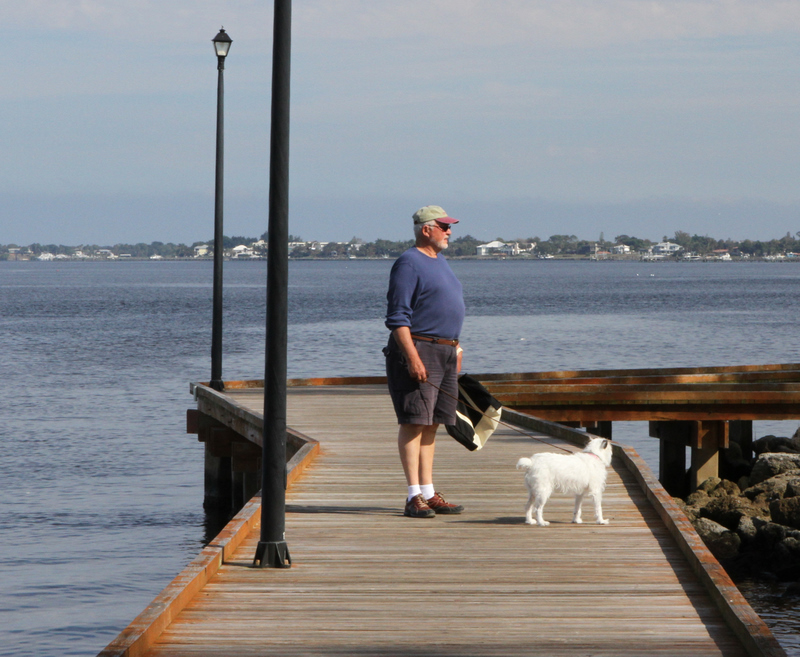 NEW MARINA
This marina has really changed since we were here four years ago. In fact there was not much here before. We briefly came in to the marina 4 years ago to pick up one of the Nordhavn technicians. He guided us up river from here to where Nordhavn's service center is based. Larry had read the marina we remodeled with new docks, marina office and a nice waterfront restaurant.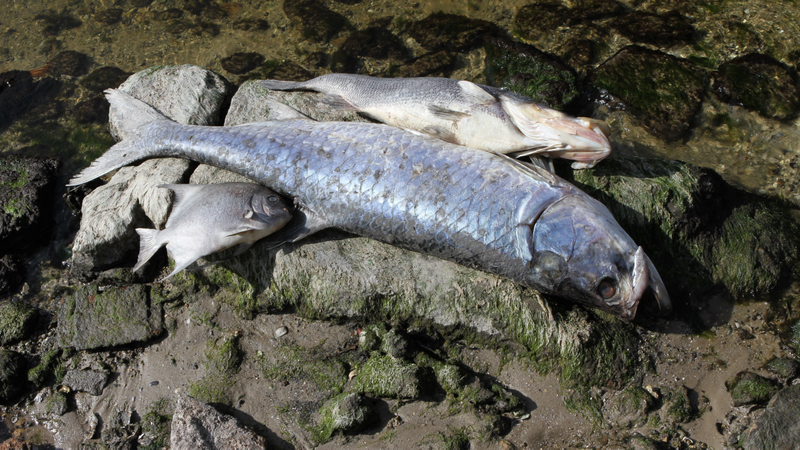 DEAD FISH BEGINNING TO SMELL
First thing we noticed though were dead fish again. One of the dock guys was riding around in a dinghy picking up dead fish out of the water and dumping them out beyond the bulkhead of the marina so they would wash out somewhere else. I guess the rotting smell was beginning to be a problem. It still is uncomfortably cold and evidence of the terrible toll it is has taken on the fish and other wildlife is everywhere we go.
We bundled up and walked across the highway from the marina heading to town. We walked under the big concrete bridge and down the long waterfront boardwalk. Dead fish lined the low tide shore line. It was shocking and sad to see. There were big ones, little ones, all kinds, just everywhere. We've never seen anything like this ever.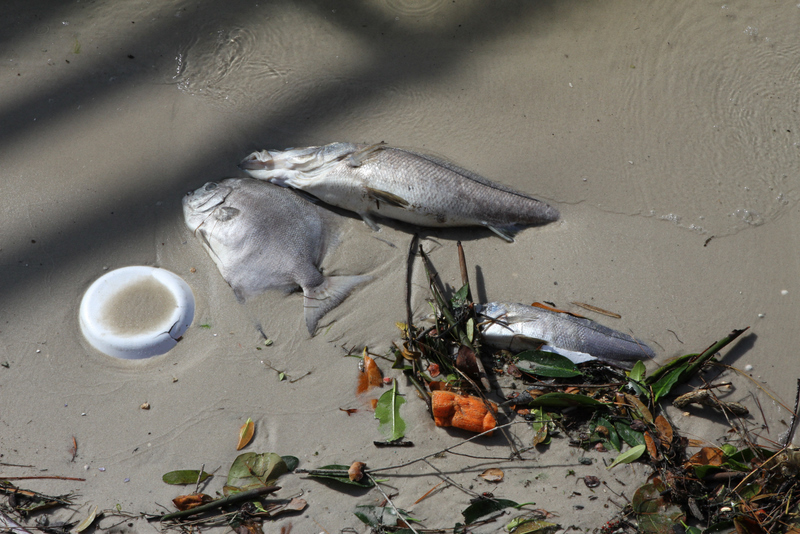 The town is cute but we've seen it before having spent time in this area getting the Nordhavn serviced so we walked around looking in the stores and then headed back to the boat after a long walk.
FILLING UP THE TANKS
Larry noticed the new power cat that was in front of us was from WA. So Larry went over to say "hello" and they started up a conversation. He found out the guy had just bought the boat and sadly when they filled the fuel tanks they realized they mistakenly put gas in the tanks instead of diesel! Wow, what a bummer. So the poor guy was calling around trying to find someone to somehow get the gas out.
They said they were going to ship the boat to Victoria on the next delivery. I don't understand why they don't want to stay a few weeks and at least cruise this area or go to the Bahamas while they have the boat on the East coast. They could then ship it in late March or early April like we are planning to do. What's the big rush? It will be cold up there this time of year. (That sure was a goofy comment on my part as it seems WA has had better weather than we've had this whole trip.)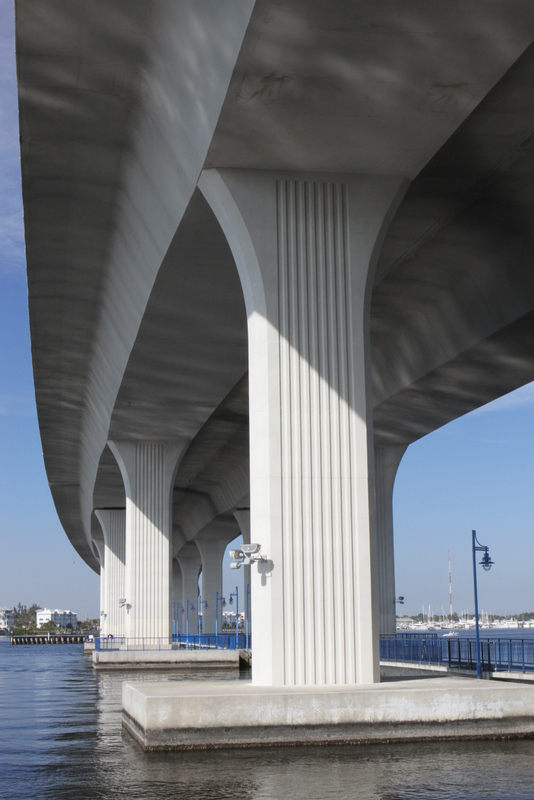 LOCAL NEWS
I had picked up a local paper and began to read. I couldn't help but notice the headlines:
"Cold streak kills record number of manatees!"
The article went on to say that more than 100 manatee carcasses had washed ashore the first three weeks of 2010. That's not the only thing washing ashore I thought. I guess we have endured "the coldest recorded 12 day period in South Florida since 1940". Okay, so the article finally says something about the all the dead fish we've been seeing: "millions of fish went belly up all the way from Florida Bay to Tampa Bay". The article said "even the turtles have been seen bobbing to the waters' surface in frozen shock"! It's true as we did heard scientists and wildlife volunteers were rescuing turtles by the dozens taking them to warmer waters or protected shelters until the cold spell was over.
AFFECTS OF FERTILIZERS
To my surprise and "although alarming, the manatee die-off still does not rank as the worst on record. Red tides, the noxious algae blooms fueled by fertilizer runoff that can litter Florida beaches with dead fish, remain one of the worst threats responsible and responsible for killing 151 manatees in 1996, 101 in 2003 and 93 in 2005". I had no idea fertilizer was so bad until we heard about the problem in Punta Gorda. It must be bigger a problem than we thought. I'll think twice before I fertilizer my hydrangeas this spring. That is shocking and disgusting.
Anyway, back to the cold water. The article went on the say that the manatees were huddling in masses around the out flow of the warm water from power plants all over the state. Nearby at "Florida's Power and Light power plant in Riviera Beach, hundreds of manatees have huddled throughout the cold spell in an inlet about 2/3's the size of a football field where warm water pours out from discharge pipes. The crowd of sea cows has been so thick that you could probably walk across them" said Palm Beach County's environmental director.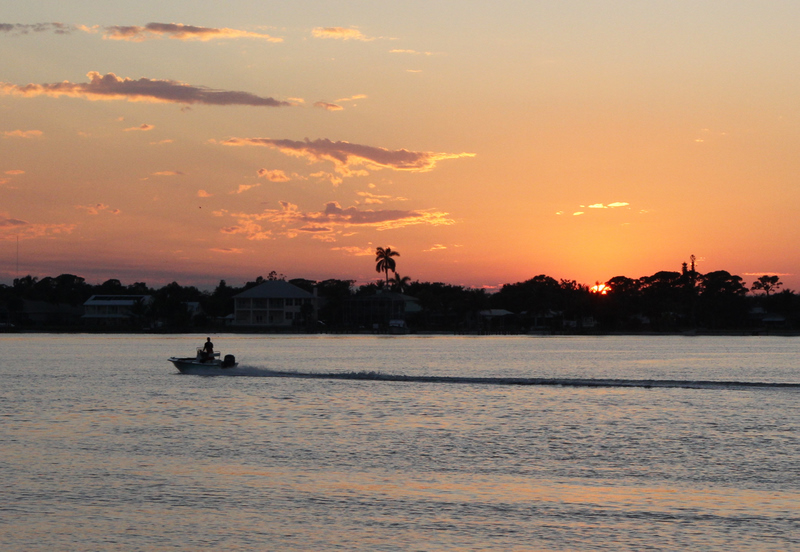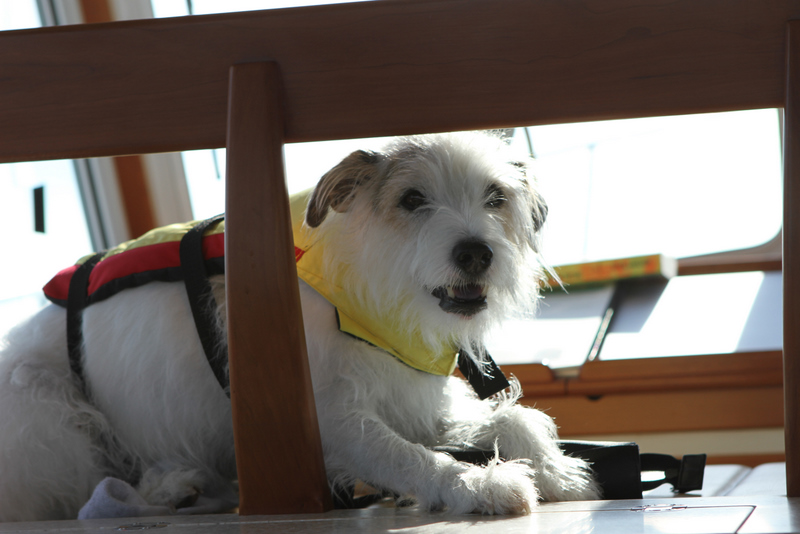 You wonder what effect the cold has had on birds and other animals too, and those that depend on bugs and little fish that probably didn't survive the weather. There's no mention of them. Well, there's not much one can do about the cold but I sure can think about that fertilizer we put in our garden and where the runoff is going and who and what it affects.
Tomorrow, we head to West Palm Beach and their brand new marina.
NICE DAY AND CONDITIONS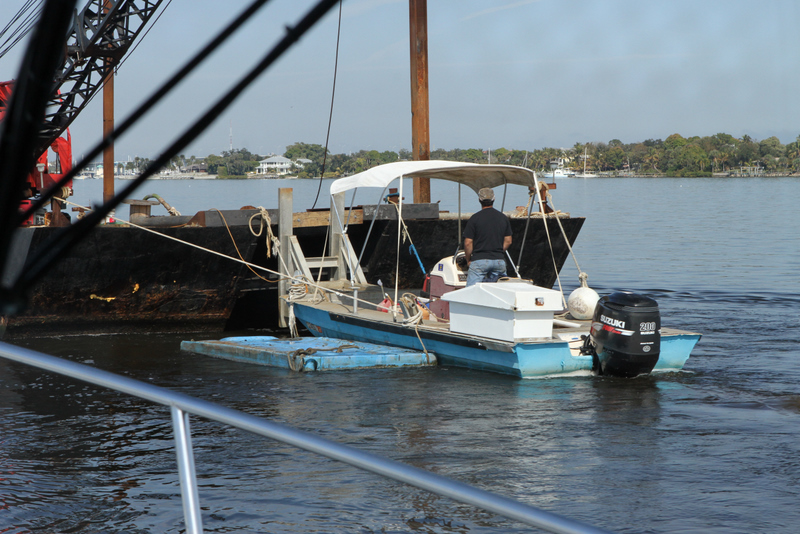 We were on our way early the next day. No problem swinging out and off the dock. We headed out just in time for the swing bridge opening and then like last time through the harbor we followed a barge being pushed by a small skiff. We had good weather going out Port Lucie Inlet and headed back in the ICW. Immediately we were crawling along again abiding by the manatee no wake zones. Of course we knew they were nowhere around because it was freezing cold. The smart ones would be huddling nearby a power plant but rules are rules so we went slowly.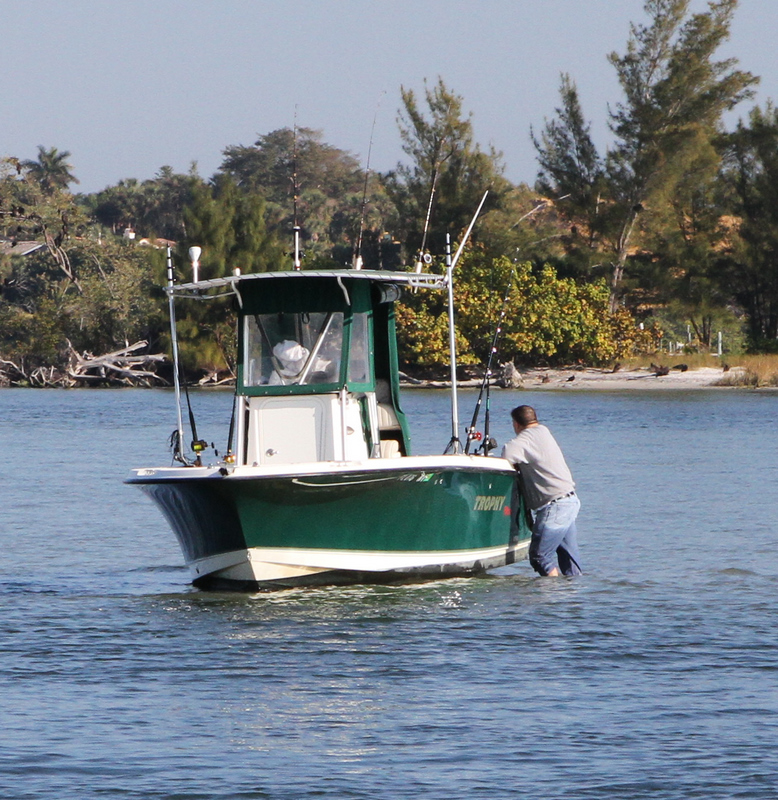 A BIT BORING
It was a no brainer trip down the ICW, even a bit boring. We headed past Vero Beach and Jupiter and past condo after condo and scooted under most of the bridges. I don't really like this part of the ICW but it is always fun to see some of the nice homes that were quite beautiful and as we got closer to Lake Worth Area they became even more impressive.
Finally, we headed out into Lake Worth, that big wide open patch that always seems to retch up for a stretch. The winds get excited about the big opening and like to splash the salt all over the boat. Guess we're in for a good cleaning when we get to the marina.
LOOKED THE SAME
We passed under the big bridge just ahead of Peanut Island. It seemed like the same derelict boats we saw four years ago are still at anchor. There are a few rat traps. Larry says some people like to anchor out here the night before they head across the Gulf to the Bahamas. The tall striped towers of the power plant hovered ahead and again we slow down for any stray manatee. We pass the commercial docks that will be the new docking port for a cruise ship service to the Bahamas. Good for the economy I guess but bad for the area.
We see the old quaint USCG station on Peanut Island and there are two tall old sailing ships at its dock. We only have a short 2 miles to go before we reach the new marina where we'll be staying. In the distance are the Flagler Hotel and the Breakers Hotel towers beyond, plus one magnificent mansion after another on the Palm Beach side. It's always an amazing place to see.
We pass the ship yard that handles the big yachts and it is filled with some magnificent ones and some really big sailing yachts with exotic ports identified on their sterns. Wow the power yachts are impressive but the big sailing yachts are beyond fantastic, just breath taking. I would so love to see one of those out on the sea with full sails up. We always just see them sitting at a dock somewhere waiting for the owners to fly in.
TIGER?
I wasn't really paying much attention to the radio traffic today but happened to notice a faint voice coming over it and what it said caught my attention right away. I thought I heard this:
"Securite, Securite, motor vessel Privacy, coming in through the Lake Worth Inlet. Any opposing vessels come back."
"Larry, Larry, that's got to be Tiger Wood's boat! They must be coming in the inlet!"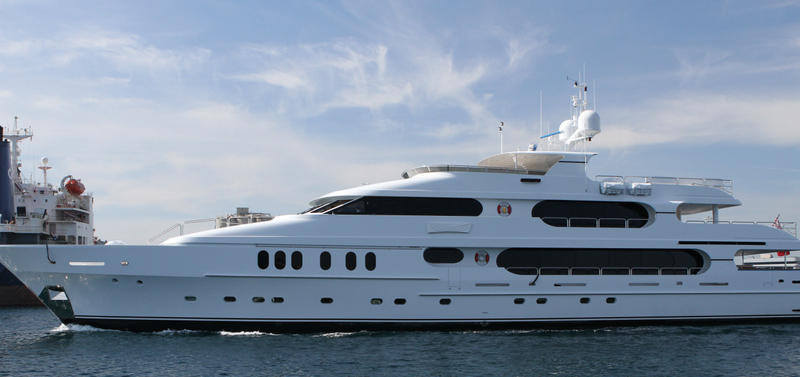 Tiger had been in the news lately. His cover was blown and one mistress after the other was revealed almost daily. We had lost count. It was bordering on the absurd, well in fact, it was absurd. The latest was that no one knew where he was hiding out. I remember that he had asked the paparazzi for privacy as he tried to head out on his yacht with his family to make amends. Maybe they were coming back in to home port after being in the Caribbean for the last few weeks.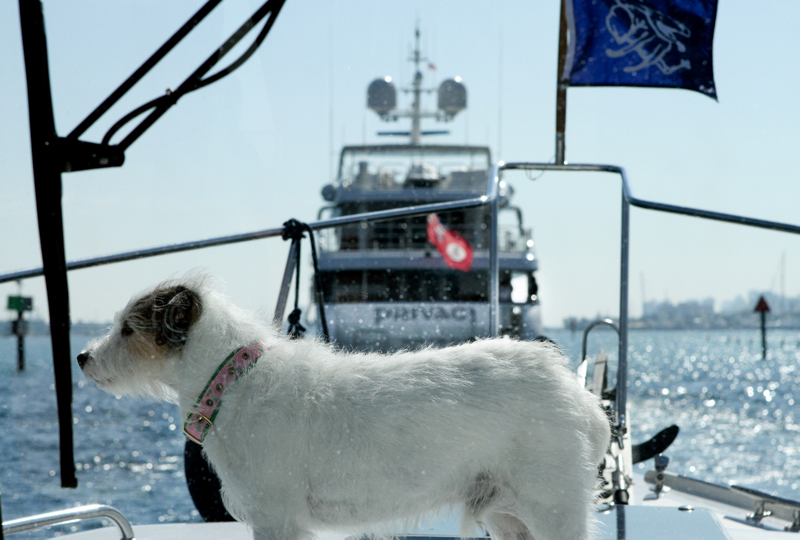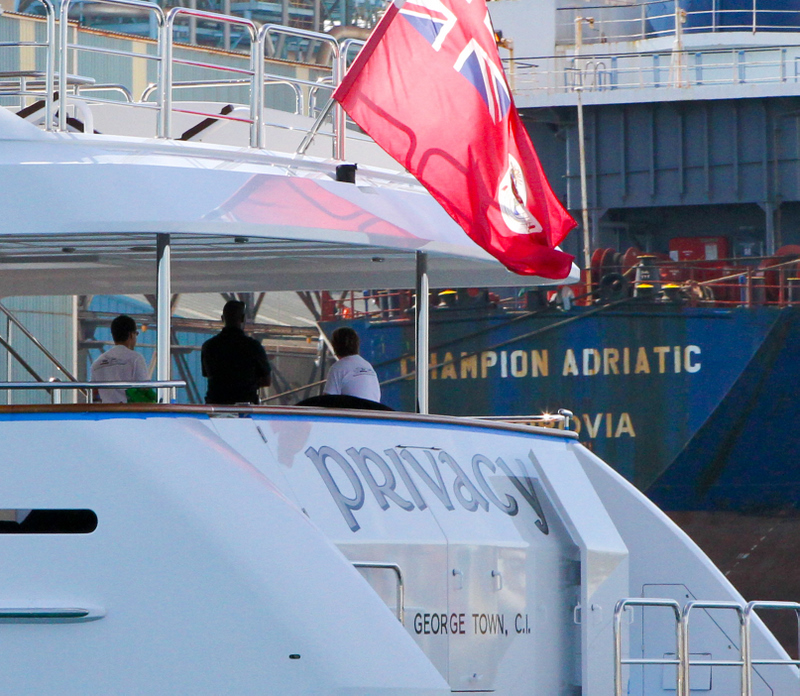 We were anxious to get to port but how could we miss seeing this? So we turned around and headed back towards Peanut Island to see if I was right. Pretty soon we see a big yacht coming in the channel and as he passes Peanut Island they make a turn heading in our direction. It definitely was Tiger's boat and we weren't sure if he was standing out in the back deck with the crew. We tried to not act silly but I wanted to get a few pictures to send home.
They had the name plate covered on each side but the big letters "PRIVACY" were impossible to cover and I think illegal. What a ridiculous name for his boat when you think about it. The boat looked in need of a good cleaning and looked like it had been out for awhile. Sure enough as it passed us it made its way towards the big boat yard.
Well, that was exciting.
BEAUTIFUL NEW MARINA
We continued on our route and within minutes we were hailing our new marina, West Palm Harbor. We had to pick of spaces as the place was practically empty. I'd say there we no one than 10 boats there and perhaps 200 slips available. The place was brand new and not even advertised yet that it was open. The dock were state of the art, all floating, big stainless cleats, pump outs at each slip, new locker boxes, trash cans and golf cart service to pick you up and deliver you anytime.
We were within walking distance to everything and a security guarded parking garage just a few steps away. This would be fun for a few weeks.