EMAILS FROM OUR READERS
Nov 2010
JJust wanted to let you know how much I enjoyed your logs of your last cruise through the Abacos. So many magazine articles play up the glorious beaches and clear water, but very few people understand that a cruise can be marred by constant high winds, tiresome biting no see-ums, and fellow cruisers who behave badly or oddly. Your interesting logs depicted the reality of cruising, good and bad. The return trip across the gulf stream to Florida sounded like a real ordeal.
I cruised the Abacos in a chartered powerboat a few years ago, and just got back from a week in rented cottage on Hopetown Harbor where I had a center console powerboat available for the week. That was a great way to do the Abacos – zip around in a fast center console during the day to Guana, Man 'O War, Little Harbor, Fowl Cay snorkeling and other fun sports but be back in the cottage for long showers, A/C, good beds and ample space.
Cheers,
John
Jamestown, RI
July 2010
Henry E. Hall was my grandfather who worked at the Manchester Yacht Club.
The launch was christened in 2003 and was attended by our family members.
Just found your web site and am enjoying it. Keep up the good work.
Sincerely
Dave Hall
Ziggy says..that was a great place & we met some really great people.
The Henry E Hall is the launch for the Manchester Yacht Club.
March 2010
POTCAKES
I loved reading about your adventures around Green Turtle Cay and the Bahamas. Your stories about boating life reminded me of sailing with my Uncle on his 38ft Shannon (3 masts) in Lake Michigan. Being on a boat is a wonderful lifestyle.
You may have noticed a lot of stray dogs in GTC. There is a rescue grouped called Potcake Rescue www.potcakerescue.org that was formed to spay/neuter and rescue those dogs to prevent further overpopulation. They are based in Atlanta. We are going to have a spay/neuter clinic April 23, 24 on GTC. Since you love Ziggy so much, I thought you would appreciate that somebody is doing something about the homeless dogs in your beloved GTC.
The dogs are called Potcakes because in the old days, the people would scrape off the burnt, caked food from the bottom of the cast iron pots and give that to the dogs to eat.
It will be my first trip there and I am very excited. Thanks for your colorful tales which help me prepare for what I will find!
Regards,
Denise
animoola.com
Atlanta, GA
Feb. 2010
I always enjoy reading your boating adventure website! Well written, terrific photos, informative and a sense of fun!I've heard good things about Sanibel and Captiva islands but I've never known anyone who has been to Boca Grande on Gasparilla island.
Boca Grande looks terrific with it's older architecture, seashell beach and trails under banyan trees. I'm glad to see it is still very picturesque even after hurricane Charley in 2004 brought 150mph winds to the area! What fun to drive a golf cart out to the beautiful lighthouse!
Some of your readers might find it interesting that Boca Grande was the place in Forida that Katharine Hepburn liked to visit. Her chauffeur made the 3 day drive down from NYC but once they were there Kate drove the golf cart. She spent several days there in 1986 enjoying the warm weather and doing research at the local library for a speech she would make in NYC honoring her mother (one of the founders of Planned Parenthood).
It makes me smile to think of Katharine Hepburn age 79 driving a golf cart around town and under the banyan trees out to the Boca Grande lighthouse!
Take care,
Joyce
San Diego
Nov, 2009
Hello Larry and Jayne:
I just wanted to say I enjoyed your very nice photos and loved little Ziggy. He must be very old by now if he still lives.
I am a dog lover and have many myself - though I lack the boat to have fun in.

It is nice to be able to find some healthy reading that simply spirits one away for a little while to a different life than one can expect to find oneself. Thus I thank you for the written word that permits this lifting of the spirit by a sharing of your experiences.

Hope you still can sail during these times of hardship.
Happy voyage wherever you go,
Michael
ZIGGY RESPONDS..I am only 14 & still going strrong !
October, 2009
Hi, I found your blog online and it caught my eye.
We are going to cruise with another boater friend from Panama to Costa Rica Dec through Feb. Any cruising info you can tell us about anchorages etc. would be great. We'll be on a 50 DeFever power boat.
Linda B
M/V El Capitan
Bremerton, WA
Ziggy responded:
When we made the trip we were in a hurry & and did not stop and smell the roses enough. The log you found have all of the places we stopped, which were not many.
If you have not found this cruising guide you should get it.
CRUISING PORTS: Florida to California via Panama
It by Pat & John Rains
Capt Rains has done this trip many times & is well known along the way
Another book is:
The Panama Guide ..it by Nancy Sschwalbe Zidler & Tom Zidler
Hope you have a great trip..wish we were doing it again !!
Sept, 2009
Ziggy responded:
Dan, glad you enjoyed the web stories. We stayed at the Barillas Yacht Club in El Salvador and the plane belonged to the General Manager of the club. He just offered the ride to us. Barillas is up a river & also where the President of El Salvador keeps His boat.
Larry , Jayne & Ziggy
I like the story of your trip.
But I was wondering how you found someone to take you in the airplane in El Salvador. Is there a way you could put me in contact with them.
Any details about it you could tell me would help.
Thanks,
Dan
July ,2009
Bonjour,
Nous sommes Français et envisageons d'acheter un Nordhavn 57La photo prise entre les collines, le matin, est-ce en Colombie britannique ?
Etes-vous satisfait de votre bateau ?
Cordialement
Hello,
We are French and consider d' to buy Nordhavn 57
The photo catch between the hills in the morning this in British Columbia is?
Summers you satisfies your boat?
Cordially
June 2009
hey great site! I was looking for interesting spots in the exumas, and you came up. we go the abacos a lot but would like to go further out, are there fun local bars and such? I know you've heard it before, ziggy is damn cute. yeah, we love our dogs.
tom
thousand oaks,ca
MAY 2009
Hi Ziggy,
We are in Elizabeth City now. This place is just like you described in your log. It is wonderful!! The mayor and Sam came by today. The mayor said for us to tell you hello for him. Boy is it nice to have some real grass under my paws after four days on the boat.
Sebastian
APRIL 2009
Jayne & Larry,
A friend of ours just forwarded your comments about MacDonald Bay (Exploring the North Coast of British Columbia) which we'll put up on our website.
I checked your Knotty Dog website and realized that we met a long time ago. Your new Knotty Dog III looks like a beauty. Is she a 62'? Has she been launched or is she still in process?
Regarding those Sidebars: we write them, or have others write them, because readers of our first editions wanted more of that "stuff" and still do. In fact the editor of our latest Southeast Alaska guidebook went a little overboard. We just can't please everyone!
Best regards to you both and have a good season,
Réanne Hemingway-Douglass & Don Douglass
I have been reading your blog and you gave me insight on crew fullfillment.

My wife and I are in the final phases of finally purchasing a boat (June) and your honesty is sobering and will be read again several times when and if we need to choose crew members

Thanks again,

Leslie
Jayne and Larry –
We have been following your continued adventures on the new Knotty Dog with great interest, since you write so well and are writing about our home cruising grounds. As a long time South Florida resident (God help me), allow me to offer an apologia of sorts for the seemingly boorish behavior of skippers down here when it comes to wake etiquette.
We (mostly) do know better. The problem is that, in the interests of manatee conservation, huge areas of the inshore waters are speed restricted to slow or idle speed. Often the only area that is exempt is the ICW channel itself. What this unfortunately does is cram every local who is wanting to get somewhere in a reasonable amount of time in the same channel with anyone who is restricted at all by draft and/or doesn't have the local knowledge to safely operate outside the marked channel (that is, most cruisers).
Sad to say, the polite habit of slowing down to give an easy pass for oncoming or overtaking traffic is no more. The waterway is just so crowded, you would be constantly speeding up and slowing down, speeding up and slowing down. An already tough navigating task would become chaos, with boats constantly changing speeds. So unfortunately, nobody slows down for anybody, and it gets pretty rough out there.
My only advice is to secure ship for an ICW run the same way you secure ship for a run offshore, because you are gonna get bounced. In fact, on any halfway decent day, Jayne and I prefer to run offshore, where at least we have some elbow room. It's a bummer, but it's the modern reality down here.
Hope you are enjoying your break from the action, and we will look for your posts this winter.
-Jonathan and Jayne
M/V Top Cat

March 2009
Hello Larry, Jayne and Ziggy,
I'm enjoying your website and reading about your current adventures. I have driven down to Key West but it must be particularly beautiful and challenging to go by your own boat.
If you stop in Islamorada you might want to check out the "World Wide Sportsman" store and see the full size replica of Ernest Hemingway's boat "Pilar". We have boating friends from Washington who went there a few years ago and brought back pictures. The store is fun but seeing the "Pilar" replica is impressive if you like classic boats or have an interest in Ernest Hemingway or his novels.
The "Hemingway Resource Center" on the internet has some additional info. about the sister ship replica. It was built in 1933 and according to legend Hemingway fished from the boat and then decided to order one for himself. The replica on display was also used in the film "Key Largo" with Bogart and Bacall.
You may have seen the Hemingway house in Key West but few of us will ever see the actual "Pilar" boat as it is currently in Cuba.
Have a safe journey,
Joyce ........San Diego
Dear Ziggy and parents Jayne and Larry:
A friend sent me to your logs because she thought we shared similarities with you, and I am enthralled reading them. Your writing is so immediate; I feel like I am right there with you, and feel like I know all three of you as if we were long time friends.
So let me introduce us. I am Mike .... My wife is Bunny ..... Our seven year old Corgi is Willie.
We live in Atlanta, and have a place on St George island, out from Apalachicola on the Panhandle of Florida's west coast. I joined the Coast Guard Auxiliary there and learned enormously. We chartered out of Anacortes in 2004, and I learned that my CG training really did work; I could pilot and navigate. We fell in love with the PNW, so much so that we wound up with a Nordic Tug 37 in Anacortes. We are owned by our Corgi, Willie; and thus we drive across the country (as you do, Jayne), rather than fly, when we are ready to cruise, because I won't put Willie down below on a plane, and Bunny won't leave him behind. (Neither will I.)
I had the opportunity several years ago to crew from the Chesapeake down the ICW across Lake O to the Fort Myers vicinity on, Karina, a Zimmerman 37 – a wonderful Spencer Lincoln hull, that appears very similar to yours, owned by a friend who lives on it in the winter at a wonderful small marina just east of Fort Myers.
We have other similarities, but that's enough for starters – love our dogs and love cruising— most of the other stuff seems pretty far down the list of importance.
I saw Larry's post on the T&T list, asking about depths crossing Lake O. That caused me to think that you might be planning to head up the Florida West Coast this spring; if so we would love to meet you, if your schedule matches ours. The Intra (as it is designated on the west side of Florida out to Texas) Coastal Waterway goes through St. George Sound and Apalachicola Bay, which are our Florida home waters. If you'd like to take a day or so off the boat, we'd be tickled to have you stay with us. If schedules don't work, or if you're reluctant to accept invitations totally out of the blue from perfect strangers, at the least I hope that you will join us for a nice meal.
And if you are looking for local knowledge, I'd be delighted to advise, to the extent I can.
I look forward to hearing from you. And I'll be devouring your log from the Keys.
Sincerely,
Mike ........
Ziggy says..Willie we love letters like this!
Hi,
We looked at the most recent video on your website. I don't believe I have ever seen a busier waterway. I would be really scared going through something like that. Were you able to get any sleep? By the way, I really enjoy reading about all these places you have gone to. You tell it like it is and that is a good thing. How would anyone who has never been there know what it was like, unless they were lucky enough to read your website? I don't think I would ever want to go to Ft. Lauderdale in a boat.
Take care,
Brenda
ZIGGY Says: It quiets down after about 9pm & even thought it is noisy, it is fun. The video is for effect.
Hi!
We have written to you before, (Bob, Vicki and crew Rosie on Blue Moon,) and I just can't restrain myself any longer! I grew up boating in Miami and Ft. Lauderdale area. There are places where it is just like a shooting gallery....(and sometimes I felt like I wanted to do the shooting!!) I know the zoo that you are in! The traditional boater wave down there is the middle-finger salute!
Re: fixed docks and pilings..... we have been up and down the east coast, NY and Canadian canals etc. Fixed docks are a pain, but they are doable---- here's what we do---as always, feel free to disregard. When backing into a slip with fixed pilings forward, we set up with two bowlines, a spring on each side, and two stern lines. The bow lines and spring lines are set with the loop end free, and the bitter end around the cleat, leaving a lot of line free. (To be adjusted later.) I (Vicki) make a loop with the end of the line, and, standing just aft of midships, drop the loop over the forward piling, only when the piling is next to me, as Bob backs in. Ditto other side. Bob is going slowly enough for me to do this. Depending upon the state of the current etc., I then take the proper spring, and drop it over the forward piling. Puling this spring keeps the stern away from the dock. If no one is there to help, we are at least safe in the slip. Usually, Bob steps off the boat onto the finger pier, (never jumps--- we've seen broken ankles and legs from that!) and I throw him the stern lines-- first one on depends on the current. It's sometimes not pretty, but it works! Most important-- no one gets off the boat until we are sure that the boat is safe in the slip....then we finish making it fast.
Re: Side-to with fixed pilings. Set up one bow line, and two spring lines on the dock side, and two stern lines, one on each side. Bob puts the boat in, bow first...Vicki just runs a line from the bow cleat, around the piling, and back to the cleat. (Looks like I'm hugging the piling!) When I (Vicki) pull this line tighter---(always run the line around one horn of the cleat, then pull. The cleat gives you a mechanical advantage.) At this point, the line is around the cleat in a circle, and both ends are on the boat. Then Bob brings in the stern, and I take the stern line closest to the dock and loop it around the piling. (Same as bow.) This aft line is a temporary measure. Bob, or Vicki--- only one of us--- steps off the boat and ties the first spring according to the current. Then we take the outside stern line, and tie to the piling. Usually we try to get one a bit further back behind the boat, to get a good angle. When we leave, we remove all lines that are tied to the dock first, then the stern line. Bow line is last to go off... remember it is only a loop. Bob turns on this line, and backs the stern clear, then I slip the line off. Easy to do, since it is not tied, just looped. (As an aside, when in a questionable area, we often keep both ends of the line on the boat.... harder for someone to mess with, (tall piling) and easier for a fast escape!) As before--- no one off the boat until the boat is safe in the slip, then we finish the tie-up.
I know this is wordy, I wish I could show you! As I said--- feel free to disregard.... this is what works for us. I'm sure if we ever get over to the Pacific coast, I'll be asking you how to tie up to a dock with no pilings, no cleats, and a bull rail!! (I can't imagine... no kidding!)
Well, that's more than enough from me.... we will be on the Chesapeake starting in early May. Hope to meet you along the way!
Bob, Vicki, and Rosie
Blue Moon
February 2009
Well a big Hello to the crew of the Knotty Dog! I have been reading your progress down the intercoastal. It must be a real challenge at times with all the dredging and markers being moved. Hopefully the weather will be warmer, can't believe how cold its been so far south! Happy belated Birthday to Jayne. Three score and something? Haven't heard any more about Larry's eye trouble. I hope that problem is taken care of? I had mixed feelings when I read the young native Hiada girls e-mail. My thoughts wouldn't be politically correct so I'll keep them to myself for the time being. By the way I thought you gave an excellent response! Time to get busy, as always may calm winds and fair seas be on your horizion. Lynn and Loretta and the Gang. Happy Valentines Day to Everyone!
I can't tell you how much I'm enjoying your Knottydog website. I'm sure glad Jack gave us the address.
I've been an avid boater/fisherman most of my life with all of the boats having been used as a platform to bass fish from except for one, which was a sailboat which happened to have been at the wrong time because along about that period our kids were born and not being the type to leave Elaine home while I went sailing, I sold it. We had taken a sailboat ride out of Bar Harbor, Maine and I got hooked.
Your trips on the ICW are so interesting and have me sitting on the edge of my seat white knuckling it during the shallow water runs. I was right with you and Larry when you were squeezing by the dredger with not much water under your keel.
Back in the 50's, I happened to read an article in the Steubenville paper about a man that had been a school teacher there and was retiring and he and his wife were going to take their boat to Fla. down the ICW. I thought boy, would I like to do that. After reading your logs of the trip, I wonder now if they had a boat large enough to handle what they would encounter. After that I never heard any more about them.
Keep the good stuff coming with your fantastic writing talent! I'll be waiting for the next update. Dave
Dear Ziggy and Family –
I really enjoyed your Bahamas logs, which I stumbled across on a link from the Great Loop cruising site. You capture both the joys and frustrations of cruising the Bahamas, and we have been to many of the spots you wrote so well about (we spent our honeymoon at Staniel Cay). My wife and I are I guess what you'd call beginning cruisers – we have a little 26 foot trailerable boat, and we live for summertime trips to the Bahamas – summertime is best for small boats, winter is just too rough for us little guys. We learn a lot from reading logs like yours, and we hope to move up to a real cruising boat someday.
We have our logs from our trips at:
http://gorhams.googlepages.com/home
if you would like to check them out.
Thanks again for the armchair adventure,
Jonathan and Jayne xxxxxx (and dogs Mousse and Cha-Cha)
M/V Top Cat
Vero Beach, Florida
Hello Larry;
I just wanted to write and thank you for all the help and enjoyment my wife and I have received from reading your many logs over the past few months.
I am a lifelong sailor who bought a power boat two years ago as a concession to advancing years and my wife Wendy's increasing difficulty with seasickness on the Ocean. We have lived in St. Petersburg, Florida seasonally for the last 7 years when not cruising on our 53 foot Beneteau, largely in the Med. We brought that boat home to Florida a couple of years back and she is too tall and too deep to cruise much down here. We also have come to put more value in creature the comforts a power boat provides.
I bought the power boat, a Bayliner 4788 pilothouse, with minimal experience in power boats with the idea of doing the Loop starting last year. We joined the AGLCA and made the trip up the ICW as far as Oxford, MD last year where we just fell in love with that area. We wound up buying a second house on the Tred Avon near Easton and now are sailing a fair bit on the Chesapeake on our 30 foot Wylie catboat while we are getting more experience in the power boat.
Last September we took a couple of weeks to visit Washington DC and in planning for that trip found your log which we used as a guide for places to see and to avoid. Since then I have read a great deal of your logs with much pleasure. Our wakes have crossed many times. For example we kept HOKULAE'A at Isle of Hope for almost two months into October of '07. I admire your selection of the new boat and hope you have a great trip down from your currentl location. The Lake is higher than it has been in years and you should have an easy crossing.
Thanks again for all your great work in maintaining your blog.
Hall
S/V RELATIVITY (Beneteau First 53f5)
S/V LUCKY DUCKY (Wyliecat 30)
M/V HOKULE'A (Bayliner 4788))
Responses to the Hidia Letter
.......... I think Natalie, the Haida Indian, really over reacted to Jayne's comments........

Brenda
Wow~ My experiences with Native Americans have been few, but of those few experiences, some have been awful. The individuals, mostly in Northern CA, were VERY angry and racist. I don't know how I would feel if I were native American, considering what they have been through, but you can't help but think, "OK, I understand, now get over it. Or at least don't exhibit the same racism that tormented you for so long."
Hope everything else is good.
Jim
We both read Larry's email which included your response to the Haida girl. There is a very big chip on that little one's shoulder. Too bad that she views life that way, though I guess I should not talk since I have not ever been in a minority.......
Fran & Joe
My lord. I don't think there was a thing you could have said about them that would not have been criticized.
Joe
I think the letter from the Haida girl is a wee bit of sour grapes.
Susan
Jayne
I was very offended by your blog post about you visit to the Queen Charlotte islands, as I am a girl who is full haida girl from Masset. First I would like to inform you that the people from the Charlottes are not "Indians" we are the haida people, natives if you must. Most first nations people find it very offensive if you were ever to call them Indians. Indians to me (as a first nations girl) are people that are from India.
"I think they should be called something more like Sea Rape and Sea Devil"". If you really did your research you would have realized that there are thousands and thousands of crabs in the haida gwaii seas. If you had seen the thousands of crabs on the beach maybe just a week later you would of saw them with no meat inside. Wildlife eats the dead crabs that is left ashore by the fisherman. Most fisher men leave about ten crabs there on purpose to give back to the wildlife.
I also didn't appreciate that you posted up pictures of the deceased graves and headstones. I don't think that the family of these people would like that you did that. In a way its disrespectful
Your comment about how the "simple bracelet cost $3000" bothered me as well. Do you know how long and hard it is to make a simple bracelet it takes a lot of patience and skill. Just to get the bracelet to that shape take weeks of work.
Also I don't think that elders would like that your husband was trying to push over balance rock as it is a symbol of greatness as it is believed to protect the Skitigate waters.
I was also unbelievably offended that you where "disappointed" in the people of Masset and their living conditions. If you have traveled though Masset a bit more you would of discovered new "modern" nice houses. And not all of Masset if full of drunken Indians sitting around and loitering. There are successful people in Masset.
What bothered me most of all was when you had mentioned that most of the Haida culture was lost due to the small pox epidemic. Are you kidding me? The Haida language is taught daily in school beginning when children go to kindergarten. There are still Haida dance groups that sing traditional songs and dances as our ancestors did. Many people are still carving totem poles and jewelry. I personally know many, many people from Haida Gwaii who weave for a living. Weaving clothing cedar cats red cedar baskets, and making roses. I weave with my mother all the time( literally as much as I can). My mother learned it from her mother who learned it from her mother and so on and so forth. I'm only 17 and know so much about where im from. I am in a traditional Haida dance group in Prince Rupert.. I paint Haida designs my older brothers draws for me in First nations Art 12 in Prince Rupert Secondary School. So I still know traditional things. Although you had mentioned that it was lost. So guess I am "restoring pride and hope for my people much like Bill Reid has done in recent years".
So I pretty much want to say that Masset isn't as depressing as you made it seen. I read your whole blog about your trip to the Queen Charlottes. It made me mad although you did appreciate the scenery at some points. Maybe you didn't intend it to be but it did seem as though you were racist. In many ways. My mother thought so as well.
Anyways your blog really disappointed me.
natalie
ZIGGY's responce:
for reference this seems to be the log of concern: Graham Island
Dear Natalie,
THE DISAPPOINTMENT WAS MUTUAL
I too was disappointed to hear how you viewed our log that described our visit to Queen Charlottes. Your reaction was completely opposite of what we would have expected. You sound mad and resentful and I'm sorry you really didn't see our true feelings.
RACIST AND DISRESPECTFUL?
You have called me a racist and said I am disrespectful. I really hope that I can convince you that your impression is far from accurate. I will address each comment and try to explain.
We have great respect and admiration for the Haida people and also feel a great sorrow for the sadness of your past most directly responsible by the early visitations of the "white man" who unknowingly brought small pox that decimated your population.
We did not in any way come away from your island with such negative impressions as those that you have described nor do we wish that our comments to be taken in such a negative way. If our comments were indeed hurtful we are very sorry and sincerely apologize and hope that we can clear up an misconceptions.
QUEEN CHARLOTTES, A CHERISHED MEMORY
Our visit to the Queen Charlottes was a cherished experience personally rated high above many other places that we have visited by boat or otherwise.
We've always considered the Haida people to be remarkable in so many aspects. They are clearly artistically talented and creative and their mythological stories passed down from generation to generation are insightful filled with lessons we all could benefit and learn from. Their respect for nature is something that if all people followed would make the world a much better place. I readily admit that we have only scratched the surface of learning about your culture but think we have a pretty good insight.
POLITICALLY INCORRECT
Recently it has become politically correct to call native peoples and different races by more popularly accepted descriptions or terms, such as "Chicano", "African American", and "First Nations People." Being a much older person than yourself, a person who is used to a vocabulary that I have used my whole life, a vocabulary that has also well served those that came before me for many generations, but that has become to some like you a vocabulary that is now considered unacceptable that must be changed, to be replaced with words that honestly at times, seem very silly to me. Many of these new words are quite a mouth full, many that I'm not very comfortable with and many that do not flow easily from my mouth.
"DRUNKEN HAIDA PERSON?"
So perhaps this explains why I use the word "Indian" in my description of loiters in Masset. I used it without contempt, meanness or disrespect.
To be truthful, I would have felt very uncomfortable saying "drunken Haida person" or "drunken First Nations Person". It just wouldn't flow easily or comfortably from my mouth.
Also, when I say the word "Indian" I don't agree that people think I'm describing people from India unless I'm speaking of a person from India in the proper context and in this context I think it was quite obvious that I wasn't.
I come from a generation too that doesn't understand all the hype and accusations of disrespect that are so popular now about calling popular sports teams names like "The Indians" or "Red Skins", even when used in the same context with "Patriots" or "Chargers". To require that they be changed now after happily and respectfully being used for many years without justifiable offense is mind boggling. I don't understand nor do I follow this popular notion of changing the world's vocabulary for politically correct reasons.
But, I sadly and sympathetically understand how a young impressionable person like yourself, growing up in this new world of many changes, experiencing a different education and upbringing than what we experienced, how that you may think this word insulting. I think some of these politically correct trends teach you to be offended by things that are not meant to offend or to be taken as a misguided personal insult and it sadly becomes a factor that divides people for all the wrong reasons. It's a new world it seems that we live in that tells you how to see and describe things that we may not all agree with. So for this I am sorry, because you have grown up in this new world and it has taught you to feel hurt and insulted by my description which is not what I meant to do.
NOT AN UNCOMMON PROBLEM
I'm sorry to say that if there weren't several drunken "characters" loitering in your downtown area of Masset then perhaps this discussion would never have surfaced. Please don't take offense as this is a common sight in many beautiful cities.
In fact a city where we lived for several years, a beautiful city called Santa Barbara, in California, has the same problem. There are loiterers in many other beautiful cities too such as Seattle, WA, San Francisco, CA and Victoria and Vancouver, in British Columbia and so on. The list of cities is endless. In fact it is the rare city that doesn't suffer somewhat from this malady.
Some of these people are victims of mental illness but others abuse alcohol and drugs. Their addiction and/or illness makes it difficult and for most impossible to function productively in society. They are not able to keep or get jobs and have no means to provide for themselves or maintain a place to call home which leaves them no option but to loiter in public places.
Many hang out in our public parks where children play and on public streets where they are in full view of tourists that come to see our city and like us remark about it. We don't take offense to their comments but acknowledge the problem and work to make it better. No one likes or feels comfortable when they see this.
BEING TRUTHFUL
I could have chosen not to mention the problem but then I would not have been honest describing the impressions of the places we visit. I am however uncomfortable calling them "drunken Haida" or "drunken First Nations People" no matter how you try to describe the problem.
WHERE DID YOUR LONG HOUSE TRADITIONS GO?
I am sorry that you were offended by my description of some of the houses in Masset. I am sure as you pointed out that there are many nice houses in Masset. The point I was trying to make but perhaps was not as carefully worded as it should have been was to explain that I was saddened to see the "Haida" that we saw living in these run down, un-cared for houses.
There was no pride as many were trashed with windows broken and junk piled in the yards and graffiti. It was surprising to see this because we were so impressed with how the Haida used to live in their beautiful long houses. The long houses were of such superb design providing not only beauty but ingenuity allowing for mobility from summer to winter locations. They were solidly built of massive lengths wood, precisely designed to be joined together for stability but also to be easily dismantled for mobility to another seasonal location. They were embellished with exquisite decorative designs and yet provided a very functional design to provide a style of living that unified family and clans living comfortably in close quarters. This modern day version of living quarters that we saw just seemed so incongruous with what we came to understand about the Haida.
The people seemed sad and without pride in their houses. They were now forced to live in these inferior modern cookie cutter houses that we see everywhere in the world. Somehow I thought that the Haida would live in structures that would reflect their proud heritage and be different from our sad example of low cost modern day culture.
CULTURE NOT LOST
I also did not say your culture was lost by the epidemic of small pox. We see your people's brilliance flourishing everywhere. We know that a Renaissance of spirit has been newly inspired by the deeds of Bill Reid. We see the many accomplishments of the modern Haida as we attend, whenever and where ever we can, the many festivals that celebrate your native dances, stories, journeys, clothing, weavings, art and carvings.
I was merely trying to express and imagine the great loss that your people must have suffered and the great loss the world unknowingly suffered from the needless and tragic deaths of so many of your talented people that passed away so quickly and unexpectedly from the devastation brought on by the epidemic of small pox. I am glad you and your family and other Haida are keeping up your traditions so we all can still enjoy them.
MASSES OF DEAD CRABS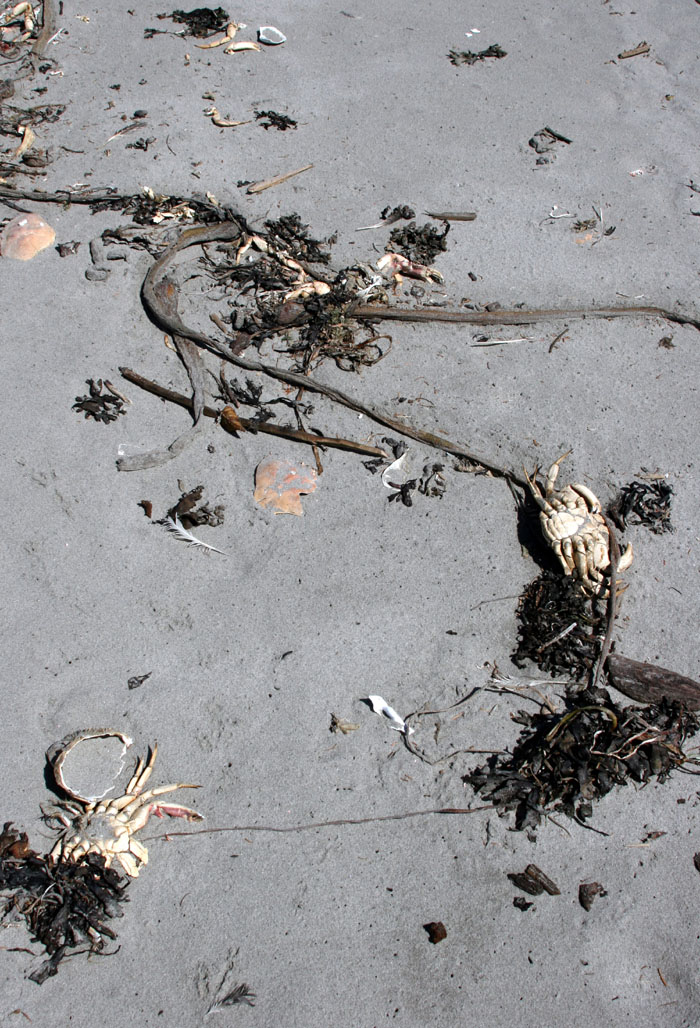 I was very interested in the explanation you gave me of why there were masses of dead crabs on your northern beaches. I never in a million years would have thought that they were put there on purpose by the Haida fisherman. You explain that is a traditional gesture of the fisherman to show their appreciation for their bountiful catch by sharing some with the animals.
You criticize me for my lack of research and knowledge of this tradition. I have to say that I have no idea how I would've known that or where I would've researched this information. No one that we talked to had an explanation for it. I have read a lot about your people and your islands and never did I find mention of this. Perhaps you shouldn't expect everyone to know all these things.
PRESERVING OUR BOUNTY
Even so, we still are and were astounded by the amount of dead crabs that we saw on the shore. I do not agree that they were eaten and only empty carcasses. To leave that many (and many that were undersized) on the shores means there must have been hundreds of fishing boats to amount to that offering and that would mean well more fishing boats than we could ever imagine there should be.
In Washington State we have restrictions on the size and quantity of crabs that we can catch. All the small undersized crabs and females must be returned alive to the sea to preserve the future reproduction and sustainable population of the crabs.
We are concerned about the survival of wildlife and fish populations and their well being. This is because man has proven over and over again to be careless in regards to preservation. We also have serious concerns about the condition of the waters we travel over and live by as we've seen some pretty disgustingly polluted water.
Our first thought upon seeing the dead crabs was that something negative was happening to the local environment. We wondered if the water was bad or if the carcasses were the result of disease or just plain waste from overfishing or perhaps even careless fishing.
I think the idea of leaving this offering is a wonderful symbolic gesture and again I applaud the Haida for their traditions and thoughtfulness. To appreciate what one takes from nature by giving something back is an honorable trait but maybe should we should question taking so much that requires so much to be given back?
OVERFISHING, A LESSON TO BE LEARNED
We can't help but feel justified in our concern regarding over fishing and our care for keeping a keen eye out for polluted water. I guess this concern and perhaps disgust from what we sometimes see explains why some disrespectful nicknames came to mind for the local crab boats we saw coming and going incessantly from the harbor we were staying in. How could any sea withstand the incessant amount of crabbing that we saw going on there?
Fortunately Alaska and the Queen Charlottes still have an abundance of salmon and other sea life to enjoy unlike many other places we have been along America's Coasts.
The disappearing fish supply is becoming common place. In Puget Sound, where we live, there are serious concerns about the disappearance of salmon due to overfishing and contaminated waters and how it is effecting the survival of many living things that depend on it for food including our local and cherished Orcas.
British Columbia Coast shows serious signs of decline evidenced by the mass of fish farms that are sprouting up in every corridor along their remote shoreline.
These are places that are in both our backyards and are cause for common concern.
I hope the Queen Charlottes and Alaska will quickly learn from the mistakes of others, the over fishing and pollution of waters, so they will continue to respect their waters to keep them clean and be conscious of the amount they take so they can maintain a good balance. We want you to retain your resources so you can always enjoy your present good quality of life. There is a fragile limit to our natural resources if we are not careful.
PRIVACY OF THE DEAD
I did not realize that anyone would find it offensive to photograph the grave markers as you said. There were no posted signs to mention this. I have always had a great interest in cemeteries because it provides a glimpse into people's history and I have found that all grave markers tell a story for the living to interpret, a story about the life of the person that lies beneath hoping perhaps not to be forgotten
JEWELERY AND CRAFTS OVER PRICED?
Yes, the Haida jewelry and other Haida crafts are very expensive and do require a tremendous amount of time to produce which does justify the high prices. Sadly many just can't afford to pay the price. I understand the need to keep your arts and traditions alive and I'm grateful that there are those that can afford to buy these artworks so that you can continue your traditions. I would have loved to have purchased a piece of jewelry, a woven good, or a carving for keeps sake as it would serve well as a cherished reminder of or our visit to your islands.
STAY IN BALANCE WITH THE WORLD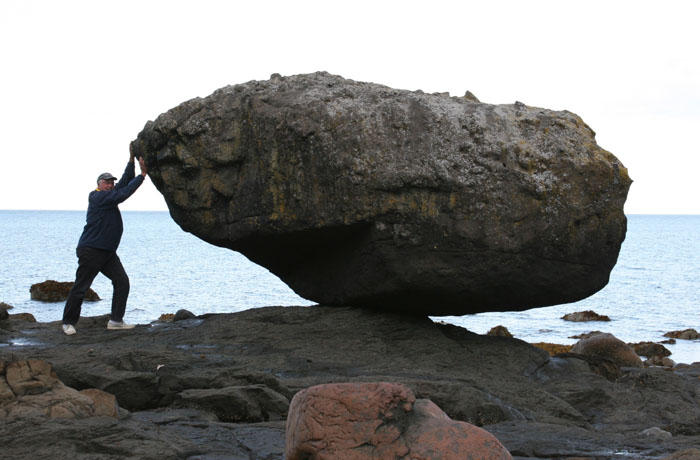 Never would I have thought that the Haida people would have taken offense at Larry having his picture taken playfully pretending to push over the "Balance Rock". I must ask. Have you really lost your sense of humor?
You are way too serious and should lighten up a bit and see some fun in life. Perhaps you should try to understand other cultures as we try to understand and learn about yours. Maybe you should not be so demanding of those that visit you, to demand that they know your culture in such depth.
Would we expect the same from you if you visited our island? I don't think so.
You assume that we should know all of your traditions; that we should speak using a changed vocabulary that you approve; to look at things your way, not other ways, other views and also to not look at some things, nor describe them nor photograph them.
I must admit that your comments make us feel unwelcome to a place where we thought the people friendly and the landscape enchanting and the culture unique and worthy.
Our words were never meant to be interpreted with the intent of malice nor did we intend to express anything other than to describe clearly what we saw and experienced. We came away from your islands with impressions of hope, admiration and respect for your people.
So, please forgive us for any offense that we have caused you.
November 2008
Ms Jayne and Larry,
I stumbled across your website today. I was there for over an hour reading your stories and looking at the great pictures you have shared.
I am a retired (06) Navy sailor of 20+ years. I currently work as a police officer at Kings Bay Submarine Naval Base in S. Georgia. I am assigned to the High Value Asset escort team, we provide armed patrol boat escort services for the submarine when they enter and leave the Base here in Ga. I enjoyed your story of the exploding windshield on the Protector. I too had a similar situation. I was on a 27' patrol boat in Puerto Rico, we came off the top of a wave crest into the trough and another wave washed over the whole boat, I was standing at the Navigators table on the port side inside the cabin. I looked up and all I saw was a wall of water, the windshield came out and hit me. Luckily it came out in one piece and did not shatter as yours did. I got a small scratch and almost had to change my "drawers" !
Anyways to the reason for my e-mail. I am looking at replacing our old radar and GPS units on our patrol boats. The old units are Raymarine, which I do not like. One of our other coxswains is trying to sell me on the Garmin 5212 Touch screen system. My questions are, which of these systems do you think would be easier to teach other novice boaters? Ease of user interface. Our boats do in excess of 35kts, but while doing actual escort duties we go 10-16kts. I would appreciate any advise. Also would you know of any articles doing comparison testing/evaluations of these units? Again Thanx
Traveling S in the ICW, at Kings Bay be sure to take marker # 79 down your portside. I have been on the security boat many days out there and seen more than one vessel take it on the wrong side only to set there for several hours waiting for a tide shift.
Be safe,
Larry and Jayne,
I have visited your website for several months and have enjoyed reading about your adventures. Norris Palmer told me about your site shortly after you moved to San Juan Island. We have been friends with Norris and Karen since they lived in Texas and had sailboats at the same marina. We have visited them twice since they moved to SJ Island. My wife and I are adopting a 10 year old boy next week that has been living with us for 2 ½ years as our foster child. He loves Washington and the ocean and we are planning on moving to the Pacific NW in the next few years. Our goal is to cruise to Alaska after Cody gets a little older so he can help out. So I especially have enjoyed your logs about your Alaska trip.
Until then I will continue to read your logs about your experiences and continue to make our plans. By the way, we have a Yorkshire terrier that isn't real fond of sailing so we will have a little bit of a break in period for Oliver.
Best regards,
Bob, Claudia and Cody
I had just recently discovered your blog and was following your travels aboard the new CCY. My interest in Nordhavn originally led me to your website, although I must admit I've been undecided as to whether to buy a big passagemaker or a Down East type of vessel. Your "unexpected" suspension of your cruising plans leads me to hope all is well with Larry's health.
God's speed in your recovery if in fact you have had health issues.
I look forward to following you cruises on the new CCY.
Hello Larry, Jayne and Ziggy,
Enjoy reading your "Knotty Dog" website.
Just wanted to say Get Well Soon Larry!
I learned to sail in Seattle area from a man named Jay Dawson at Everett Marina. He was from California and retired to Washington on his sailboat. He lived alone and was an independent type who never liked to bother anyone. He started having the kind of eye problem you mentioned and called his doctor. The receptionist told him the doctor wasn't able to see him until days later. Unfortunately Jay was not proactive to get an appointment or go to the emergency room. In less than a week he lost vision in one eye that never came back despite taking 40mg Prednisone daily.
Glad to hear you saw an opthamologist right away! It might be interesting to ask your eye doctor if being on the water a lot (sunlight reflection, wind on the eyes, concentrating on objects ahead) can promote the problem. I've only heard of this condition twice and both people were active boaters. Perhaps wearing glasses and a hat most of the time to limit sun and wind irritation and taking regular breaks at the helm can help prevent reocurrences.
Take care,
Joyce
San Diego
October 2008
Dear Ziggy,

My people have been following your people on your web site since you had your GB42MY. They think that they saw a picture of your boat in Passagemaker Magazine years ago. My name is Rosie (the brat dog,) my people have a GB42CL named "Blue Moon" that we cruise. We also have land home in Melbourne, FL.

We would like you to know that we are home in Melbourne now, and would love to meet you, and help in any way we can. (Trips to the grocery store, or whatever.) In addition to my folks wanting to meet your folks, I'd love to meet you, too. (Insert heart picture here.)

My people have really loved your "no holds barred" commentary. (They were going to sell "Blue Moon", but the economy being in the (for us) forward deck, has made them realize that they don't really want to give up cruising!) They so totally understand your people needing another boat!! Cruising is next to impossible to give up!

If you plan to stop in Melbourne, or nearby, please e-mail at gb421009 (@) earthlink.net---- we three would love to meet you!

Hoping to hear from you,

Rosie, the great dog, and Bob and Vicki, my people
Ziggy responds: Rosie, glad you have enjoyed the logs. Do not give up boating! Dad says we will be in Melbourne late January or early February. Looking forward to meeting you & you family.
March 2008
Hi:

Kathy and I sold our GB36 in SF Bay and bought a GB42 now in Sidney BC. We plan to poke around the PNW this year and head north in 2009. I enjoyed your site for your trip to AK. Great site!

In particular, I would like to respond to your comments on men taking over. I will say up front that I couldn't agree more. Kathy is the driver and frequent docker of Penny Lane and this can cause pandemonium on the docks when men see a woman heading for a slip – pandemonium squared if their boats share the slip. We have to hide the bow lines from "helpers", and so on. But, as for guests, I have the following observation. It is the role of the captain to hold a meeting and assign jobs to the crew. Yes! Nicely tell those guests who does what, how it will be done, and that the safety of the boat depends of good old fashioned following orders. I go a step further and ask for call and response. i.e. "Release the midship line." "Line released."

I have varying degrees of success. But, a charter guy watched my drill once for a checkout and told me afterwards that he was impressed mostly because so few people take the time to do this.

Thank you for all of your work.


Hi there,

Love your site! Well done!! Just thought I would mention two corrections.

St. Simons Island (not Simmons). and Savannah (not Savanna).

Still, what a wonderful site and wonderful cruises!

Captain Troup Nightingale

http://www.southeasternphotography.com

troup@rocketmail.com

Brunwick, GA



ZIGGY RESPONDS


Thanks & I will try to fix soon

Ziggy
October 2007
That Ziggy video was great! We've got a Jack Russell Terror and need to get her trained before we move aboard. Poor Ziggy..

We loved the tethered ball idea, we'll need to remember that, what a great idea.

Scotte
I really liked the way you have you're web site set up. I hope when I retire to do something similar. When I was young I worked aboard a square rigger and got a taste of the life moving from port to port.

Any way, I just had to drop you a line about you're Hudson river entries. I am a big historical buff and love this area. I have explored much of it on foot as well. At West Point you mention how the British got past the second chain and eventually burned Kingston. Actually, the British never got past Bear Mountain. They did take the two forts on he West side of the river. (Ft Clinton and Ft Montgomery). These were burned and eventually abandoned. You might remember the story Benedict Arnold who tried to give the defense plans for West Point to the British. He did not succeed, His contact was captured in Verplank and Benedict escaped back to England. It is really an interesting story. Any way, the British were stopped from advancing any further up the river and they were defeated at Saratoga in the north which stopped their southerly advance from Canada. The colonials held the stretch of river between West Point and Kingston throughout the war.

This was a very significant event in American history. The river connection was vital to maintain contact between the colonies in the north and the others in the south.
Sorry, we got caught up in the history and assumed the British got past the chains. In looking at the dates, Kingston was burned by the British in 1777 so it was a different time http://www.ci.kingston.ny.us/History/British.html . Sorry about that.
Aug 2007
Wow what adventures you have had! My name is Lara and i live in a very small town in rural Idaho. I stumbled on your website trying to look up someone we met while island hopping down in the Bahamas, the Kentucky Colonel. We met the Colonel while anchored out on Powell Cay and spent several days with him and that darling little tug of his on Green Turtle waiting out a storm. We were there in March of '03, neither my boyfriend nor I could remeber his real name, only that he was from Anacortes and we just called him the Colonel. We had him over for dinner several times and hit Pineapples and the Sundowner with him a couple of times. Sadly so much rum was involved as we were stuck there for a week the details are sketchy at best! The boyfriend and I have since parted ways but we've always wondered about the Colonel, wish you would have gotten more of a chance to visit with him, great guy.

We bought an old 27' Albin trawler in Kingston NY determined to go down the ICW to FL but only got as far as Atlantic City before we turned around, December is not the ideal traviling time! No heat on the boat, brrr! Not helped by the fact we were 29 and i knew nothing about boats being from a landlocked town of 400 people, my boyfriend not knowng a whole lot more. If you ever get to Kingston look up Jeff's Yacht Haven, it's a run down old monster but we couldn't have made as far as we did without owner Jeff Correa's help, great guy. He would just shake his head and help us out in everyway, we were the "Idaho Kids". We ended up getting into some serious trouble off Ambrose Light when we lost power during a storm, not a good first experience! I swore I'd never go out again, however...you know how that goes.

We drug the boat down to FL and then all the way back to Idaho, it was the talk of the town, there just aren't boats that big here and that's small! The townfolk took to calling it the S.S.Minnow. It went from here in Fairfield to NY again and then back down to FL. Matt took it across from Ft Lauderdale to West End, I was too scared to do the crossing. I flew into Freeport several weeks later, some other friends of ours had driven to FL hauling the boat and then gone across with him, they flew out the day before I got there.

I'm not even sure how we managed to do it, we're not rich by any means, I had to stay home the first part of the trip to make enough money to pay the rent while we were gone and we came home BROKE with the credit cars maxed out. But i realized this was probably the only chance in my life I would get to this so what the heck. We couldn't afford to stay at the good marina on West End, we stayed at the other one which actually closed down for the season. There wasn't even hot water there, and the rates for a slip changed daily depending on the mood of the guy in charge. Matt had been there long enough to make friends with some of the locals, they finally quit calling him "white boy" and they now called him "rocky mountain". One was capt. Hugh and all the boys from the Shoal Shaker, I wonder if they were still around when you guys were there. At the time we were two of the three white people on West End and Matt wouldn't let me go to bar or out by myself, he said the local boys didn't look too kindly on "the rich touristas". Lord if they only knew how broke we were and were going to be for quite some time to come.

We spent a couple days out at Sandy Cay, our new Bahamian friends from Freeport met us out there and brought a huge feast of local cuisine and lots of friends and family. We were all high and dry when the tide went out so we stayed the night. Our boat only drew 2ft of water so we had it pretty easy down there. We left for the Abacos, had lunch of peanut butter and jelly at Mangrove Cay and then anchored out at Great Sail, there were about 18 boats there and we caught some huge barracutta on our way out the next morning.

I can't remember the name of the guide book we had but we planned on staying at Murray's Esso in Cooperstown on the way down, the weather was terrible and we could barely get to the docks because the wind wasn't cooperating. It was a huge comedy of errs as these things sometimes go, there is no more Murray's Esso, we heard several stories on what happened and the giggles overtook us. We got out of the wind across the way at Powell Cay and that's where we met the Colonel. We thought our boat was small! So Matt jumped in the dinghy and went to meet him.

We hooked up again in Green Turtle right before a storm and ended up there for a week waiting for things to calm down. It was fun at first but then we were just stuck there. We had no idea how far Black Sound was and decided to walk there one hot afternoon, thank heavens we got a golf cart ride from a nice guy going past then he picked us up again for a ride home. We found that the black people on Green Turtle were a lot nicer to us than the white folks. With the exception of Sid from Sid's Grocery, he was appalled we were walking into town to buy ice and he'd always give us a ride back so it wouldn't melt. He told us where the public dinghy dock was and it wasn't two nights later i fell right off it and lost a shoe. Some crazy German guy we met caught it the next day. Good times.

The Colonel wanted us to go down to Marsh Harbor with him but I had to get back to work, I'd already changed my ticket once because of the front and somebody had to pay the bills. We'd evidently worn out our welcome at West End, when we got back a couple weeks later they were very unfriendly and they went from charging us $10 a day to $50. The only thing we had there was a place to tie up to anyway, no water, no power, everything was closed up so we said to hell with it and went on to Freeport to our friends dock. Boy it was plush! I flew back the next day and Matt took the boat back to FL. He stored it there somewhere and our Bahamian friend found a buyer for it a year or so later so Matt took it back across. I think it's in Nassau last I heard.

It was fun to read about your trip and the places we never got to. I remember reading about the pink sands and the swimming pigs, I just couldn't imagine it. My gosh how do you find time to do stuff writing so much! I've only read the Bahamas leg of your journeys but look forward to reading about more of your adventures. Thanks for sharing, talk about living the dream! Hope things are well Lara

laranhanna@yahoo.com

Hanna's my dog! She would be terrible on a boat, glad Ziggy enjoys it!

Hello Larry & Jayne,

I very much enjoyed your site, especially your 2002 voyage up the BC coast. I grew up on the BC north coast and once upon a time worked in several of the old salmon canneries along the Inside Passage, including Butedale when it was a thriving community in the 1950s. Several times, you refer to Greenville Channel in your log. That should be Grenville Channel, named by Capt. George Vancouver in 1793 after Baron Grenville, a British politician.

According to your ship's log, about 1300 hours on May 31st, 2002, you passed Holland Rock on your way into Prince Rupert Harbour. You had no way of knowing of course, but on your port side as you approached Holland Rock is Humpback Bay on Porcher Island, the site of an abandoned salmon cannery. This facility canned for only four years in the early 1930s, but served as a summer gillnet station for the next 35 years, before it was closed down in 1968. The Porcher Island gillnet station and Butedale Cannery were both owned and operated by the Canadian Fishing Company of Vancouver, BC, then a subsidiary of the New England Fish Company of Boston and Seattle.

Kind regards,

Michael

Gabriola Island, BC
stumbled across your travel adventure details while searching for info on the Exumas. Quite a detailed log, and it was entertaining.

I must comment however, that this is 2007, and most of your racist comments towards the bahamians is inappropriate. It should not be in the public domain, and you may find yourself in some trouble. Stinky sportfishers with gensets running 24/7 are fair game, however.!
ZIGGY Asks.. what racist comments? Please lets us know what comments you are refering to.
Great web site! My stomping grounds are the Chesapeake, we keep our boat in Deltaville, Va. Just wanted to thank you on the great site and please don't tell anyone else about our favorite place Onancock. By the way that "wreck" you saw on the bay is a firing range target for the military. Glad it wasn't live fire day when you happened by.

Good morning! My name is Guy Puckett. I live in Los Angeles, and am enamored by the Nordhavn 57. I have been delving into everything I can get my hands on regarding cruising, in particular with Nordhavns. I came across an excerpt in Circumnavigator magazine, and there was reference to knottydog. I have since been visiting the site daily. Thank you! I actually got up this morning with the intent to contact you, to see if there were any crew positions coming up, but learned that you have sold your yacht.

Serendipitiously I have been dreaming of crusing a Nordhavn 57 on the same/similiar routes that you went on. Your site has been a wealth of knowledge and again thank you.

If there is one piece of advice you could give regarding cruising, what would it be. I am learning from your entries that life at sea is not always a bowl of cherries.

I am 40 now, and plan to embark on my journey in 5 years. We will be buying a sport cruiser in the interim to learn more about basic boating principles. ( I grew up going to Catalina frequently on the family boat... Is it realistic to think that in 5 years ( providing I can fund the excursion and yacht) that I would be able to handle a 57 with my wife?

I noticed that you used professional captians frequently. Is it possible to handle the 57 with you and your wife, of was it always necessary to have a captain onboard?

Thanks for your time. Good luck in Washington. That new boat seems like a reall pistol!

Regards,

Guy P........

Hello,

Thomas Loehr, my neighbor in Port Townsend, directed me to your website. We are commercial fishermen based out of Petersburg, Alaska, and for over 30 years have been steaming north and south, looking wistfully out towards Haida Gwaii. Well, this year we did it! We crossed Hecate Strait on April 1st, spent April 2nd on Sgan Gwaii, and April 3rd on Hot Springs Island. The weather deteriorated, gale & storm force winds. After midnight on April 7th, we continued up Hecate Strait into Dixon Entrance.

We only had a couple of days to scan your log before our departure, and it was quite helpful. I'm now reading it more thoroughly. Your photos are wonderful! I'm ready to trade my wee digital camera for a Canon body...I already have EF lenses. What type of camera do you use?

The attached photo is of our fishing vessel Monarch, anchored at Gandle K'in, Hot Springs Island, on April 3, 2007.

Many thanks for sharing your adventures,

Kathy Pool

Came across your travel log recently and enjoyed reading about your adventures. Nice to see so many good pictures too.

As a veteran cruiser of the west coast (B.C.) I was somewhat taken aback by your unbridled criticism of Shearwater.

You have to first of all understand that any place on the coast that is only accessible via boat ( I know they have their own airstrip but it's used strictly for private aircraft), has countless challenges to overcome compared to resort/villages/towns that are connected by road. All of the supplies have to brought in by barge. It's difficult to recruit and retain staff due to the remote location. Electrical problems occur from time to time. The marina is extremely busy during the summer months especially since they now have a fuel station and vastly improved facilities. I can't understand your comment about "nothing much has changed since 2002"!!! They've spent several million dollars on improvements including the fuel station, new fishermen accommodation, expanded stores, new fishing dock,etc.etc.

Shearwater and many other facilities like it are not your typical California or Cape Cod holiday destination. It's located in a wild and rugged part of the world. So the restaurant wasn't to your satisfaction. What did you expect? A 5 star gourmet meal?

Yet, you raved about the pizza. Figure that out.

Bottom line for cruisers like you, if you can't tolerate facilities that aren't up to your standards of perfection, don't go there and it'll give the rest of us some much needed dock space.

By the way, the wharfinger was fired a few days after your stay.

Hart

Ziggy Responds

Hi Hart

Don't know if you read the three logs of our visits to Shearwater? Maybe you just read one? Because… we have certainly enjoyed our stops at Shearwater each time, so hope you didn't get the wrong impression. Anyway, we just put down our thoughts and don't get us wrong, we do like to stop there and of course are very well aware of their remote location and understand the challenges of being in a remote location. And no, of course we were not expecting a 4 star restaurant either and actually liked the food we were served and the people that served it. We actually liked Shearwater too when it was rough around the edges and not so "sophisticated" as it is today. We don't particularly like the impression of having to make reservations by cell phone and listen to a long list of option on their recorded menu with numbers to punch. That certainly isn't our cup of tea. I'm sure though all the places north are changing rapidly too with the new technology and more access. We are just sad sometimes to see all the old ways slide away. Of course, our writings were only our impressions of the few days we were there each time we visited. Everyone has their own opinons and experiences which are specific to themselves. We just try to be honest in our logs and always reflect what we have experienced. Not everyone agrees with everything you have to say and not everyone has the same experiences.

I'm sure we will return to Shearwater many more times in the future. It's a chance to get together, eat in a restaurant, buy supplies and enjoy all the people we meet each time we go there. I'm sure it will continue to change and we will have even more different impressions in the future as it certainly seems to be evolving and changing each time we go.

Thanks for your comments,

Ziggy

March 07
Hullo Jane
You said in one of your recent posts something like "But what can I do when the problem is so large". This has been playing on my mind since then, as there are lots of things we can do as individuals - use less water, use less paper, use our cars more effectively and efficiently (including buying smaller cars), buy from those companies that have good environmental practices - eg in the supermarkets, and so on. If we all start doing this, as the old English saying goes, "Many a mickle makes a muckle" :-)
Then I came across this article by Meg Wheatley and thought that you might enjoy it.
http://www.margaretwheatley.com/articles/itsjustourturn.html
I have enjoyed reading your NW logs very much - good luck with what ever you try next
Regards
Andrew


Re: Chesapeake advice?
Dark Side
24 February 2007 12:55

Larry, what a great site. Thanks for going to so much well placed effort. I hope to cruise in the area (either by charter or my own boat eventually) and this is the best sort of guide than anyone could ask for. Thanks again.
DS

hi ziggy and family

i am bailey, a 10 yo vizsla that has fun on a 18' lake boat in maine. our camp is on a small private island (we are the only ones on it) and although i am not much of a swimmer, i love being with my family of 5 and buzzing around on the boat.

my dad tony always has his nose in boat mags and loves the idea of cruising on a nordhaven or grand banks
someday, but for now he has to keep it smaller.

i wanted to let you know the site is great. the movies are well produced and all the adventures i've read so far seem
wonderful.

the one thing i would like to know is what larry and jayne did in their previous life... what were their jobs, how did they start their boating career, where did they originally live? etc.

i am the "silent partner" for my dad's small promotional and tee shirt business. we live in massachusetts and visit maine year round, although i like the summer the best.

thanks for a great site and keep the updates coming.

best,
bailey and tony


Ziggy Responds

Hi Bailey and Tony,

Hey, great to hear from you. I love Maine and would like to go back there again. Your kind of life sounds really great, lots of land time and free time to dive in the lake when you choose too. Maybe you get to catch some fish to eat too? My parents really love those Maine boats and are thinking about getting one when they downsize, they are going to get one and cruise the canals and lakes and where ever else they can go in a smaller boat that their bigger one won't let them. They are really sleek looking, especially those lobstah style boats and go fast too.

Well, I'm not sure exactly what Pop used to do except I think it was something with mass storage in the computer business. Both mom and I don't understand any of it when he talks about it. It's all mumbo jumbo to us. He was always traveling all over the world to talk to people about it and organize things and get sales teams going, and make the team win from what we know. I know he loves computers because he is always looking at the screen of one and researching something. Pretty boring if you ask us.

Mom, on the other hand is completely different. I'm not sure what she did either but she was always, working on her drafting table with blueprints, and putting pieces of fabrics and materials together, and paint chips, and drawing things. She doesn't do that since her last project 3 years ago, the one she completed right in the nick of time before we left fro Panama. They are just enjoying life now and are crazy nuts over boating but never had much experience with it before so I think that's why mom is always writing. I think it keeps her busy when we are cruising or maybe from getting scared. She always need some kind of project anyway, well Pop does too, and he always helps with the technical computer stuff and well all the technical stuff 'cause she doesn't get that part. I guess they make a great match.

Anyway, they treat me right and I have a good time. Great to hear from you. Eat lots of lobstahs for me as we sure miss them on the West Coast. Yum.

Your pal,
Ziggy

Hi Ziggy,

I am a 14 year old Wheaton Terrier and I tolerate but don't love sailing. I've been on the water since I was a pup and have not yet managed to "use the mats" . My owners have kept me on the boat for a couple of days at a time (back when I was 4 and 5 years old) but I just held out waiting to be taken ashore. I am amazed that you waited 5 days (with understandable sneak accident) before learning to use the mats.

My owners now plan to sail from Seattle to New York City leaving next fall. I'm healthy.... but do you think I'm too old to train to the boat? My other option is to go spend 9 months in Maine with my "grandparents" but I'll miss my two "brothers" who are 8 and 10 year old boys.... and they will miss me, too.

Thanks for your ideas! Baggywrinkles

Ziggy Responds

Hi Baggywrinkles,

Boy, I don't envy you. Well, I do and I don't, I guess. I would love to be heading out again on a big adventure knowing what I know now but I wouldn't envy the lessons you are going to have to learn along the way. I'm telling you right off the bat that it will be the toughest thing you've ever done, both for you and your parents. It was very stressful and very uncomfortable for all of us.

Now let's see, I don't like to share my age publicly because I look very good for my age and I like the girls to think I'm a bit younger than I am but considering your predicament I'll tell you that I was 10 when I had to learn to do the unthinkable and that was to do my business on the boat. Now, you being 14, I can't say, as everyone ages differently, just as my parents' friends age differently. Some of their friends who are healthy and able, are talking about retirement homes and their aches and pains but others wouldn't think of planning their life around future retirement homes or let some aches and pains consume their thoughts and conversations as they are always heading off or planning some new wild adventure (although knock on wood they have been lucky to be healthy and able to, so they don't like to waste anytime while the opportunity is good). Everyone is different as of course as each dog is different.

Many people told my parents we were lucky that I didn't get an infection from holding it so long, though I was just fine, but I would hate for you to have a problem like that. From the address on your email it looks like your mom is a PhD, so maybe she can bring along some constipation pills and antibiotics just in case but maybe she has a PhD in nuclear science or Medieval History and then I would definitely consult an expect, your vet. Even though I hate going to any vet and always try to bite them while I'm there (never been successful though), I'd consult them to see what they suggest for medications and first aid things that should be brought along for you. Boats always have first aid kits for humans and they should also have meds and first aid stuff for the furry creatures as well, and that includes, tick and flea prevention, and hot spot treatments for uncontrolable itchy patches, bandages, first aid book for animals, and whatever common sense tells you to take for what ever could come up, even pain killers.

We terriers are pretty savy and are quite a healthy bunch, evidenced by living a lot longer than some of our other breeds so we are a lot tougher than the rest of our buddies, especially the bigger guys, those poor old lumps, so I think we definitely have an advantage.

Personally if I was you I would rather like to give the trip a shot than to be away from my parents and two brothers for 9 months even though you know the grandparents spoil us with anything we want. Just think of all the adventures you would miss if you don't try, not to mention all the cuddles and fun play with your brothers. And it's always good to have a good watch dog on boats in foreign countrys to protect or warn your family of anything unusual. I nipped at a Mexican in Baja that was trying to board the boat and Captain John Rains thought it was a good thing I did.

So, my recommendation is to think positive and give it a try. If you are smart, which I know you are, being a terrier, you can do it. The hardest part is just getting over the hideous idea of it and convincing your family to endure the stress of it. Always keep in the back of your furry head that once you've mastered the task you will get rewarded with more kisses, hugs and complements than you ever imagined and the admiration and respect from other boaters is pretty good too and all for just doing a poop on the poop deck. It's just the weirdest thing.

Good luck and let us know how it goes and how your adventures are going traveling on this wonderful trip you will be taking. We'd love to hear about your experiences.

Your pal,

Ziggy

Larry & Jayne,
I've very much enjoyed reading your log of travels aboard Knotty Dog and hope to visit many or your ports of call aboard SHEARWATER (named for the offshore bird, not the place you visited 1/9/07), our new N64, hull #3.
Specifically, we are headed for the Bahamas mid-January and want to go to Harbor Island (Dunmore town) via the same route you used (Ridley Head entrance, Devil's Backbone). The guide books and maps I've consulted suggest the water is very "thin"; however, I know you went there with Knotty Dog and according to the Nordhavn web site your N57 draft (6' 8") is identical to my design full load draft. I know you enjoyed Woody as your pilot and I plan to try to use him as well.
My question is: did you have any "draft" problems during your passage? Did you make a point to enter/leave at only high tide? Any "tips" you could share?
Thanks for sharing your experience with us "new Nordies" via your log and otherwise.
Scott

Dear Mr. & Mrs. Hemmerich:

You have a great site! We own your Grand Banks former Knotty Dog (now the Exuberant Fox - animals seem to rule), which now is in a boat house on Lake Union awaiting boating weather. ..........

I looked into your wife's description of some of the places we know well, such as Marsh Harbor, Hopetown, Man-O-War, etc.. From time to time as I have speculated about places to take the Fox, I thought "what about going to Hopetown?" Her description of the anxieties associated with that shallow water confirms my suspiciions, that it not a relaxed place to cruise. We usually, in our half-dozen trips there, rent a skiff with a big outboard (75 hp) and visit the harbors up to 50 miles away, and last trip, visited Boat Harbor, at Marsh Harbor, on the eastern side of the town. There are some big boats there - maybe 75', and some scream around at 20 kn. I suppose they have skippers who know the depths by heart.

Well, your journals are great reading, great photos.

Raymond

Dear Jayne and Larry,

strange, to write to somebody whom you absolutely don't know....... Hm, after following your logs for more than a year now I have the feeling to really know you a little (also strange isn't it??) - must be your admirable writing style, Jayne.

(Edited for personal reasons)

Anyway: Love your website and would like to send you a warm THANK YOU out of cold and wintery Germany for letting us share your great experience.

Best regards and a Happy New Year 2007,

Thomas

Hi Guys

My wife Cathy and I are in the early stages of planning our cruising getaway. We current sail a Hans Christian 43 Ketch and live in the SF Bay Area. I think we've come to a decision on which way to turn once we leave the Golden Gate behind…….. It's gonna be heading North!! We'd like to take the Inside Passage and spend some time exploring the area. We both came to the conclusion that we'd prefer the colder climates that the hot and sticky.

Your site has provided a wealth of information and thanks for taking the time to put it together.

We love our HC and it has proven to be an extremely seaworthy/kindly boat. I've always told Cathy when the time comes that we can no longer hoist sails and grind winches the boats that have always caught my eyes are the Nordhavn's!! We'd love to someday own a 46…used of course!!

I apologize for being forward but I was wondering….what is the fuel consumption (gal/hr) of your Nordhavn? On our HC we have a 75hp Yanmar turbo and pushing 46,000 lbs @ ~6.5 she sips .75g/hr. I'd like to run some numbers and see how that may affect our budget.

Thanks in advance for the info….. Look forward to someday meeting you in our travels.

Regards,
Dino & Cathy
s/v Delphinius

Ziggy Responds....

Knotty Dog burns about 7ghp including gen set but weighs 100,000+ pounds

I haven't had a chance to read through all of it. I was doing a search on Rhinecliff-Kingston Bridge and came upon your website. I was looking for an actual picture of the bridge. Anyway, as I was looking through your site quickly, I noticed your dog Ziggy. Adorable baby he is and I notice he is a Jack Russell Terrier! I own two, Butch and Boots. One of the many places you have travelled was Rhinebeck, NY. There is a wonderful woman who lives in Rhinebeck that has a refuge for unwanted Jack Russell terriers. I thought you might be interested in knowing you couldn't have been too far from her place since you were at the air museum. I am including a link to her website in case you are interested: http://russellrefuge.org/
As I get more time I will certainly be reading more on your site but I just thought it was really neat how a search I did on bridges, led me to a Jack Russell terrier!!

Lisa

Hi Ziggy and Ziggy's mother (Jayne),

Today is a rainy Sunday in Pennsylvania (11/12/06). As I get ready for our trip to our other home in Gregorytown, Eleuthera I stumbled on your Website while looking at Trawlers & Trawlering.

At first it was a laugh over Ziggy's PoopDeck...then I became consumed with your Bahamas log. It is now midnite and I just left Compass Qay with you after reading for four hours.

You brought out the essence of what makes the Bahamas our special place.

We first sailed there in 1985 on our first "Persuasion, (a 44' CSY cutter rigged sloop) the vessel on which my kids learned to love the Bahamas. Your description of the approach to Hopetown and missing the boom; with Rudy Malone meeting you at the dock at Club Solei is a dej a vu. I can still hear the sounds of my young adults laughing as they try to make thier way across the harbor at midnite in the dinghy after to many Kaliks.

As you worried yourself while Woody guided you toward the rocks at Ridley Head beach we were watching boats like yours from that "our beach" and digging coconut palms to replant

The gas station where you rented the car is my friend and you're right about the road to Surfers Haven ...it makes no sense the better road is the next one. You should not have given up on the Surfers Beach...it is beautiful and the best surf on the East Coast of America. It was only over the next hill!!

The old black guy sitting in front of the store is Bruno Thompson the unofficial mayor of Gregorytown and the son of the patriach George....one of the nicest people I have ever known.

I have sailed all over the Bahamas and Eleuthera is a jewel ...as are the Berry Islands and the Exumas.

We bought our house in 1990 overlooking the Exuma Sound and the Bight of Eleuthera.

Now 17 years later we still marvel at the undiscovered beaches and coves and people.

We are now part of the community and have bonded with many thru church and thru hurricanes and weddings and funerals.

We sit at Tippy's and marvel at the beauty but we can also sit on our patio with Bahamian friends and watch the sunset.

We are just completing a two year retrofit of a 42' CHB sundeck trawler also "Persuasion".

my goal is to finish what I started by exploring every Cay in Exuma as well as Crooked Island and Long Island. You missed some nice sailing in the bight of Eleuthera and the Berrys.

But you brought me great pleasure today with your chronicles even if I didn't complete any chores for our upcoming trip.

Please come back to Eleuthera someday and I will show you that Eleutherans are more friendly than you think.

And I agree ....the hamburger was awful and I doubt that Jimmy Buffett would disagree.

Jayne...your chronicles are deserving of a place on the NYT best seller list. I know they brought me joy today...you and Larry should come visit us in Oleander Gardens in Gregorytown or look out for the Persuasion somewhere near Compass Cay

Terry and Pat

I haven't had a chance to read through all of it. I was doing a search on Rhinecliff-Kingston Bridge and came upon your website. I was looking for an actual picture of the bridge. Anyway, as I was looking through your site quickly, I noticed your dog Ziggy. Adorable baby he is and I notice he is a Jack Russell Terrier! I own two, Butch and Boots. One of the many places you have travelled was Rhinebeck, NY. There is a wonderful woman who lives in Rhinebeck that has a refuge for unwanted Jack Russell terriers. I thought you might be interested in knowing you couldn't have been too far from her place since you were at the air museum. I am including a link to her website in case you are interested: http://russellrefuge.org/
As I get more time I will certainly be reading more on your site but I just thought it was really neat how a search I did on bridges, led me to a Jack Russell terrier!!



Ziggy,

We recently had a very cringe-worthy stay at a marina..... and I would not be surprised if somewhere on someone's website there is a similar rant aimed directly at us. You see, we are guilty of running our generator at the dock..... more than once. BUT, before you pee on our leg and ban us from cruising in your neck of the woods, please allow me to explain.

Once was the night before we were due to leave on a passage. We were due to leave at 4am and the marina office said they had no way of charging us for the power we used overnight. They refused to allow us to unplug and leave even though we asked them to charge our credit card. They would not even allow us to leave a couple of bucks cash to cover it. Unfortunately, our boat is a shockingly bad design from a circulation point of view - and in the Virgin Islands in July, we had to run the a/c..... this meant running the generator at the dock. We endured our fair share of stares and glares!

The second time was also in the Virgins, at a marina that was unable to supply us with adequate power. Their incoming power was running at less than 100V and our sensitive systems just couldn't cope. We also had the owner on board, so spending the night a tempo was not an option. Ditto the air circulation, ditto the time of year and ditto the stares and glares!

So, sometimes there is a valid reason - other than being too cheap to pay for shore power!

Love the website and enjoy reading about all your travels. Happy Sailing!

Fran

Dear Larry, Jayne and Ziggy:

Thank you for letting us ask you questions about Ziggy. You probably don't realize how much you have touched other people that have dogs, but reading your logs have really put us at ease regarding the decision of boating.

We currently own a 38' Tiara, it is our first boat and she did a great job of "testing the waters" to see if we would like it, which we do, just not at that speed. Bart's sister and husband have a 55' Fleming, "Kialoa" so when our Selene arrives we will be able to cruise together in the San Juan Islands and Mexico. My husband, Bart has boated all of his life with his family since he grew up in Newport Beach, but this is new for me since I grew up and have lived in Idaho for the most part of my life. We now live in La Quinta California and keep our boat in Newport. Our trips consist of Harbor Cruising, trips to Dana Point and trips to Catalina, all of which do not take much time and we immediately take the dogs to shore when we arrive in Catalina, so we have never experienced the BOB (Business on Board) issue.

I am sure there are more, but these questions are the ones we keep asking ourselves.

How hard was it to get Ziggy to do his business on the boat and once he got the hang of it, is he comfortable with it? What kind of "grass" do you use and did you get a special "doggy set up".

When it is rough seas, you are under way and Ziggy has to go, what do you do?

When you are docked, do you still use the "side of the boat" or do you take him off.

When you are under way, especially in the open ocean was there anything special that you took into consideration regarding the timing of Ziggy's business.

How old is Ziggy? How old was he when you started boating?

What type of dog credentials do you need when going to Canada? To Mexico? Are you planning to go to Mexico this winter? If so, are there any worries about taking Ziggy to Mexico?


I have included some photos of our "girls" who we have told them about Ziggy. Jackie is the Black Jack Russell Terrier and Poodle, Bailey is the Cockapoo Mix.

Thank you so much,
Bart, Sharon, Jackie and Bailey

"Sea Casa"

I'm ten years old and very set in my ways and I pride myself in being a very clean upstanding dog. In fact I don't even like to poop or pee in my own yard but insist that I be taken to the beach or up to the field by the Santa Barbara Mission, or other interesting places to do the job. So when I heard the first time that I was going to have to go on the boat I thought Larry and Jayne were nuts. There was no way I was going to do that. I didn't realize though that when we left San Diego two years ago they were not going to stop the boat or go to land for 5 DAYS. Yes, 5 days!!!! When we went to Alaska on our old Grand Banks in 2002, they tried everything to make me go on the boat but I just held out and refused. They tried grass in a big plastic box but I just used it like a bed, they even tried to put a little poop in it but then I just didn't use it as a bed after that. No way was I going to go on that boat. This new boat and trip was different though.

We left San Diego and for the first three days I could NOT believe that we didn't stop once. Mom and dad would take me out on the Portuguese walk (forward deck area) where they put an astro turf door mat up in front of the pilot house and also one down lower on the side towards the back. They took me out there every hour, at least, (it was exhausting mom says and stressful too worrying about me holding it so long) and they told me over and over again to "GO POOPY!" I got sick of hearing it over and over and over again. Even in rough seas they took me out there and I listened to their ridiculous idea of going poopy there. Who in the world would think to do their poopy there? I just refused. I have to admit though I did have one little accident and pee'd inside where I thought no one would see but they found out and I felt bad because it was a brand new boat. Surprisingly, I didn't get punished at all. They just pointed to it and said a big "NO" and took me immediately outside again and pointed at those stupid astro turf mats saying "poopy and peepee".

The crew took the soiled carpet out and washed it in a big tub of soapy water on the cockpit as we continued down the Mexican coast, still not stopping and it had to dry it out for a couple days. I felt bad because it was a big mess to have that carpet hanging on all the chairs outside and an embarrassing reminder of my mistake. I didn't want to have them go through that again so I just decided to hold it. I kept asking them though if we were going to stop at some point with pleading eyes, but their only answer was to just kept taking me out on that darn deck and repeating that old phase. They just didn't get it. I could tell everyone on board was up tight about me holding it so long. Somehow after the fifth day, on my mom's birthday, I decided enough was enough and I'd surprise her with a birthday present. I went outside and did number one on the forward mat. You couldn't believe the cheering and clapping the crew did when they saw it. I thought they had lost their marbles and then thought "Wow, if I had only known that I was going to be rewarded for doing a bad thing I would have done it days ago!" So, being the smart and intelligent dog that I am, I decided if I get such a great reception doing number one, let's see what happens for number 2. So I went outside again, and did number 2 a few minutes later on the mat on the side of the boat towards the back. There was an even bigger cheering session from everyone and congratulatory pats on the back. It was great. I also got lots of hugs, scratches behind the ears and a tasty chicken strip which they save for only very special tricks that I do. So once I realized that I could get lots of cheers, pets and the really good tasty doggie treats for doing something that I normally would consider appalling, I just relieve myself when ever necessary on those mats ever since. I prefer to do number one on one mat which they usually put on the forward gangway and number 2 on the other mat which is on the side of the boat. Sometimes it varies thought because Larry forgets which mat is used for which and gets them mixed up so then I have to adapt to the new location but normally it a smooth operation. I still do hold out though if I think we will be in port soon and the I make them take me to a proper place. I will not go on the mats at port. That I absolutely refuse doing. I can tell somehow by their attitude how long voyages are going to be, etc. You know us dogs have to read these human's minds as they don't know how to talk to dogs yet like we talk to them. I've gotten a little "knotty" though lately and sometimes just go out on those mats right after we leave port so I can get a tasty chicken strip. It depends on how hungry I am. I still get rewarded and patted but I can tell they think they have created a little monster.

My parents were in a tizz ball once though because in some rough weather the mats blew away out to sea never to be found again. They searched high and low for new ones along the East Coast of American and unbelievably couldn't find the same kind for a long time. We weren't doing any big cruises so I didn't really need them but it's always nice to know they are there. Now they have a few spares just in case they blow off again. They have to have spares also because one other time when we were are dock they were washing them really good and drying them on the dock and when we left, they forgot and left them there. So, good idea to have spares. How do we clean them? Well, we have a water hose outlet at the front of the boat and Larry has hooked up a hose to it that reaches to the areas where my mats are so once I go, Larry goes out, tosses whatever is on the mat over the side and whatever I leave on the deck gets hosed down the drain. I'm a good shot and usually get the entire job on the mat though so the system works very well.

Usually when the seas are really rough I just decide to hold it until the conditions are to my liking. I know that I can hold it for a long time so I just let them know when I'm ready. I always go to the door and tell them I'd like to go out. Sometimes when they open the door, I look out and I decide that I don't like the waves and spray and don't go out. I'll just wait until later. After all I'm a very civilized dog and I don't like the salt spray on me while I go and I prefer a steady footing.

You can't say you can't teach an old dog new tricks 'cause I'm proof of it, although personally between the three of us terrier types, I think we are much smarter and things come much easier for us. That's not a proven fact though and I'm sure other breeds feel the same about themselves also.

Well, if you have any more questions, just let me know. We will be going to Newport sometime soon just for the fun of it so who knows we may see you all. Oh, and if you want a copy of my poopy training video, (click on this link) just email back your mailing address and I'll be glad to put it in the mail to you. It may give you encouragement when things get exasperating during the training sessions.

Happy travels.

Ziggy

Really enjoyed your account of cruising the Abacos! That was some front you
experienced in Marsh Harbor - you were lucky to come through without having
a boat bang into you.

My wife and I chartered a Mainship 34 from the Moorings a few years ago. We
went in October, after hurricanes but before winter fronts. Had a great
time. We like Hopetown better than Man O War or Green Turtle, but I wonder
if you'll make it in the harbor with your fairly deep draft. I thought the
entrance to Hopetown was nerve-wracking, since it seems shallow everywhere.

We took a golf cart down to Tahiti Beach. The Abaco Inn is a neat place for
lunch, and the beach cafe where the Two Turtles cottages are is also nice. I
thought Seaspray Marina seemed like a well-run place, worth a visit.

Definitely do the snorkeling at some of the protected sites around Hopetown.

I wish I was down there instead of scraping frost off my car windshield and
looking at my boat sealed up in shrink wrap through our dismal winter.

Have fun!
John Schieffelin
Jamestown, RI

Love your website especially the Abaco part. The tales are fun read
and the pictures lovely.

I'd like to include a link to your site from mine if it's OK with you.
I not sure where at present but suspect it will be on my "Solo"
page- http://www.motuiti.com/Solo.html
My Main Abaco Site - geared to the first time visitor- http://
www.motuiti.com/Abacos.html

In the meantime I'll be following your progress.
Sandy Estabrook

MAN A WAR. I HAVE A 23 ALBURY BROTHERS ON ORDER AND SHOULD BE READY
MARCH 1 AND 20
I BELIEVE THAT WAS MY BOAT IN THE PICS. WHEN WAS THOSE PICS TAKEN AND DO
YOU HAVE MORE OF THE BOAT. THANKS SO MUCH.
TIM ROLLINS


December 9, 2005

Ziggy,

We are glad to hear that you were able to visit Boothbay Harbor. Yes, it is a wonderful place. My husbands parents just sold their house there last year and moved to warmer weather in St. Augustine. We miss being able to visit them in Boothbay.

We are pleased to hear that you went by Egg Island to see the puffins. Sorry you did not get to see them. We were fortunate to get to know Stephen Kress who is the director there. He was on a Galapagos cruise with us several years ago with the Audubon Society. We were with the TN Aquarium on the same cruise. He has done some very wonderful work with the puffins. He invited us to the island and we were able to tour the facility there. It is our hopes that someday we will be able to take our boat there and volunteer on the island for several months. If you would like to visit their web site it is www.projectpuffin.org.


Happy Boating,

Susie (Sebastian's mom)

P.S. Sebastian wants me to say hello to Ziggy for him

November 13

Hi Ziggy,

After reading your mom's log of Boston, it just makes me realize what good parents you and I have. We are both very lucky boat dogs. I bet you were glad you were not on the boat during the hurricane. I am glad the boat is O.K. I don't ever want to go through something like that on our boat.

I would like to be on your update list for new logs if you have one. My mom enjoys reading about your adventures. She tells me all about them. Someday soon we will have our own set of adventures. Mom says our boat will be in Stuart during Christmas for the final commissioning. My sister Daisy and I hope we can meet you someday.

Your dog pal Sebastian

November 1

Larry, Jayne, and of course Ziggy,
I stumbled on your site while researching Nordhavns and enjoyed it very much! I have to admit that my favorite part was the Poop Deck Snippet!
Where ever did you find that music? I can't get the tune out of my head!
Maureen

October 12

Was just now perusing your website and enjoying your journey up and down the Hudson, when I came to the part when you were leaving Tarrytown and looked over towards Nyack and thought you saw a Nordhavn on a mooring in a sea of sailboats. You did indeed and I am happy to say it was our boat, the N-40 "Stellar". The Hook Mountain Yacht Club is our home port.

If you are ever in the area again please come over to "our" side of the river. We have guest moorings ( in a comfortable 10' - 15' of water) which we offer for free the first night and a good sized dingy dock. From there it is a 10 minute walk to town (no car rental necessary), which offers a number of restaurants and pubs that serve every type of food from Thai, Indian, Mexican, Italian to Sushi. A good coffee and bakery shop, actually 2 if you count Starbucks and grocery stores with farm fresh (local) produce, etc.

There is plenty of history here as well between the towns of Piermont and Nyack. Piermont was Henry Hudson's first stop on coming to the area as it has the first freshwater creek you come to on the river. George Washington met the British on the shoreline here to accept their surrender and there are still houses on and near the waterfront that were built by the Dutch in the 1600's. An altogether interesting and refreshing stop.

We enjoyed your logs and photos and wish you well on your future cruises.

Sincerely,

Steven and Lynda Arnell

October 7

I just happened to "wander" onto your website while "dreaming" my way through a couple a' cruising sites.

I have lived and worked here, in Japan, for twelve years and, if fortune avails itself, I hope, in the not too distant

future, to retire and do a bit of cruising myself.

I have really enjoyed reading, looking at your photos, "sharing" a bit of your adventures, and sorta' "living

vicariously" through y'all. It really makes my day and I will continue to read, veeery slooowly, of

your wanderings.

The snippets are wonderfully done and are quite enjoyable; I too love, and have, a dog that allows me to

share her world. Whoever is doing the snippets has a keen sense of humor and, obviously, knows dogs.

I hope y'all keep them coming.

I hope fortune continues to smile on y'all and you'll have many more adventures to share. Good Luck !

July 25

A great website,keep the dream alive,regards,from downunder

July 17

Dear fellow cruisers Larry, Jane and Ziggy,

I had to say hello to thank you both for allowing me to read about you travels and adventures. It was especially fun to hear about your visits to some of the same towns and marinas we have stayed at back in 1996 and 1997. Those were the years when we cruised aboard our C and C landfall 43 sailboat from New York to the abacos and back.We also did all our cruising with Misty our little dog and can relate to a lot of your experiences with Ziggy.

Misty was about a year old then and was a great little dog on board , the only problem was we could never get her to do her duty on the boat. That caused me to have to take her to shore at least twice a day in the avon.

I have been reading your log every morning while eating my breakfast as a daily ritual and are now a little upset as I can no longer enjoy your travels as of Tarrytown New York. For some reason when I try to click on the areas north of Tarrytown there is no response.

I have checked your progress and know that you are now north of the cape cod canal, which is also another area we have cruised. We made it as far north as Boothbay harbor Maine.

I know how hard it is to write these logs and do all the other things required for cruising , and commend you for a fine job on your web site.

I really hope I can follow your trip some time in the future again.

Good luck and smooth seas to all three of you.

Bill, Sue and Misty Dieffenbach

PS

Misty is about the same size as Ziggy and Was adopted while we were cruising on our boat in Saint Michael's Maryland , Misty is a black and white mix of beagle and terrier , possibly a Jack Russell and we love her very much.

July 17

Folks -

One of my employees Googled 'Lucky Sperm', which lead us to your website. I was in stitches reading about your misadventures with crew in Cristobal. Imagine, a crew who can't stand up, see, stay awake on watch, but eats ice cream and complains all the time.

Hilarious! The amazing this is that there are so many of them.

Anyway, over the years I've become very familiar with situations like that, particularly in settings like Cristobal, which in an odd way is a favorite place of mine. After all, how many yacht clubs have slot machines and guys with machine guns at the grocery store check-out counters? Never a dull moment there.

And wait to you see some of the buffonery in Europe. What makes it extra special is that people are hollering in five languages so nobody knows what anybodyy is saying or if they are happy or mad.

I can't wait to get back!

Anyway, hope you're still having fun.

Richard Spindler

Publisher / Executive Editor, Latitude 38

July 9

Hi, my name is Seth. I was in Panama several years ago and am looking for some people from there. Did you ever meet a man named Ross, who owned a boat called "Raindancer" from Washington? I believe he would have been in Bahia Honda and possibly starting some kind of traveler's lodges, a B&B, a restaurant or something along these lines.

I would be eternally obliged for any info.

By the way your website is wonderful and has brought back many fond memories of panama and the old BYC.

Thank You,

Seth Tyler

Ahoy,

I read with interest about your trip to Colonial Beach, VA and I would like to apologize. If you can imagine as locals we have to experience the same indignities daily. If you or any of your friends come our way again we would like to invite you to stay at our dock and partake of my wife's famous Creole cooking and enjoy our neighbor's Southern Hospitality.

I'm sure you will go away with a different perspective. (Besides we serve free Gin'n'tonics)...

Thanks for sharing your experiences,

Captain Ralph and Kris Mason

"Party Time" - 40' SeaRay
Received March 2005
Greetings!

Many thanks for sharing your experiences with us. I thoroughly enjoyed reading all your logs. I especially enjoyed reading about your trip up the ICW from Florida, as it allowed me to reminisce about my own trip down the ICW in 1999. You stopped at many of the same places we did.

I'm wondering where you'll cruise to this year.

If you decide to continue north to my old stomping grounds, you will have a great time! New York City is a fabulous place to visit! From there you can go up the Hudson to the Great Lakes or, as I'd suggest, cruise out through Long Island Sound to Block Island, Newport, Martha's Vineyard, Nantucket, and Cape Cod. This would be a great summer cruise! The Great Lakes trip requires an early start up the Hudson and a full season to complete. So, there's a thought for 2006.

Anyway, keep up the good work and smooth sailing to all three of you!

Alan Brown

S/V Intuition
Received 1/20/04
I was surfing the web last evening looking at ships logs and ran across your site .

In your description of St. Michaels were comments about Bill Wilson. I believe this is the Bill Wilson I worked with in the 1980's. But I've not heard from him since the early 90's when he changed companies.

Do you have an e-mail address or contact information for him, please.

Thanks for the help - and the interesting web site.

Regards,
Ed R..
Westport, CT


I just wanted to thank you so much for letting me live these adventurers through you. I hope one day to do the same as you two have. Thanks again.......Paul R
Received 1/6/05
Just a quick note to let you know how much I am enjoying your logs. I found your site about two months ago and have been reading a little when I can (shhhh!! I'm reading at work!!!) I just completed the section on the ICW and will be starting the Chesapeake section later today.

You are doing what I dream of doing. Alas my wife does not share my passion for boating, so this may be an unrealized dream. So your logs, and others like it, serve as vicarious fulfillment of the dream. Keep up the good work!!!
Michael D......
Received 9/15/04
Larry and Jayne: A SHORT reply but timely. We have the king of fruit flies here with us, Susan's nephew, who is doing enexplainable doctorial research on bionic research using fruit flies as vehicles. Oddly, he has no suggestions, but Susan and I recommend becoming carnivores!! No more bananas!! BUT, we are now in Kill Devil Hills and were in Onancock yesterday!!! WHERE were you?? .......... You will like Onancock. Quaint, pretty, small and comfortable. Wish we had found you as we checked out the marina and its boats. ................ We love it even is the flies dominate the log!! Al
Al & Susan
Denver CO
There are several varieties of fruit flies whose larvae eat their way through fruits.
The drosophilamelanogaster is the one with a very rapid reproduction cycle which apparently y you had
board. Other varieties include the Mediterranean, Oriental, and Mexican fruit fly.
Perhaps you had some stow aways.

I enjoyed your frantic description. It was humorous, well-told, and once again affirms
my opinion that you should be writing. I remember you and the no-see-ums in Boston.
Maybe it is your sweetness that attracts the bugs and flies. I pictured you in your
state of blithering idiocy smacking everything in site. Bet the other boats thought
you were wacky.

I know you are probably not interested, but I had a bout with big flies a few months
back due to a critter who must have croaked under my frig or some crack in the wall.
We were hatching larvae for weeks. One morning I killed 32 giant flies out of sheer
frustration and angst while Bud nonchalantly read the morning paper. He said he can't
murder an innocent fly! More like lazy.

Susie, the horse fly murdering friend of the fruit fly massacrer.
Pasadena, CA
Received 9-13-04
Read prolog and fascinated with your journey. Will read rest tomorrow and follow your progress.

Bon Voyage

Charlie and Sunni Landis

Onancock, Virginia
Received 9/13/04
I just finished reading all of your web pages last night and was wondering where you were now, when behold, We were visiting Onancock this afternoon looking for a resturant and found the boat docked by Hopkins store. You must have been napping, all was open, shoes and bicycles were sitting on the dock. Maybe I could have shouted out your name or stole your shoes!! We quietly left.
Boat is more impressive thn pictures can show. and stories are great..
keep writting.
- Howard & Jean Cann
Westover Maryland 21871
Received 9-12-04
Dear jayne & Larry,
A (fruit) fly and a flea in a flu were imprisoned. So what should they do?
Said the fly, let us flee, said the flea, let us fly, so they flew through a flaw in the flue.
Obviously, our fruit flys like champagne!
Seriously, that was one of the best - and funniest - e-mails we've ever received! We really do miss you two - and Ziggy!
Steve and Jo
Philadelphia, PA
Received 9-11-04
Hi,

Bernie read your message about the fruit flies and he thinks it's time for you three to come home. :) He said he was afraid that you have gone a little wacko on this trip.

Love, Bev

La Jolla, California