On our way to Columbia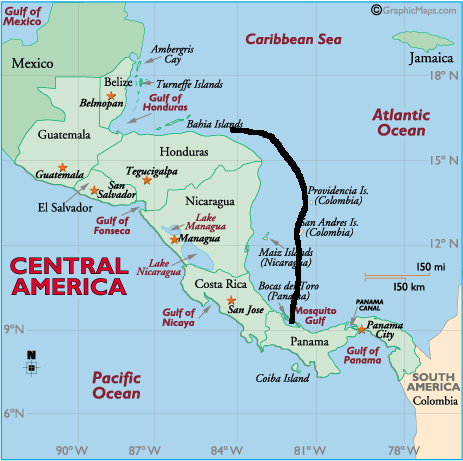 We left at 7:00 AM from Bocas Del Toro, Panama, heading for Isla San Andres, Columbia, located approximately North 190 miles. The seas were supposed to be 4-5 and 10-15 knot winds, which was supposed to be pretty easy going. It wasnít long before we got out into it and the seas were an easy 6-10 feet, winds 10-15 knots, but short intervals between the swells and coming on our starboard forward quarter and it was about the most miserable ride weíve had yet on this trip. That ride lasted for 24 hours.
Again Zig and I stayed in the belly of the boat and tried to ride it out. Jim Kelly, a captain from Stuart, Florida has joined us for probably the remainder of the trip to Key West. Jim and Larry did all the watches because I couldnít. It was almost impossible to go to the john let alone get a glass of water. I was totally unprepared food wise because we thought it was not going to be that bad.
Just when you thought you got the momentum of things and could deal with it, the boat would jerk in another quick direction. First there would be a strong forward thrust motion, then it would throw you a side winder, followed by a triple back flip before the it threw you the big free fall. It was impossible to walk or move, as you needed both hands to brace yourself, not just the usual one. Therefore, carrying a cup of coffee wasnít possible.
Oh Great Ocean, will you never stop?
Binging and banging till I pop.
Oh Great Ocean,
Iíd be walkiní the dawg, if I could.
Itís the simple life that is good.
Bing, bang the sea is crashing so my body hurt.
Up, down, around, wonít stop, I want see some dirt.
Why is it adventure I seek?
When I could be cleaning my teak?
Whatís this business about ďsufferĒ?
ďEarn your duesĒ, take the sea with no buffer?
ďBe uncomfortableĒ, itís makes a seaman.
Stay in port, the haunt of the demon.
Oh Great Ocean, will you never stop?
Binging and banging till I pop.
My stomach like a dishwasher,
doing the thrust, then the crusher.
Things on the counter slidin' this and that.
Waves a knocking the side like a bat.
Oh Great Ocean, will you never stop?
Binging and banging till I pop.
Oh Great Ocean,
Iíd be walkiní the dawg, if I could.
Itís the simple life that is good.
Walkin' the dawg, the dawg is good.
I think this was the worse yet. I had been told the Caribbean was rough and this was rough. In my mind, I was hoping I could continue the trip. I knew there was an airport in Isla San Andres that flew to Miami once a week. If I couldnít do this trip, that was a way out. I couldnít stand the thought of coming this far and not being able to make it to Florida.
ISLA SAN ANDRES - THE GIRLS FROM IPANEMA -tall & tan and young and lovely!
In the morning, I could hear and feel the engine slow as Larry and Jim cut the speed. I knew this meant we were getting near our destination. I managed to crawl up the stairs to the wheelhouse and poke my sallow nose out. The guys looked pretty ragged from a terrible night but we had our hopes up for better times as we saw the island ahead.
When we had problems with our crew in Colon. We took time to regroup in Bocas and decided what we were going to do. Crossing the Atlantic was out. We werenít ready to bring on crew that we didnít know after the last experience. Time was running short and we decided to forget the North Atlantic Rally, it just wasnít a possibility at this point. We decided to slow down the pace, enjoy the scenery and slowly make our way up to Florida. We would then stop there, at the Nordhavn dealer and get the boat serviced. We would then head up the East Coast and stop wherever we end up.
We put the feelers out for someone to help us get to Florida. Our marine insurance guy in San Diego, recommended Jim Kelly. He said he was familiar with these waters and was in Florida which was closer than flying someone in from San Diego which was our next option. He came highly recommended and had more than enough experience. Larry had talked briefly with him on the satellite phone and it was decided to fly him to Panama City. He would then take the local commuter plane, Panama Perlas Airlines to Bocas.
Jim arrived the night before we left for Isla San Andres. He was a friendly guy, slicked back hair and thick mustache and pilot sunglasses, wearing a tropical shirt and a big smile. He had a southern drawl like you wouldnít believe which warm and contagious. I soon found myself doing the drawl myself. Ziggy liked him right of the bat.
It was great to see the outline of Isla San Andres land and to know that soon we would be at port. I was looking forward to having this damn washing machine sea behind us for a while. We were all exhausted because it had been impossible to sleep and every muscle in my body was aching from having to strain to hold myself in place.
Larry hailed Mr. Livingston, the agent recommended in Rainís book to get the paperwork cha cha going. He was a welcome voice on the radio, clear speaking English and sounded like heíd have everything ready. We maneuvered through the well-marked channel very carefully as we saw the patchy light turquoise waters around us indicating shallows areas. Our tired senses sharpened quickly as we saw a few semi submerged derelict shipwrecks nearby as we entered the channel.
Mr. Livingston, directed us to the only marina, Ne Neís. It was really small place and very shallow. There was a 100-foot yacht backed up to the dock, med style, so that was encouraging. Mr. Livingston, said we could Med tie next to it. So we carefully, came in amongst various fishing boats and sailboats anchored out. We turned the boat around, dropped anchor, and backed her in to the dock. There were a couple young black kids there standing by and the crew from the big yacht came to grab our lines and secure them onto the small piers. We were in, and had about a foot under us!
It wasnít long before Mr. Livingston arrived with his cast of cha cha players. I got out the usual, cokes and juice and a bowl of nuts. Mr. Livingston must be about 70 but does his job well. Before you know it we were official. We had our Columbian flag up, that we purchased from Mr. Livingston, (which I put up upside down by mistake Ė Larry caught it later and righted it). We could now take the quarantine flag down and we free to go ashore.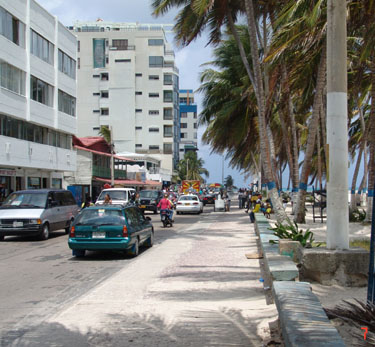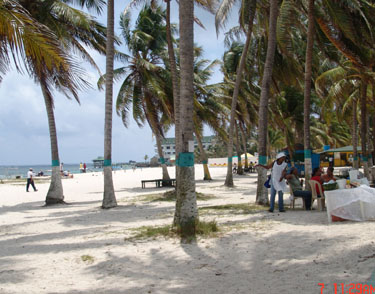 I couldnít believe that we were actually in Columbia. The only thing I had ever heard about Columbia was that it was over run with drug runners and drug lords. I was a little intimidated by the idea. The marina was nothing more than a primitive dock. Knotty Dog and the other big yacht pretty much took over the place. We had a small crowd watching us dock and settle in. The people were mostly black. The docks were rustic wood planks widely set apart so you had to watch you step. Ziggyís little paw could slip right through. On the street side of the marina was the busiest gas station that weíve ever seen. It was none stop the whole time we were there. The beach stretched right and left from the marina, with beach walk. The main street that ran the length of the shore was a busy road. Most of the traffic was motor scooters and a few cars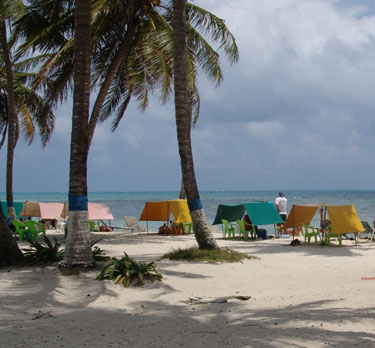 Livingston recommended a couple good places to eat and where to go to get groceries. We had power and water to wash the salt off the boat. Jim knew Felix that owner of the marina from the old days when he had been there before. Felix got us a friend to drive us wherever we needed to go that day.
The island is small and could be explored in a couple hours or less by car. Itís a resort town for the people from the mainland of Columbia. Thereís a small shopping area that has an amazing assortment of shops. You could purchase everything from great resort wear, to perfume, watches, etc. Nice quality and good style. If I hadnít been so tired I wouldíve done some shopping but we only had the afternoon.
Larry tried to get some money changed at the bank. After waiting, almost 45 minutes, they closed the bank for siesta. It didnít matter that Larry had been in line. They sent him to Western Union. Even though the signs in Western Union said they changed money, they told Larry they didnít and now sent him to Banco de Columbia. By now, we were exasperated and hungry and decided to get some lunch.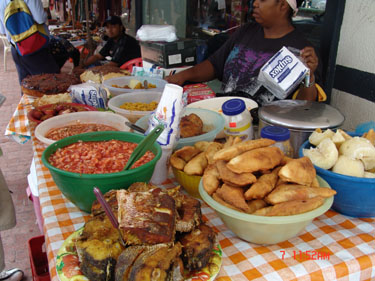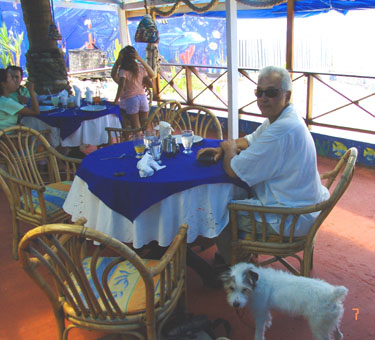 We went to Nikoís for lunch, recommended by Mr. Livingston. It was a very nice place overlooking the turquoise water. No problem bringing Ziggy in even though it was a white linen tablecloth place. Jim and I had conch with garlic that was delicious if you didnít look at it. Larry had a chicken and rice dish. We had a nice relaxing civilized lunch.
Weíve noticed that the women here are stunning. Itís hard not to notice. I think they discovered silicon implants as well. Iíve been told that the exotic beauty that they have is the result of the cultural mix. The islands have a long history of the black slave trade, English and Spanish and Iím sure there are a few French and Dutch pirates thrown in as well. Anyway, itís produced some beautiful women but I canít say much for the men.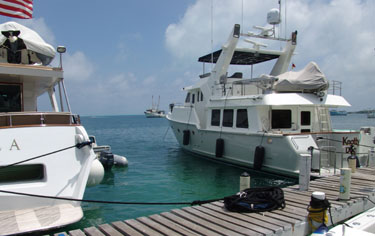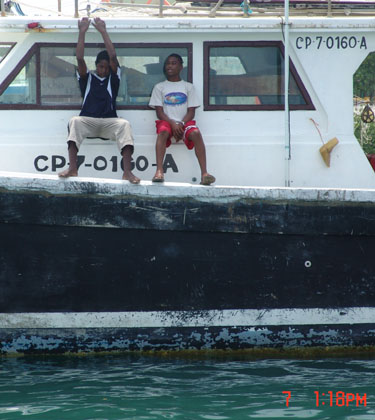 After lunch, we tried to do some grocery shopping. The first store that our driver took us to was closed temporarily because of a power outage. So I had him take us to the Rey that Mr. Livingston recommended. I was amazed at this store; though the shelves were sparsely stocked it had a surprising amount of American brand products. I actually could buy a small amount of Armor bacon, a real treat. They had Tropicana orange juice and Sara Lee frozen cakes. It was a shock. I picked up a few items just because they were impossible to get anywhere else.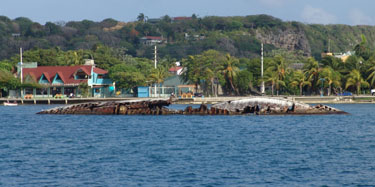 We then went back to the original grocery store to get the basics. The power was back on so we went in. The driver we had was a nice quiet black man. I noticed he had followed me in to the last grocery store and seemed to enjoy looking at all the items. This time he came in, while Larry and Zig, waited in the car. He decided to be a little bolder this time and insisted on pushing the cart for me. He then helped me get the vegetables and helped me to find things that I couldnít. He insisted on unloading the cart at the check out counter and carrying my bags to the car. I could get used to this.
We had another nice meal that evening at the Regatta next to the Nautica Club (private yacht club). Had a lovely grilled lobster dinner overlooking the harbor. Had some difficulty ordering our meal from the waitress. How hard is it to get three lobster dinners? She was very confused and then when we would try to clarify in Spanish, sheíd come back in perfect English. Was confusing.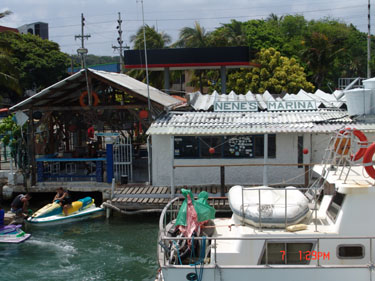 ISLA PROVIDENCIA - and HENRY MORGAN'S ASS
Mr. Livingston came by about 7:30 AM to get us cleared out. He told us a funny story about the first time he met John Rains back in í76. He was bringing a boat and itís owners down through the canal and had stopped in San Andres. He was arrested for scuba diving on the reef without a permit. The authorities handcuffed him and took him off the jail. He managed to find Livingston who spoke English and told him to get him outta there. He said to do whatever it took; even a bribe or they would never see another boat come through here. Apparently, Livingston got the mayor of San Andres to sign off and let him go but not without a significant struggle and paperwork.
We left about 9:00 for Isla Providencia. It was about an 8-hour trip. We sighted the island about 2:30. Larry hailed our new agent, Mr. Bush. He was very difficult to understand on the radio but said he would be waiting for us. He said to follow the buoys in and turn left towards the pier at the last buoy and head towards the pier.
This island was more mountainous having a height of 1200 ft at the highest. Isla San Andres was much lower. The visual impact was seen from miles away on the radar. It was a very pretty island and looked much like Catalina, California. The place is fairly undeveloped except for a few scattered buildings. There is one large island and a smaller island linked by a small footbridge. The small island is ironically called Santa Catalina.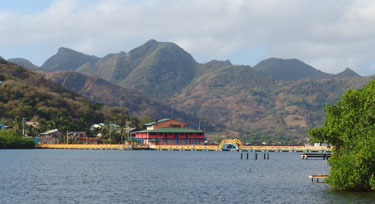 As we approached the harbor, we paid strict attention to the buoys, as the water was very shallow on both sides of us. When we got to the last buoy to make our left turn, we could hear what we thought was Bush on the radio calling ďDog, Dog, turn left!Ē He was so hard to understand as he talked very fast and just jumbled his words together. I finally figured out it was him and we turned left not knowing if we were about to go into some unmarked shallow area. He instructed us to come forward to the pier and we could pick him up there. The pier was a big old tall commercial pier and I guess he sensed that we didnít want to rub our boat up against it. He said we could also anchor off to the side and then pick him up with our dinghy. We decided on the latter.
Jim drove the boat into the anchorage area while Larry readied the anchor. We snuggled in amongst some other sailboats there and before we knew it dropped anchor and the depth below us was about foot and a half! We checked the tide table and as we were at low tide and on a soft bottom, we thought it would be OK.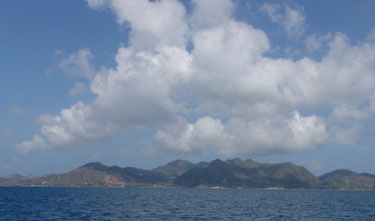 Jim took the dinghy in and picked up Mr. Livingston and three other people to clear us in. I got the usual cokes out and decided no more juice as the last crew completely cleaned us out of juice. Mr. Bush, though a nice guy, was a non-stop talker and was very hard to understand. You couldnít take too much of it. I put some nuts out and a package of small Milky Way bars in a bowl for them.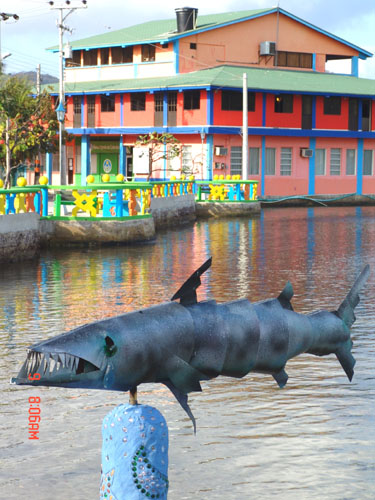 They took all the Milky Way bars and stuffed them into their pockets like they were gold nuggets. The process didnít take long and soon they were putting their shoes back on, shaking hands, and saying goodbye as Jim drove them and Ziggy to shore.
We asked were was the best place to eat and he said, ďMr. Martinís! Iíll have a car pick you up when you want and take you there.Ē So, we decided to rest a couple hours and then have them pick us up at the pier.

The harbor is very picturesque. On the entry side of Santa Catalina is a huge rock formation greeting you as you enter the harbor. It is locally called ďMorganís HeadĒ as with the stretch of the imagination you can picture a manís head.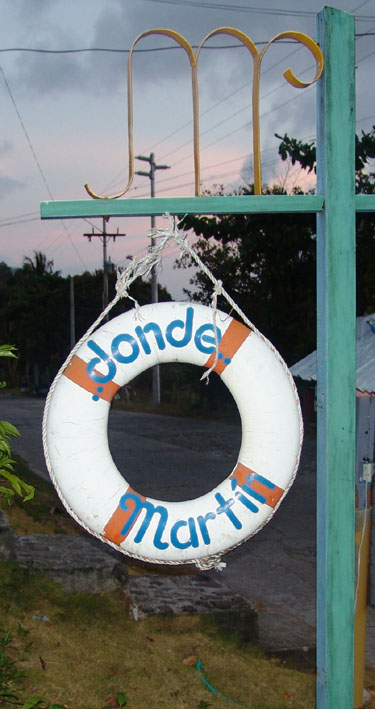 It was named after the pirate Henry Morgan whose claim to fame is having ransacked and burned Panama City to the ground searching for Spanish gold and silver. Dutch and English settlers settled the island in the 1600ís.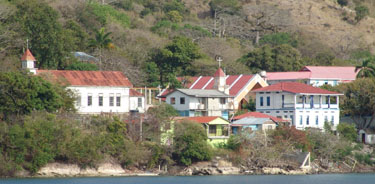 The Spanish tried to take over the island in the late 1600ís so the islanders hired the pirate Henry Morgan to fend them off which he did. That being why they named the head after him I supposed. There is also a split or crack in the top of one of the nearby mountains which is affectionately called Henry Morganís ass.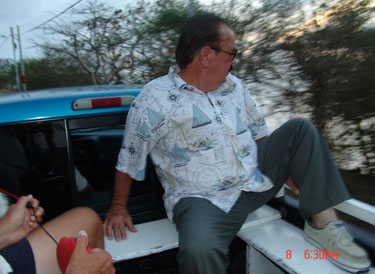 We got ourselves to shore about 6:30 and Mr. Bush greeted us there to wait for our driver to take us to Mr. Martinís for dinner. Soon a mini pick up arrived with two wood boards in the back that made up a make shift bench. We all crawled in the back, including Mr. Bush and Ziggy and off we went. Along the way, we stopped and picked up Mr. Bushís wife and as they were all dressed up I thought they may have been inviting themselves to dinner with us, but was relieved when he was just hitching a free ride to evening mass as it was Easter Week.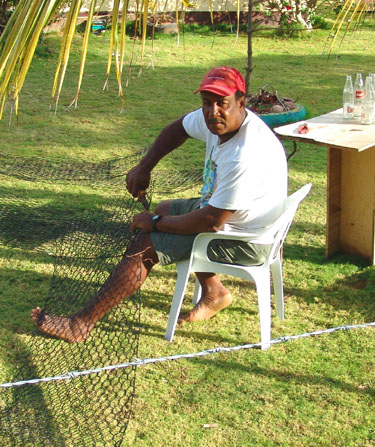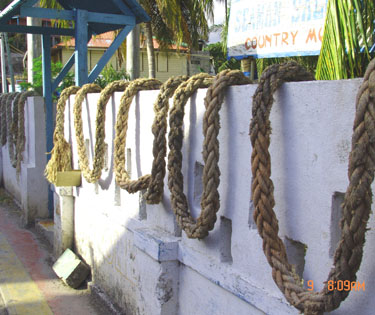 It was a nice drive around the island even in the pick up truck. It was refreshingly cool as the wind brushed past our faces after the heat we had experienced at anchorage. We passed many little churches that were full of people celebrating Easter Week. Many people we sitting out on their front porches of their Caribbean style cottages or walking the streets and playing cards games. It seemed like a nice island community. We stopped along the way at the driverís home while his wife slowly came out of the house and walked up to the truck to get some money from him. Dogs wandered freely in the streets and kids played nearby.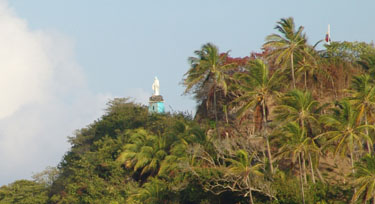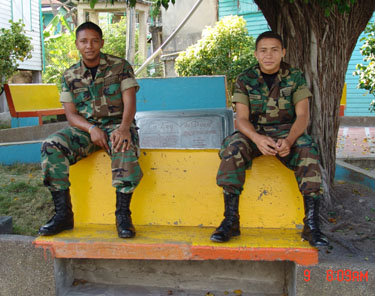 We came finally to the best restaurant in town, and touted by Mr. Bush as where the President and Prime Minister come to dine. It was a run down house with a front porch and plastic chairs and tables. We began to wonder if maybe we didnít need a 1 Ĺ to eat, worrying that we might be stuck here too long waiting for the driver but he insisted we needed a 1 Ĺ. We walked timidly up to the house wondering what we got ourselves into this night.
A beautiful gracious black girl, her hair beaded and braided, greeted us. She had a big smile and offered us any table (since non were full). We sat down and ordered some drinks and began to peruse the menu that was sandwiched between two boards tied together with a string. It was fish, crab, or lobster. All prepared different ways. Mr. Bush highly recommended the ďcrab thumbĒ whatever that was. Iím sure he meant something else but thatís the only thing we heard.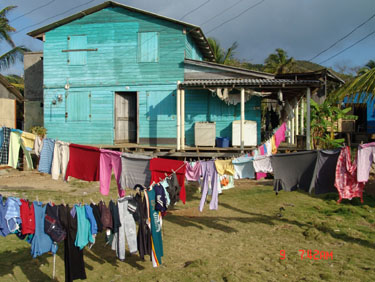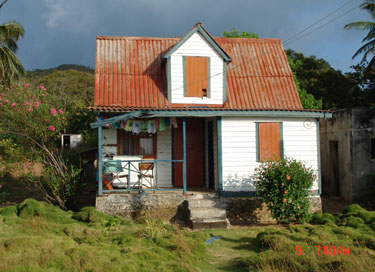 Jim and I decided to stay on the safe side and ordered lobster. Larry on the other hand ordered the crabs. These werenít crabs as we all know them but these were land crabs. As we enjoyed our drinks a few people started coming in and before you knew it the place was packed. It was mostly young Columbians on vacation. The place was now bubbling with conversation and people drinking wine and we felt more comfortable. Soon dinners came and I hate to say what Larryís looked like. It was just a big pile of stuff. I was worried and planned to offer him half of my lobster. He loved it though and said it was delicious. We all enjoyed our meals and it turned out to be a fun place and just as we finished, I noticed our driver waiting out front for us to drive us back.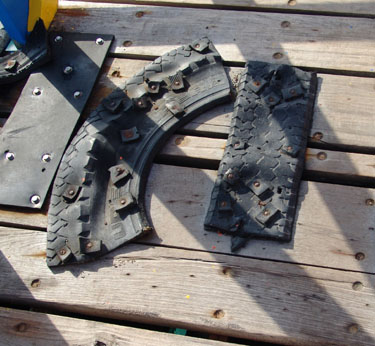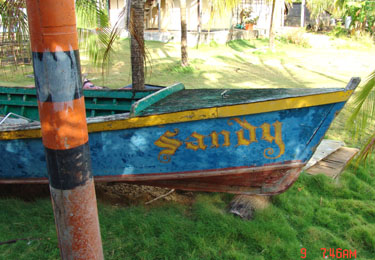 In the morning, Jim and I went to shore with Ziggy. Jim was going to meet Mr. Bush to get our clearance papers and pay the $150 fees. I walked the shore and took some pictures of the colorful buildings. The island will change in the near future as they are gearing up for cruise ships. They have done some new additions on the waterfront and have painted it bright colors. I wished that we had longer to see the island a there is said to be remnants of the old fort that the pirates used and caves but weather was permitting us to leave with a not too uncomfortable passage to Honduras. We had to take it now.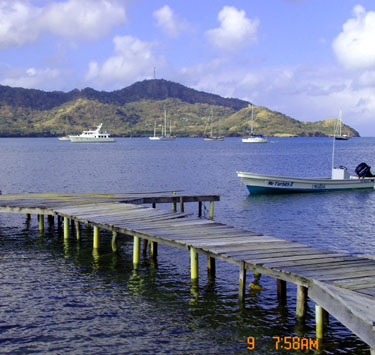 CAYO VIVARILLO - ENCOUNTER WITH MY MAN FRIDAY
I had made several sandwiches from bread unfrozen that we bought in Panama. Iíll be glad when we get to a good grocery store to I can get some fresh things. The vegetables are gone, no lettuce, tomatoes, only cabbage. Iím making do with soups and adding things to them to make them more interesting.
We left Providence in the morning and planned to arrive at Kayo Cigarillo the next morning and rest most of the day and then continue on to Rotan, Honduras.
It wasnít a bad crossing as we picked the right weather window and the seas were with us. We anchored in about 18 feet nestled into the protected area provided by the cay. There were a couple other sailboats anchored quite a ways away probably doing the same thing we were, resting and waiting to continue on to their next stop. This cay is located about 60 miles NE of Honduras. Itís stuck in the middle of nowhere. Itís a shallow area of turquoise water and is studded with a couple small islands that are no bigger than someoneís house. They are what you imagine being stuck on a tropical island, palm trees, white sand, and crystal clear water.

We dropped the dinghy and headed to explore one of the islands. It was very shallow and we had to pull the dinghy quite a ways to shore. Ziggy went crazy and drove off the dinghy into the shallow water and ran to shore running crazily so glad to be on ground again running freely. I was immediately struck by the shells and started gathering. It was beautiful!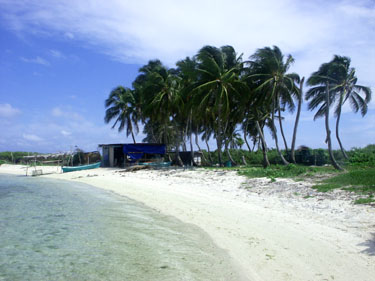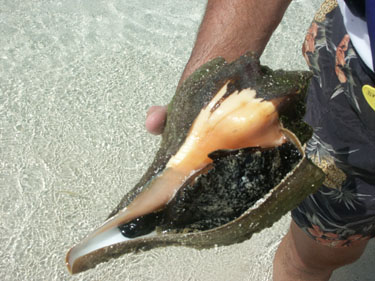 We slowly progressed around the island. Jim and Ziggy went ahead and soon came back telling us there was a native kid living here. We went up to talk with him and I spoke a little Spanish with him. He was seventeen years old and had been there for several months. He was watching over a few old generators and things that didnít work. He comrades hadnít been back for months to pick him up. He didnít seem worried about it. He said he fishes and thatís what he eats. He had piles of empty conch shells lying about and a few rustic fish traps that he made and was baiting the conch shells inside to catch some fish.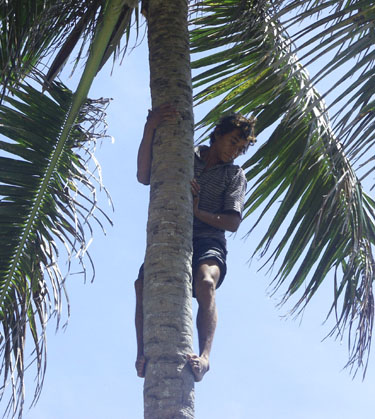 It was a rustic existence but he seemed to be managing. He went inside his temporary shack and put a shirt on to make himself more presentable. We talked for a while and continued walking around the small island.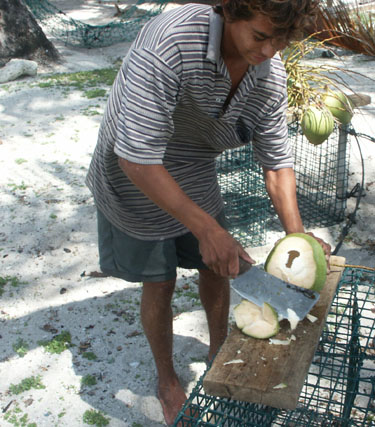 We all wondered if maybe he needed water so we went back to ask. He showed us his one 5-gallon jug of water that was about half full. We asked if he wanted more water but at first he thought we were thirsty and was going to share his valuable water with us. Once he realized we were offering to get him water he let us know that he would really like some. So we had him pour his water into a bucket so we could take the big jug with us and fill it for him.
We dinghied back to the boat and left Jim and Zig on the island with the native boy. We filled the jug with pure water and gathered a bag of food for him. I mostly put in fruit, nuts, granola bars, a couple cold cokes, some candy and bread, and rice. He was so grateful for everything that he wanted to share something with us. He climbed a coconut tree and shopped down a bunch that he carefully lowered with a rope. He then chopped off the top of two coconuts and cut a hole and we stood there drinking the coconut juice while he enjoyed an ice-cold coke. It was a rare moment that Iíll always remember.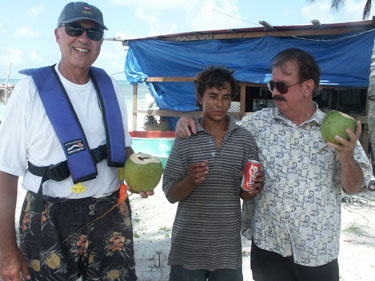 We talked about his family who he said he missed very much. He regretted that he had no photos of them and had received no letters. I canít imagine this poor guy sitting here alone all this time watching these machines that to us were worth nothing, day after day. He said a few people come and go but donít talk with him as they swim and take the lobster. He meant the cruisers like us. He gave us a few small shells that he put in an old spice bottle. It was very touching. We waved goodbye and as we motored off I saw him looking through his bag that I left of goodies and one big watermelon. I hope he enjoys them.
Now on to Roatan